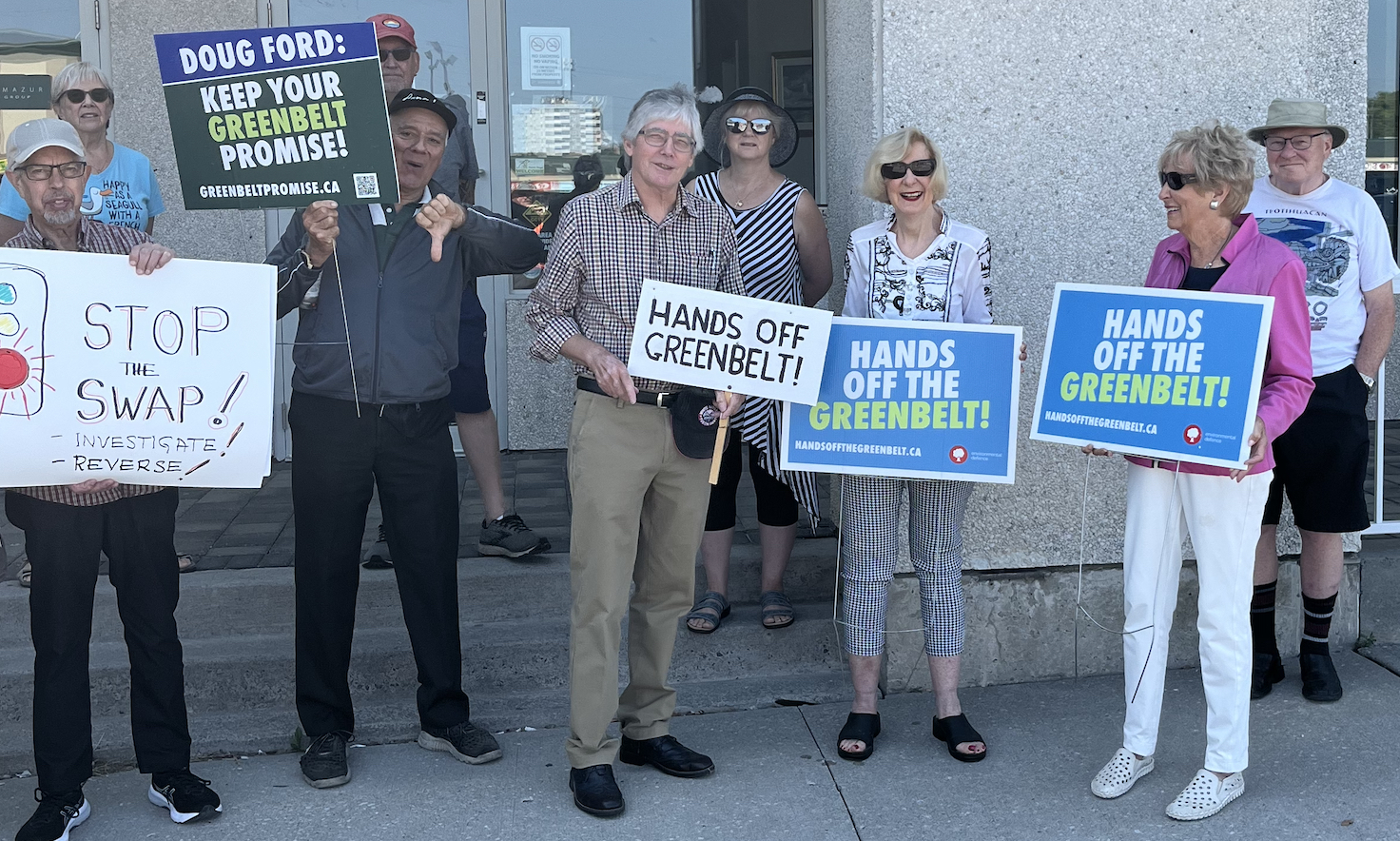 I wrote to Dawn on Wednesday asking if she would say a few words today to her constituents who are concerned about her Government's policy on the Greenbelt.
"Would it be possible for you to come along and speak?
A short speech of 10 minutes would probably do. And it would be terrific if you could take questions afterwards."
She says she gets hundreds of emails every day. She's telling me I'll have to wait in line to see her - just like everyone else.
Dawn, of course, wouldn't be seen dead talking to a crowd of constituents on a serious issue of public policy. And she would run a mile at the thought of taking questions.
Dawn and Ford
As an MPP Dawn has the power to stop Ford's raid on the Greenbelt. She doesn't need to trade farmers' fields for urban sprawl.
But I doubt she will speak out. She was appointed by Doug Ford as PC candidate for Newmarket-Aurora. The members of the PC Party didn't have a say.
And Dawn funded her election campaign using money from the developer, Michael Rice, who bought the Greenbelt lands at Bathurst.
Theft in broad daylight
We are seeing the brazen theft of the Greenbelt in front of our very eyes. Michael Rice had prior knowledge that the 2.78 sq km tract at Bathurst next door to us in King would be removed from the Greenbelt.
He paid $80M for Greenbelt land on 15 September 2022. It is worth an absolute fortune now that it can be developed.
We've heard from the Auditor General. And we wait to hear from the Integrity Commissioner, David Wake.
He can suspend his investigation if he suspects criminality. He can call in the police.
That's what I'd do.
And what about Dawn?
And what about Dawn Gallagher Murphy?
Personally, I think she should engage with the issue and tell her constituents what she really thinks.
She doesn't need to be Doug Ford's poodle.
Instead of hiding from her constituents why doesn't she have a conversation with us?
This email address is being protected from spambots. You need JavaScript enabled to view it.
Above: Outside Dawn's Constituency Office on Saturday morning. We wanted to talk to Dawn about her support for paving over the Greenbelt at Bathurst. But she stayed away. The huge block of prime agricultural land in the ex Greenbelt in the Municipality of King is only 15 minutes away from her taxpayer-funded office in the Nature's Emporium Plaza in Newmarket. Below, Yonge Street.