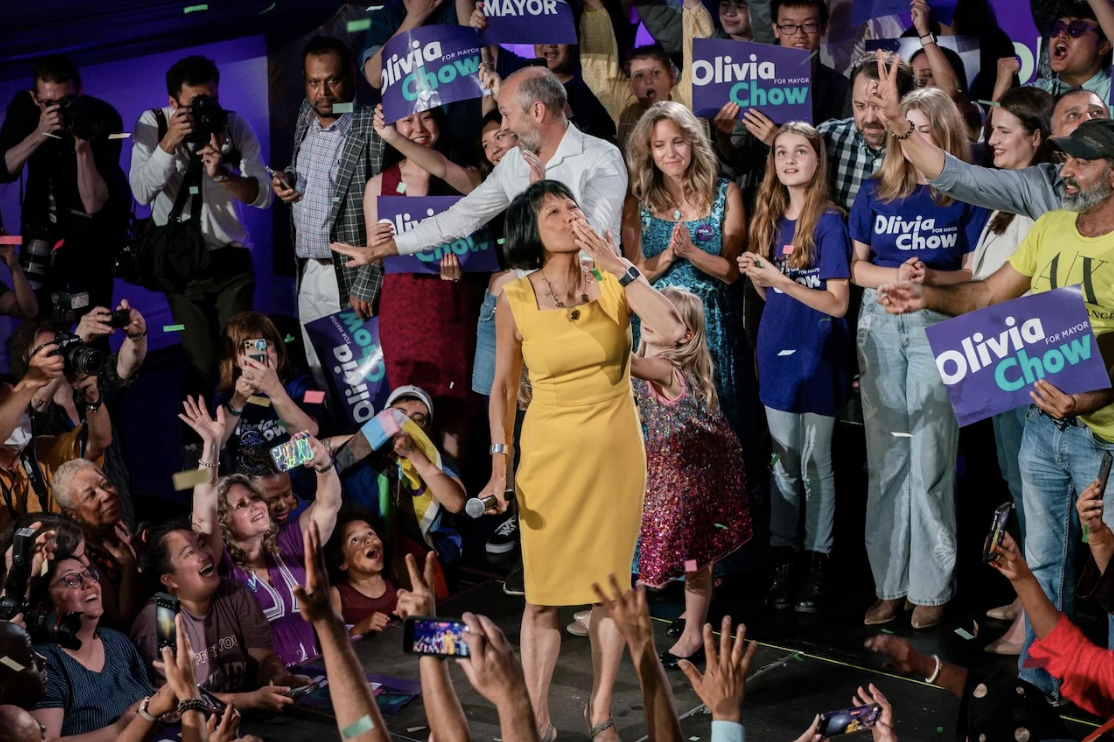 Olivia Chow is the new face of Toronto
The election of Olivia Chow as the new Mayor of Toronto comes as a very pleasant surprise. The early results showed Chow trailing John Tory's favourite, Ana Bailão, and I thought: "Oh no! Here we go again."
In the event Chow won by a decent 34,000 votes – or 37.1% to Bailão's 34.2%
The official results, certified by the City Clerk, are here.
The Toronto Star has wall to wall coverage. The Star's editorial board had backed Ana Bailão but this morning's editorial recognises that a vote for Chow is a vote for change - not more of the same.
The Local has some excellent reporting showing how the vote split by ward.
Turnout was 38.5% - a figure in the range that is, tragically, becoming the new normal.
Ford and Tory on the losing side
Doug Ford and ex-Mayor John Tory – who both vowed to stay out of the election campaign – end up with egg on their face.
Ford predicted Chow would be an "unmitigated disaster" for Toronto. And, at the eleventh hour, Tory urged people to back Ana Bailão.
Chow has pledged not to use the "Strong Mayor" powers just at the very time Ford is extending them to 26 municipalities across the Province. We shall see how this plays out.
I hope she shakes things up.
This email address is being protected from spambots. You need JavaScript enabled to view it.
Update on 28 June 2023: Editorial from the Globe and Mail: Get the party started in Toronto vote. Click "read more" below
Get the party started in Toronto's vote
Globe and Mail editorial 28 June 2023
The coalition of I Don't Care and Couldn't Be Bothered once again swept the city of Toronto's municipal campaign, winning the support of a strong majority of Torontonians able to vote in Monday's mayoral by-election.
Olivia Chowwill become the mayor of Canada's biggest city with the support of just over one in seven eligible voters, the smallest base of support in at least 20 years.
That's not meant as an asterisk next to her victory: Ms. Chow won by a substantial margin, in a crowded field. She has a mandate. But there is a question of how much political leverage she can wield to convinceTorontoresidents to back her progressive agenda – and to convince Ontario PremierDoug Fordto support her, or at least stay out of the way.
This is not a problem particular to Ms. Chow, or to Monday's election. As the chart below shows, the winner of Toronto's mayoral race has won a smaller and smaller percentage of eligible voters over the past 13 years, with the exception of 2018, whenJohn Torycruised to re-election. However, Mr. Tory in 2022 fared only slightly better than Ms. Chow, with just 18 per cent of eligible voters casting a ballot for him last year.
Anemic turnout combined with a welter of second- and third-tier candidates have created a fractured electoral landscape in Toronto. Of course, the same can be said of provincial and federal elections; both Premier Doug Ford's and Prime MinisterJustin Trudeau'sparties failed to win a majority of votes, never mind eligible voters.
But the electoral math is particularly problematic for any city, more so for Toronto in 2023. Cities are creatures of the province; for the most part, Ontario can help or hinder as it sees fit.
That has always been a problem for Toronto, stretching back to its frogmarched amalgamation, the downloading of costs and, more recently, Mr. Ford's whipsaw changes to the composition of city council and the imposition of strong-mayor powers. Toronto's new mayor has no constitutional firewall to shield her prerogatives.
Ms. Chow faces huge challenges: a decaying transit system, rising worries of crime and a broad sense that Toronto is on the brink of decline. She has proposed aggressive changes. Whatever one thinks of her program, she will need to be able to marshal public opinion to win over city council, particularly since she has eschewedstrong-mayor powersthat allow her to proceed on budgetary matters with a minority of votes.
She has made the right call in refusing to take up those powers. But her individual decision does not eliminate the anti-democratic nature of strong-mayor powers, a bad idea made worse by the current situation of low turnout and narrow electoral support for the winning candidate.
That task of marshalling public opinion is not impossible, but it's made harder by the splintered nature of the electorate, and low turnout.
The same will be true for the next mayor, unless those two factors can be reversed. As this space hasargued before, introducing formal political parties into Toronto municipal politics would be a big step in the right direction.
One big plus would be to winnow the field of candidates long before election day. Third-tier candidates could have their moment and say within the boundaries of the contest for a party nomination. That same process could help to boost turnout, by focusing get-out-the vote efforts.
Voters would have a clearer choice between a progressive and a conservative candidate, ideally aligned with a slate of councillors. (Name recognition could, mercifully, fade as a decisive electoral factor.) That at least holds the potential for a mayoral candidate to win a more powerful mandate, enough to not only win the day at city council but also with the province.
Municipal-level political parties could also enhance accountability. If a party governs badly, the party and all of its candidates will suffer, not just the incumbent mayor.
Party politics aren't a panacea for all that ails municipal campaigns, particularly low voter engagement. But formal political brands can and should be a key part of an effort to re-engage voters as the city tackles its mounting challenges.