At a press conference in Oakville on 22 March 2023 Doug Ford singled out Newmarket Mayor John Taylor for criticism.
But why?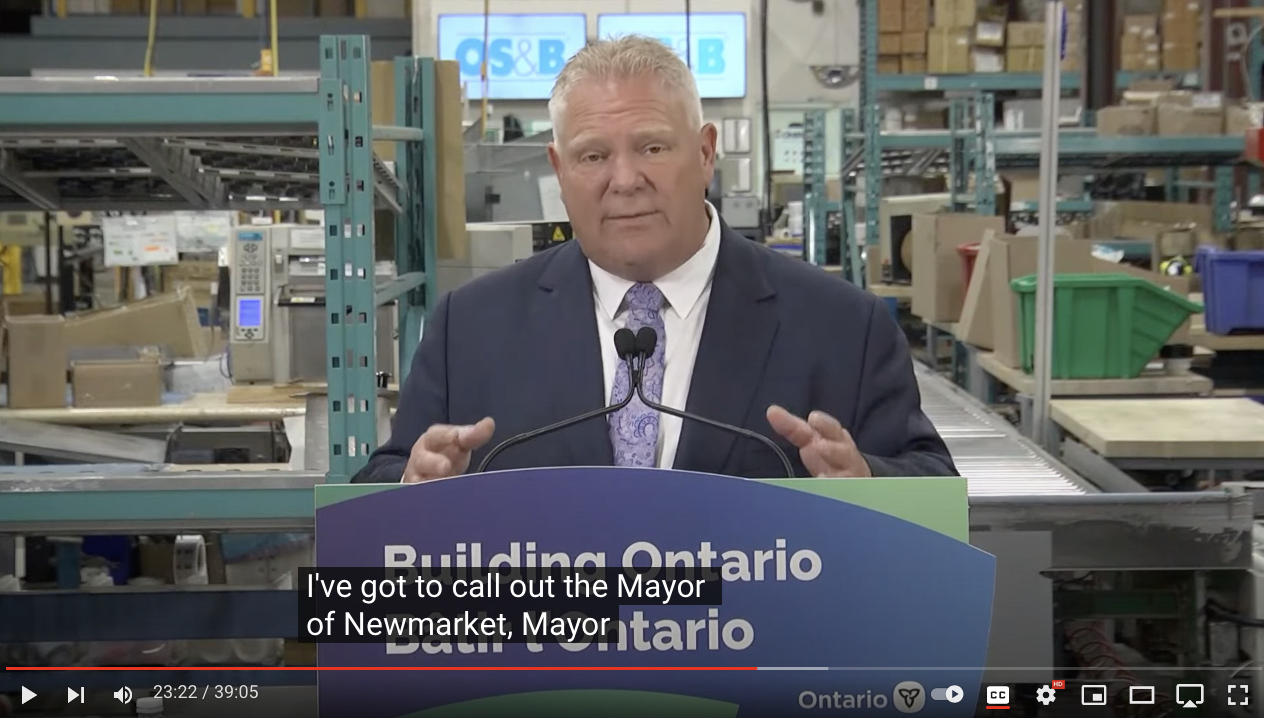 Ford was talking about the need for more homes when he branded Taylor an "outlier". This suggests Newmarket's Mayor is the only voice speaking out against the Province's controversial More Homes Built Faster Act (Bill 23).
In fact, criticism of Bill 23 is widespread and shows no signs of disappearing. People are outraged that land is being taken out of the Greenbelt for development.
Taylor tells Newmarket Today he is not trying to be difficult.
I think he should be difficult. The more difficult the better.
"Passing our housing plan"
At Oakville Ford thanked:
"all the municipalities for passing our housing plan."
That statement is fanciful. Municipalities haven't "passed Ford's housing plan". But municipalities are agreed that more housing is needed. The question at issue is where the housing should go and whether it is affordable.
Consultation cut short
The legislation was pushed through Queen's park at breakneck speed. Astonishingly, Bill 23 was passed into law before the end of the consultation period. Many organisations that wanted to comment in person, in front of the Bill Committee, were never given the chance. The Association of Municipal Organisations, representing all 444 municipalities in Ontario, was never heard. It was strongly critical of Bill 23. Last November the AMO complained:
"Bill 23 is proceeding quickly through the legislature, which means it is likely to pass before many municipal Councils have been sworn in, and before the AMO Board can prepare a response."
Clearly, Ford is bending over backwards to help his friends in the development industry. The More Homes Built Faster Act 2022 brazenly transfers the costs of growth from the developers to the taxpayers.
Unachieveable
The housing targets Ford has set for municipalities are simply unachieveable. Newmarket is expected to deliver 12,000 new homes by 2031 when the Town's sewage and wastewater capacity runs out in five years. The Province has ordered sewage to be diverted south across the Lake Simcoe watershed to the treatment plant at Duffin Creek before being discharged into Lake Ontario. This decision pushes back a solution to the sewage crisis by years.
York Regional Council's Public Works Commissioner, Erin Mahoney, candidly tells Taylor on 10 November 2022:
"We see it as a bit of an oversight… that these higher population projections, now being advocated for by the province, were not included in the definition of the solution."
"The implications on Duffin Creek you could either say were completely ignored or underplayed in schedule 10." (of Bill 23: More Homes Built Faster)."
Immigration
Ford says Federal immigration policy is forcing his hand. It is true that the Federal Government is ramping up immigration. Ford says 450,000 people landed in Ontario last year and are now calling the Province home.
Stats Canada reports that 437,180 immigrants arrived in Canada in 2022. I don't immediately know how many made their home here in Ontario but the Province has historically taken the lion's share of all immigrants.
In the period 2016-2021 Canada accepted 1,328,240 immigrants. Of these, 544,050 settled in Ontario, 219,325 in Quebec, 183,765 in BC and 180,690 in Alberta. Clearly, these people have to be housed but there is plenty of land available in urban areas without swallowing up prime agricultural land in the Greenbelt.
Needled
I think that's why Ford singled out Newmarket's Mayor.
He was needled by Taylor's spot on criticism of his housing policy.
The housing targets are undeliverable. Infrastructure costs are to be transferred from developers to taxpayers. And the encroachments into the Greenbelt are unacceptable.
This is precisely the time for us all to be difficult.
This email address is being protected from spambots. You need JavaScript enabled to view it.
Update on 27 March 2023: From the Globe and Mail: Greenbelt plans promote sprawl over sustainability, mayor warns
Click "read more" below for Ford's comments at the Oakville Press Conference.

Oakville. 22 March 2023. Doug Ford said:
"When we first took office in 2018 these companies were leaving in the droves. The auto sector was closing down. We were losing it. And because we created the environment - we worked hand in hand with all three levels of government - we've seen companies coming in by the droves.
And do you know what's amazing? Stats Canada came out. And every single time I come out here you hear me preaching about "we need more homes… we need more homes".
There's 300,000 people coming. I keep warning people. All of a sudden Stats Canada comes out and they said last year 450,000 people landed here in Ontario and calling this home.
And that's why I'm saying: "Guys, I'm setting the panic alarms off."
And I thank all the municipalities for passing our housing plan. I thank Mayor Burton for passing our housing plan. There's one outlier - and I'm going to call him out – and that's the Mayor of Newmarket, Mayor Taylor.
I gave him a call this morning. There's 444 municipalities. Everyone's agreeing. It's called team Ontario - a team effort. Where are we putting the 450,000 people? We need to build homes. We need to build 'em quick. And I said the federal government said they were going to bring in 500,000 people. And I said well 300,000 were landing here in Toronto, the GTA, in Ottawa. Well, I under-estimated. There's 450,000 people. And that's why we need the schools, the hospitals, the bridges, the infrastructure and especially the homes.
So I just want to thank all the mayors out there. I'm very very grateful. We can't do it without you and I'm just blessed to have great relationships with them."