Yesterday (30 December 2022) the UK's National Archives released almost 600 Cabinet Office files from 2001 and 2002.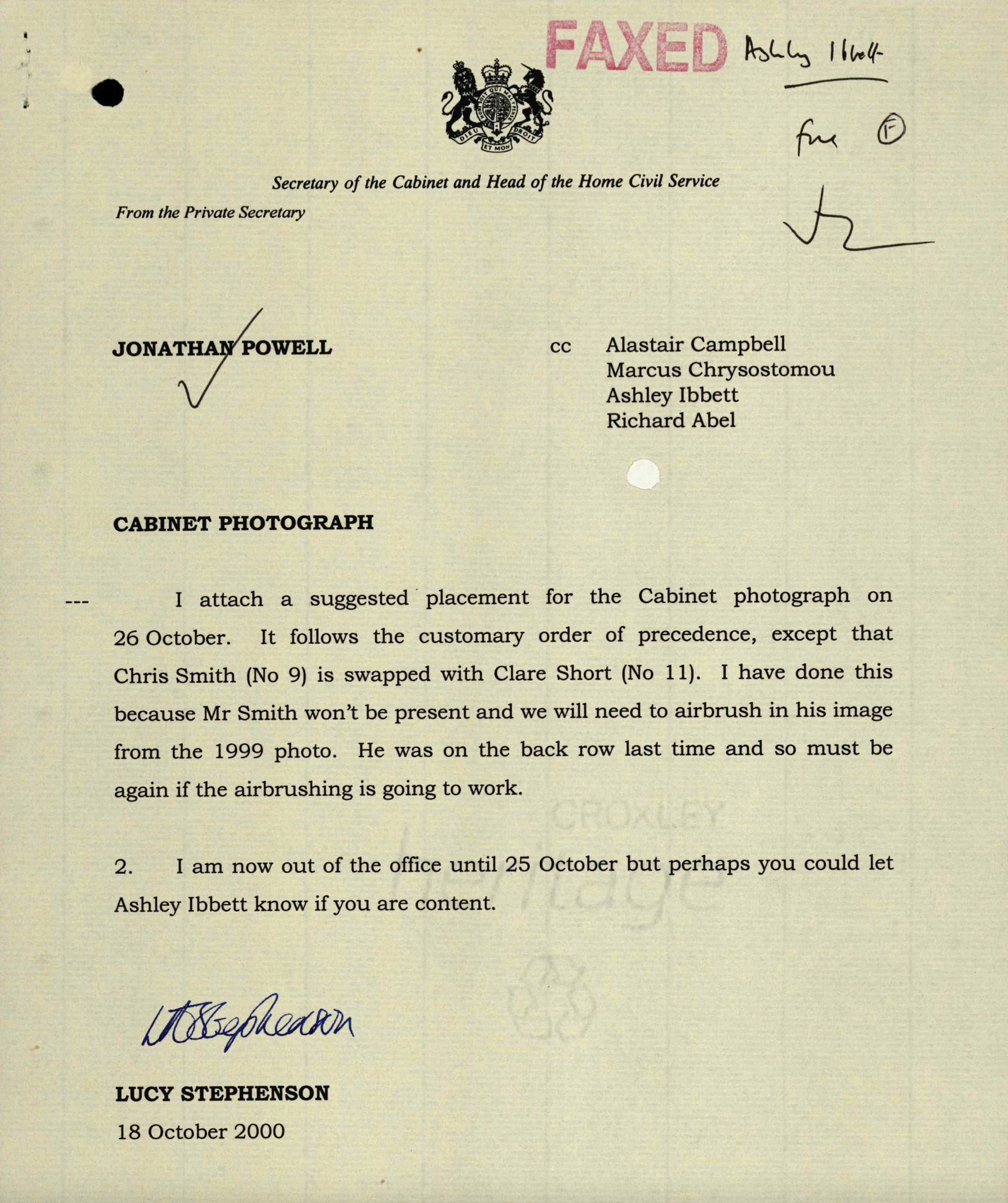 They paint a fascinating picture of the challenges facing the Blair Government (which was first elected in 1997) and how Britain's Prime Minister developed his strategies for governing.
Fake News!
I discover the British Government was airbrushing people into Official Photographs – Soviet style. It leaves me wondering if people were ever airbrushed out. And all this before Donald Trump and his Fake News! (see right)
The National Archives say the papers – released under Freedom of Information legislation - give a snapshot of what was happening 20 years ago and at the turn of the century.
Unfortunately, the files are incomplete. Some information has been withheld – and the policy is not to explain why. So an email of 12 February 2001 concerning Conrad Black and his "possible peerage" is missing. At some point, hopefully, it will surface.
Tony Blair in Canada
The papers which document the preparations for Tony Blair's first visit to Canada on 21-22 February 2001 as PM are absorbing. There are candid pen portraits of Prime Minister Jean Chrétien and the other major players in Canadian politics.
A note from the British High Commissioner in Ottawa, Sir Andrew Burns, on 1 February 2001 tells Blair that Chrétien will be in an "expansive mood" after his election victory in November 2000.
"He is sitting comfortably in Ottawa. His personal decision to call an early election was handsomely vindicated with an increased majority. The Opposition parties are in serious disarray. And he has seen off an early leadership review in his own party. For the moment he has no reason to fear the leadership ambitions of his popular and successful Finance Minister, Paul Martin. His own men hold the caucus leadership."
Blair addressed the Canadian Parliament on 22 February 2001 and it is an education to see how the speech was put together - and what was included and left out.
Frozen Pensions
Officials offer Blair "lines to take" if the Canadians raise difficult issues such as "frozen pensions". (At the time 140,000 UK pensioners living in Canada had their State pension frozen at the level which applied on the date they left the UK. But if they had moved to the United States, for example, their pensions would have been uprated annually as in Britain.)
UK State pensions are frozen in many countries with significant UK expatriate populations including Australia, New Zealand and South Africa.
It is clearly unfair.
Twenty years on, nothing has changed.
I doubt it ever will.
This email address is being protected from spambots. You need JavaScript enabled to view it.
Update on 10 January 2023: from the Guardian. Erasing Boris.