Just when you think there is nothing more to be said about a political scandal that happened in Britain over 20 years ago… along comes the Pandora Papers.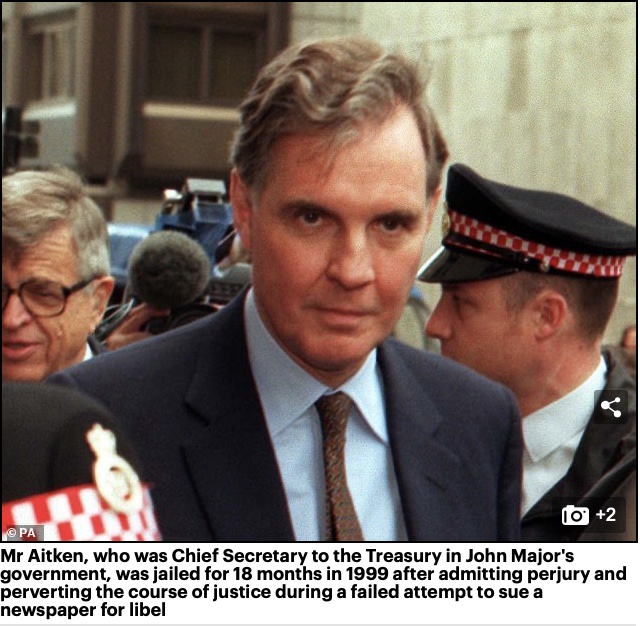 I see that the former UK Conservative Cabinet Minister, Jonathan Aitken, received £166,000 (C$282,000) for his hagiography of Kazakhstan's autocratic president, Nursultan Nazarbayev. The book was published in 2009.
According to the UK's Guardian newspaper
"the Kazakh government appears to have secretly commissioned and paid for his book".
The money was paid in tranches from 2007-2010 and was
"routed via Hong Kong and the British Virgin Islands and discreetly sent to Oxford and the ex-MP's company, Aitken Consultancy & Research Services Limited".
Cutting out the cancer of bent and twisted journalism
Way back in December 1997, when I was an MP at Westminster, I called for Aitken to be prosecuted for perjury.
In 1993 when he was Minister for Defence Procurement his Paris Ritz Hotel bill was paid by aides of the Saudi Royal family. As a Minister he was banned from accepting hospitality which might place him under an obligation. It was a (relatively) small story that snowballed into something very big. Aitken sued the Guardian for libel, promising to use:
"the simple sword of truth and the trusty shield of British fair play . . . to cut out the cancer of bent and twisted journalism."
In court, Aitken's version of events quickly unravelled and the action collapsed when it became obvious he had been telling lies about what had really happened.
He was subsequently convicted of perjury and sentenced to 18 months in prison but was released after seven months.
Surprising Attack
In his 2000 autobiography "Pride and Perjury" he absurdly blames me for his misfortune, claiming I launched a "surprising attack" on him during the 1997 Christmas Adjournment Debate which, to his mind, persuaded the police to investigate.
"This obscure parliamentary occasion is traditionally a minor, "last day of term" event in which backbenchers raise parochial items about their constituencies. To the astonishment, and in some cases the outrage, of the 15 or so MPs who were taking part in the debate, Mr Gordon Prentice, the Labour Member for Pendle, used the occasion to devote his entire speech to the view that I should be prosecuted for perjury…. He said I had a history of arms dealing and sponging off very rich Arabs."
It all happened a long time ago and I considered it ancient history.
Which it is.
But it is still worth noting that Aitken was the paid apologist for an autocrat who ruled Khazakstan for almost thirty years.
Three years ago, Aitken was ordained as an Anglican priest.
This email address is being protected from spambots. You need JavaScript enabled to view it.
Update on 7 October 2021: The Toronto Star editorial: Pandora Papers - Time to end the free ride
Mr. Gordon Prentice (Pendle): I shall be brief, Mr. Deputy Speaker. I want first, to urge the Commissioner of Police of the Metropolis to conclude his investigation into the alleged perjury of Jonathan Aitken as quickly as possible; and secondly, to say a few words about the law relating to perjury.
Perjury is a very serious offence. In 1995, 193 people in England and Wales were convicted of perjury, of whom 94 were given immediate custodial sentences. The law prescribes that seven years is the maximum prison sentence for someone convicted of perjury, although the longest term imposed since 1979 is five years. The average sentence is just under four months.
What sort of people are convicted of perjury? There are those who lie to protect their reputations. For example, a magistrate ordered his wife to act like "a dumb blonde"--I am quoting a newspaper report--to protect his reputation after a car accident. He was sentenced to 15 months and his wife to nine months for perjury.
Earlier this year, a doctor failed to give life-saving treatment to a man with severe diabetes. He was convicted of lying at the inquest, and was gaoled for 12 months. In a recent case, a woman lied at a murder trial, which later collapsed. She was convicted of lying on oath, and was gaoled for 30 months. Only two months ago, at Knightsbridge crown court, Eddie Ashby, the right-hand man to Terry Venables, the former England soccer coach, was branded as a blatant perjurer, and was gaoled for four months.
If a person lies on oath in court, the penalties are very severe. It is an incontestable and irrefutable fact that the former Cabinet Minister, the former Minister for Defence Procurement--
Mr. Douglas Hogg (Sleaford and North Hykeham): On a point of order, Mr. Deputy Speaker. I hesitate to intervene, but it is possible that charges may be laid against the former Chief Secretary to the Treasury. It is extremely difficult to see how he could reasonably expect a fair trial if the hon. Member for Pendle (Mr. Prentice) continues with the sort of allegations he is making.
Mr. Deputy Speaker (Sir Alan Haselhurst): The sub judice rule does not apply unless charges have been laid. The hon. Member for Pendle (Mr. Prentice) is responsible for what he is saying.
Mr. Hogg: Further to that point of order, Mr. Deputy Speaker. There needs to be some discretion. I agree that, strictly speaking, the sub judice rules do not apply, but, as I understand it, inquiries are afoot in the Metropolitan police. That raises the possibility that criminal charges are being contemplated. It would be very unfortunate if any trial were to be invalidated by anything that the hon. Member for Pendle might think fit to say under the cloak of privilege.
Mr. Patrick Nicholls (Teignbridge): Further to that point of order, Mr. Deputy Speaker. On many, many occasions over the years, Madam Speaker has advised us that hon. Members have to take responsibility for what they say in this Chamber. However, I ask you to imagine how it would seem to the outside world if an hon. Member used parliamentary privilege to pass a criminal conviction on someone what has not even been charged. Frankly, it does not do much for the reputation of this House or--not that this matters in the slightest--the reputation of the hon. Member for Pendle (Mr. Prentice).
Mr. Dennis Skinner (Bolsover): Further to that point of order, Mr. Deputy Speaker. In view of what the right hon. and learned Member for Sleaford and North Hykeham (Mr. Hogg) and the hon. Member for Teignbridge (Mr. Nicholls) have said, does it mean that the Tory party and Tory Members will make no reference to the hon. Member for Glasgow, Govan (Mr. Sarwar), either today or any other day?
My recollection is that the Tories have, times without number, previously attacked Labour supporters who have been charged. Indeed, they did so last night over the hon. Member for Govan. The Tories want to be able to attack Labour Members, but, when a Labour Member attacks an ex-Tory Member, it is a different kettle of fish. Let us have fair play in this place.
Mr. Deputy Speaker: The hon. Gentleman has not given the Chair the opportunity to ensure that fairness applies. We are governed by the sub judice rules of this House, and they have not been breached.
Mr. Prentice: Thank you, Mr. Deputy Speaker. I do not wish or intend to behave irresponsibly.
The Jonathan Aitken libel action collapsed in June. It is now coming up to Christmas. I asked how much time had been spent by the Commissioner investigating the case, and was told last month that it was the equivalent of 39 man days. I do not want the investigation to drag on indefinitely. There is irrefutable proof in court transcripts that Jonathan Aitken lied under oath.
Jonathan Aitken was a Cabinet Minister. At one time, he was Minister for Defence Procurement. He was one of only two Members of Parliament in recent times to resign from the Privy Council. He brought the libel action against The Guardian and Granada Television. The "World in Action" documentary, "Jonathan of Arabia", detailed his history of arms dealing, and the fact that he was sponging off very rich Arabs.
The story is set out comprehensively in a book entitled, "The Liar", written by three journalists from The Guardian, Luke Harding, David Leigh and David Pallister. What upsets me about the whole case is that, when Jonathan Aitken went to court, he said that he was defending his reputation. He said that he would use
"the simple sword of truth and the trusty shield of British fair play . . . to cut out the cancer of bent and twisted journalism."
To do that, Jonathan Aitken resigned from the Cabinet and as Chief Secretary to the Treasury. He persuaded the then Prime Minister and many of his Conservative colleagues that he was a truthful individual. Against that background, had he won his libel action, he would have been awarded exemplary damages. I hate to think how much The Guardian and Granada Television would have had to pay out--probably hundreds of thousands of pounds.
In essence, the story is very simple. I will not rehearse it, other than to cite a few salient facts. When Jonathan Aitken was Minister for Defence Procurement, he stayed at the Ritz hotel in Paris, where he met Sayed Ayas, the business manager of Prince Mohammed, the son of King Fahd of Saudi Arabia. The Guardian asked the simple question: "What was he doing there?" Correspondence started, innocently enough, between Peter Preston of The Guardian and Jonathan Aitken.
The contradictions in that correspondence began to show. For reasons that are known only to Jonathan Aitken, he alleged that the bill to settle the account at the Ritz hotel was paid by his wife Lolicia and not by Said Ayas. However, she was in Switzerland. In the libel action in June, irrefutable evidence was produced. The British Airways counterfoils for the journey of Lolicia and Jonathan Aitken's daughter Victoria from the United Kingdom to Switzerland proved that there was no possibility whatever of his wife dashing across to Paris to pay the bill.
That is the story. Jonathan Aitken lied on oath, like the magistrate who was sent to prison for 15 months, the friend of Terry Venables who was sent to prison for four months, and all the others that I have mentioned. They are all in it together. They are liars.
I take a simple view about these things. I am at one with Lord Denning, who said all those years ago:
"Be ye never so high, the law is above you."
I hope that the police are going to pass the papers to the Crown Prosecution Service just as soon as may be, so that the Aitken affair can finally be settled.
Mr. Douglas Hogg (Sleaford and North Hykeham): The noble Lord Denning is a good and compassionate man. He is also one of the greatest jurists that this country has produced. He would not have approved of what we have heard from the hon. Member for Pendle (Mr. Prentice). Jonathan Aitken is an old friend of mine. We all know that he has brought disrepute on himself and we deeply regret that fact, but we should not use the privilege of Parliament to stamp on the grave of a man who was once a distinguished Member. I deeply regret what I have heard.