Is Richmond Hill the most dysfunctional Council in Ontario?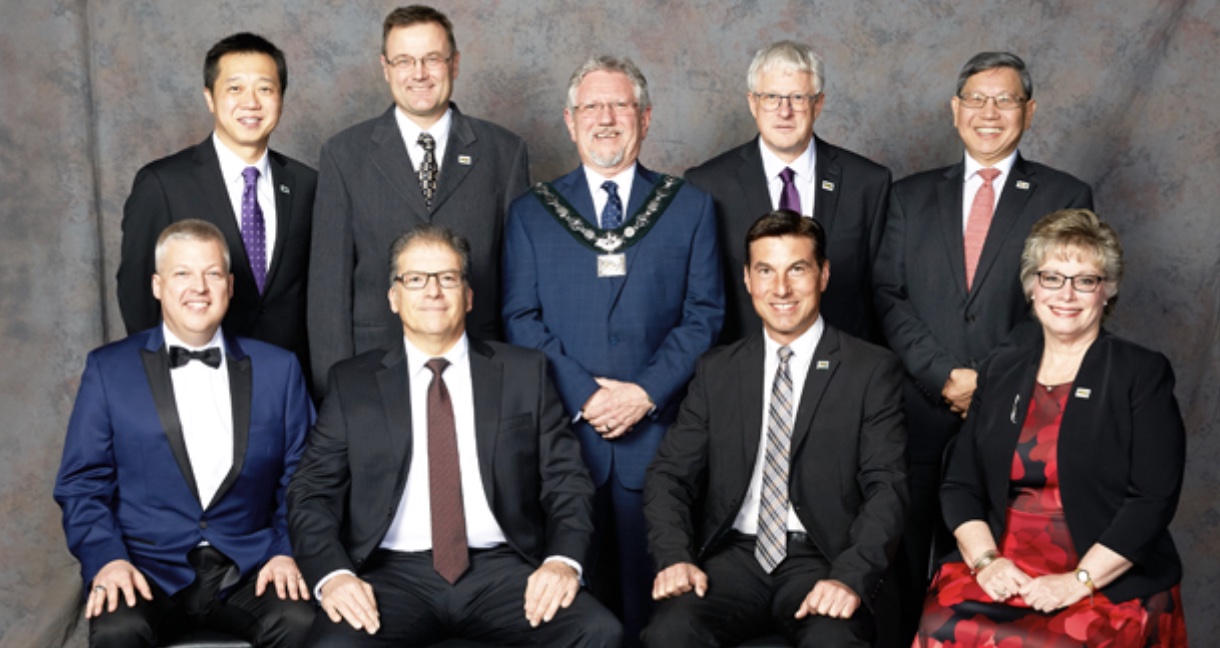 In a word, yes.
The long-running feud between Richmond Hill's two Regional Councillors, Joe DiPaola and Carmine Perrelli, came to the boil last week.
(Photo: DiPaola front row 2nd from right. Perrelli front row second from left)
On 15 September the long serving Mayor, Dave Barrow, abruptly resigned from the Council days after returning to work following a six month long leave of absence, taken for medical reasons.
In Barrow's absence the Council has been frequently deadlocked 4-4, paralysing decision-making.
In a parting shot, Barrow persuaded his colleagues at a special council meeting on 8 September to eliminate one of the two deputy mayors. Carmine Perrelli lost out to his rival, Joe Di Paola, who has been Acting Mayor for seven months.
Barrow's resignation has triggered a battle for the succession with DiPaola and Perrelli being the two most likely candidates.
By-Election or Appointment?
But how should the Mayoral vacancy be filled?
DiPaola wanted to commission a polling firm to consult local voters on what to do next. A by-election would cost over $600,000. DiPaola believed this to be a complete waste of money given there will be a council-wide general election next year, in October. An alternative would be to appoint someone to act as Mayor until then. The Municipal Act permits this.
Carmine Perrelli, belligerent, argumentative and self-important, demands a by-election, saying the people must decide who is to be Mayor.
After a tumultuous Council meeting, councillors decide on a by-election which will be formally agreed at the next Council meeting on 13 October 2021.
Perrelli's boorish behaviour has been, by any measure, beyond the pale.
He protests that DiPaola rudely interrupts him "without any procedural justification".
Yet he interrupts others.
Self-restraint
As I see it, DiPaola is a model of self-restraint, making his position clear in a tranquil, understated way while Perrelli rages and bellows and shakes his fist at the Moon.
Perrelli demands silence from others so he can concentrate on what he is saying:
"I would appreciate it Mr. Chairman if you would stop chewing while I'm speaking and making noise with your candy bar. It's very distracting."
Perrelli demands the Council suspends its sitting while he takes a bathroom break: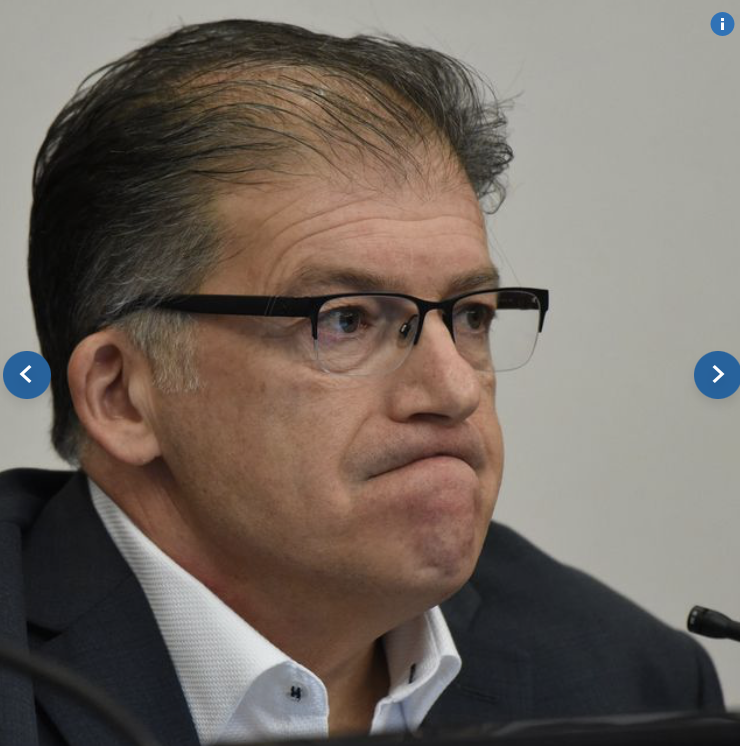 "I don't have a point of order (but) I don't want to miss any of the comments my colleagues are making but I need to have a bio break so if you could just hold the process for two or three minutes I would really appreciate that."
DiPaola calmly replies:
"You're welcome to leave (but) we are not going to recess."
No longer welcome
DiPaola decides to exclude Perrelli from the meeting, citing his disruptive behaviour. He tells the Council Clerk:
"Councillor Perrelli is no longer welcome in this meeting, OK. His votes are not gonna count. I'm going to exclude him from the proceedings going forward. I've been as nice as I possibly could but… please mute his microphone. He is no longer part of this meeting."
Perrelli is incandescent.
DiPaola's ruling is challenged and the Council divides 4-4. The clerk advises that in a tie the Chair's ruling stands.
Perrelli returns
DiPaola is pressed by Councillor Beros to allow Perrelli back into the meeting:
"When it comes to a vote of this magnitude I believe it is important that all members who are in attendance are able to vote. They've been democratically elected to their position and each vote matters.
I am gonna ask you for the last time, Sir, Deputy Mayor, Regional Councillor Perrelli, is here. His vote should matter on this motion."
Joe DiPaola:
"Councillor Beros, I certainly don't want a vote of this magnitude to be affected by the absence of a member who was present at one point during the meeting. If Regional Councillor Perrelli is standing by and wants to sincerely apologise for his behaviour, accept responsibility for disruption of the meeting I will permit him to sit in and cast a vote so long as he agrees not to speak out of turn. We appreciate that."
Carmine Perrelli:
"… Thank you Council for reinstating me back into this meeting. (Laughs) Everybody knows who I am. I am very passionate about what I believe in and sometimes I get carried away."
"Thank you for the opportunity to come back because I think it's important. And I will try to keep my passion under control."
Fat chance.
This email address is being protected from spambots. You need JavaScript enabled to view it.
Note 1: Richmond Hill is represented on York Regional Council by its Mayor and two Regional Councillors - Joe DiPaola and Carmine Perrelli. Currently Joe DiPaola sits on York Regional Council as Richmond Hill's Acting Mayor. Godwin Chan is Acting Regional Councillor. And Carmine Perrelli as Regional Councillor.
Note 2: Regional Councillor Perrelli blocks critics from commenting on his tweets – just like Newmarket-Aurora's newly re-elected Liberal MP, Tony Van Bynen. York regional Council will be holding a seminar in the Fall on how elected members use social media. It is expected the "You are Blocked" issue will be considered. The question is whether politicians (and not private individuals) whose salaries are paid for by taxpayers should be able to block on-topic comments which are not abusive or threatening.
Note 3: Richmond Hill's Council Mettings are streamed on YouTube. The meetings on 29 September 2021 are here and here.
Update on 12 October 2021: Minutes of the special meeting of Richmond Hill Council on 29 September 2021 are here.