Did Dr Merillee Fullerton deserve to be re-shuffled out of her job as Ontario's Minister of Long-Term Care?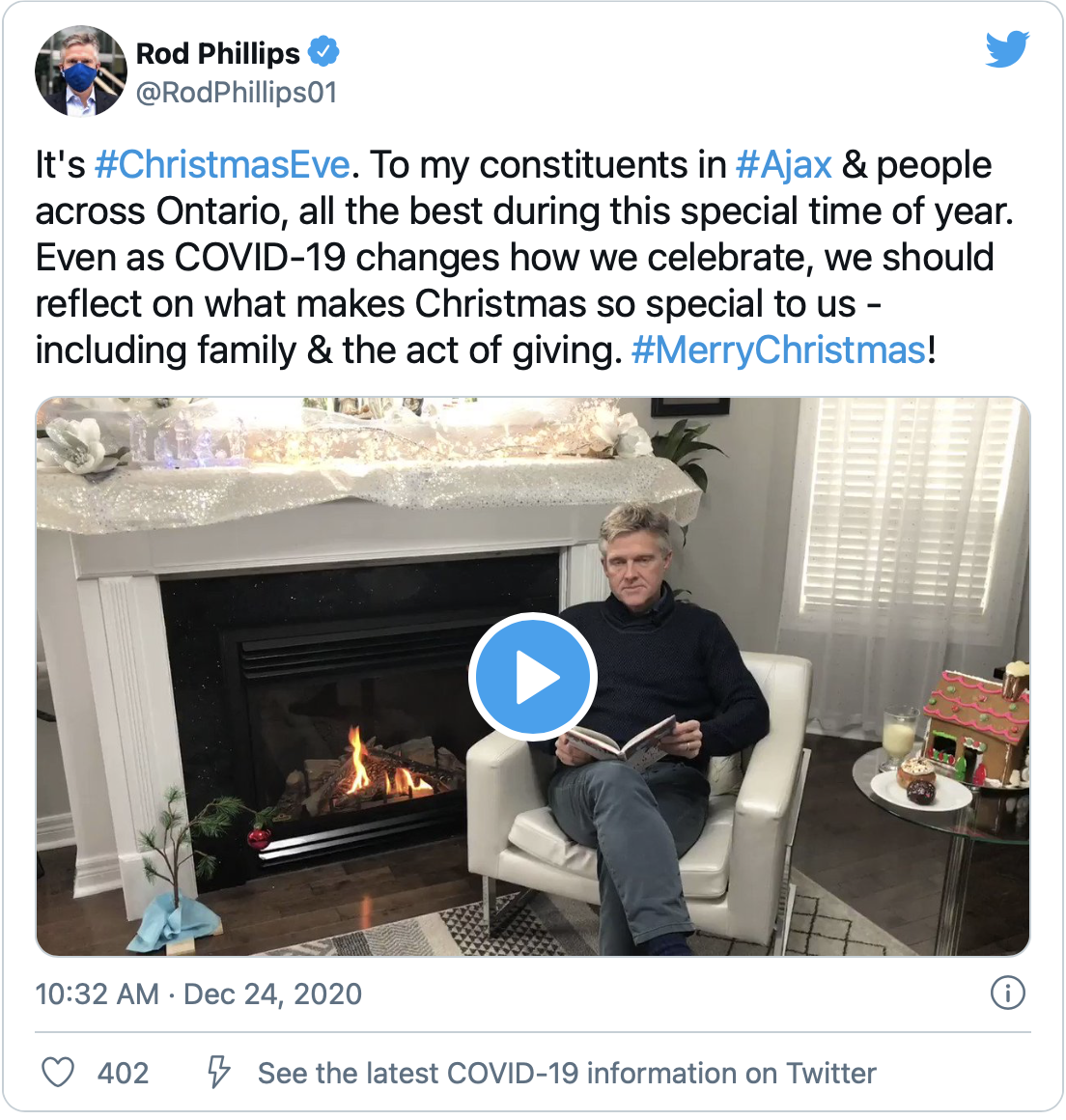 Covid was a catastrophe. But responsibility goes beyond the embattled Fullerton. She was dealt a bad hand.
(Photo right: Rod Phillips - the new Minister for Long Term Care)
By the end of April 2021 when the Covid 19 Long Term Care Commission reported, 11 staff and almost 4,000 residents in Ontario's long-term care homes had died.
The Commission's assessment is blunt:
"The Province's lack of pandemic preparedness and the poor state of the long-term care sector were apparent for many years to policymakers, advocates and anyone else who wished to see. Ontario's policy makers and leaders failed during those years to take sufficient action, despite repeated calls for reform…"
Fullerton inherited a new ministry spun out of the Ministry of Health in June 2019 just at the time when co-ordination and joined-up thinking was most needed.
Ford's Deputy Leader and Health Minister, the Teflon-coated Christine Elliott, couldn't wait to rid herself of responsibility for long term care. She wanted to concentrate on health restructuring where savings and efficiencies, real or imagined, could be made.
Distraction
Elliott's Newmarket-Aurora riding is in York Region whose retiring Medical Officer of Heath, Dr Karim Kurji, complained last year that the planned health reorganisation was a huge distraction at a time when the Region should have been focussing laser-like on the pandemic.
Fullerton gets the bad press but the person who should be carrying the can is Christine Elliott. Unlike Ford who, as Premier, is still learning on the job, Elliott has been steeped in health policy for decades.
Elliott spent years in opposition as the PC's Health Critic and when she left Queen's Park she accepted the offer from Kathleen Wynne of a well-paid job as Patient Ombudsman. But, reading the debates at Queen's Park, it is clear she was obsessed by inefficiencies (as she saw them) in the Health system.
Cuts in inspections
She figured there were savings to be made – such as the major reduction in the number of inspections in long term care homes. The regulatory assessment produced by the Ford Government viewed these inspections as red tape.
Elliott gave evidence to the Long Term Care Commission on 24 February this year confessing she was unaware that the World Health Organisation (WHO) had been warning in 2019 of a looming pandemic.
James Callaghan, Counsel for the Commission, told her public health experts around the world were forecasting that an influenza pandemic was statistically overdue and
"if the source is not the avian influenza virus currently circulating, which has the potential to evolve into a strain that could cause a pandemic in humans, it will be another as yet unknown virus".
He asks Elliott:
"I take it, as Minister of Health, you were aware that the World Health Organisation, for example, in 2019 was warning of the possibility of a pandemic and that governments weren't ready for it. Were you aware of that advice from the World Health Organisation?"
Elliott replies:
"No, I wasn't."
I shake my head.
Clueless
Elliott also didn't think about the masks and medical supplies that would be needed in care homes if and when a pandemic struck. Global supplies would tighten and it would be hard to get protective equipment.
"I wasn't aware of that issue to begin with, so I didn't think about the situation in Ontario."
Before June 2019 when long term care was hived-off, Elliott was Minister of both Health and Long Term Care. She was asked if she took any steps to ensure that the long-term care facilities under her control actually had the supplies that she, as the Minister responsible for emergency preparedness, would have expected. Elliott replies:
"That was not something that I looked into specifically."
Clearly, Elliott's focus was not on long term care. Her mind was on other things.
Duplicity comes naturally
So Fullerton is re-shuffled and her replacement is Rod Phillips – the ex-minister who was sacked by Ford for travelling to the luxury island of St Barts during the December holidays when we were all being told to stay at home and avoid unnecessary travel.
The duplicitous Phillips gives the impression he is here in Canada when he is actually relaxing on the beach in the Caribbean.
Welcome to Ontario's new Minister for Long Term Care.
This email address is being protected from spambots. You need JavaScript enabled to view it.
Ford's re-shuffle: the details
See also the Auditor General's Report on Long Term Care