Details

Created on Wednesday, 24 May 2017 13:43
Written by Gordon Prentice
New housing developments will grind to a halt in Aurora in 2019 because of water and wastewater capacity constraints that won't be resolved until the Upper York Sewage Solutions (UYSS) project is completed in 2024.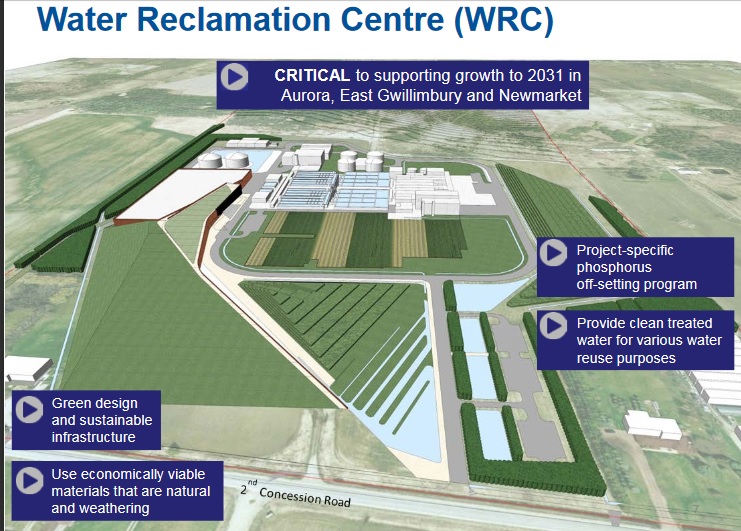 The same problem affects Newmarket and East Gwillimbury to varying degrees.
The three municipalities are all in the same boat. Or, to put it another way, they are all up the creek without a paddle.
Members of York Regional Council voiced their concerns at last week's Committee of the Whole (May 18, 2017) during a feisty debate on housing supply.
The Region assigns water and sewage allocations to the lower tier municipalities who, in turn, allocate capacity to development applications.
Nothing to allocate. Sorry!

But what happens if there is no capacity to allocate?
Mayor of Aurora, Geoff Dawe, who usually plays the part of the (unfunny) Court Jester, is wearing his most sombre expression when he tells his colleagues that in a couple of years there will be no servicing capacity whatseover for new developments in his Town.
East Gwillimbury Mayor, Virginia Hackson, says the Town will be fully built out by 2021 and there's a gap if UYSS doesn't come on stream until 2024. She says:
"East Gwillimbury will have incomplete communities."
Van Trappist stirs himself to tell everyone he is not going to belabour the servicing allocation point. Now he is mumbling about the importance of
"twinning the force mains".
I feel your pain now you hear mine

Now John "I feel your pain" Taylor is getting animated in a way the old banker never does.
He tells us
"It looks like there's a possibility of getting a zero allocation in Newmarket, Aurora and East Gwillimbury."
Adding for theatrical effect:
"I don't know if you can hear the pain in our voices!"
I can't believe he has just said this!
John "I feel your pain" Taylor is reflecting back at me my most astute observation of the great man and how he does his politics.
Empathise, emote and move on.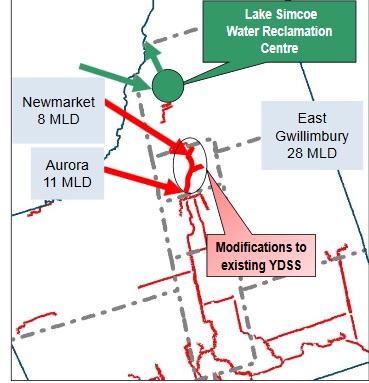 The Chief Planner, Valerie Shuttleworth, tries to sooth the passions:
"We know there are localised issues. We are looking at more capacity for Newmarket and Aurora."
Now the inventive Head of Engineering, Erin Mahoney, is rootling about in her toolbox.
"We shall bring back some additional solutions next year."
Holland Landing in reserve
She talks about the Holland Landing Lagoon being "a reserve". I am sure people living in Holland Landing are gonna just love that one.
Now she is reassuring us:
"There is more than one tool in the toolbox that we are trying to activate."
She says she will be talking to the Minister that very afternoon, stressing the urgency of it all. The Region needs the go-ahead from the Province before it can start work.
Now the Regional Chair, Wayne Emmerson, is reminding everyone that the Region has done everything it can to get the Sewage Solutions project up and running. He is now telling us it takes two years to build a second force main. Two pipes rather than just one. I see the bald Van Trappist raise one of his bushy eyebrows.
Now Emmerson is talking about risk management and how we need "redundancy". If one pipe were to fail we need a second one as a back-up.
It seems that if there is heavy and prolonged rainfall we are all doomed.
There is no delicate way to put this.
We could be in it up to our necks.
This email address is being protected from spambots. You need JavaScript enabled to view it.
Thinks..... I wonder if we shall hear any tributes to Michael Di Biase who has just resigned his Vaughan Council and York Regional Council seats. I suspect not.
Update 25 May 2017:  Wayne Emerson tells the Council extra cash is, I think, on the way from the Federal and Provincial Governments to make UYSS happen. The details will no doubt follow.
---
Details

Created on Tuesday, 23 May 2017 13:08
Written by Gordon Prentice
What is the distance between the 1881 heritage building at 182 Church Street and the proposed block of Townhouses?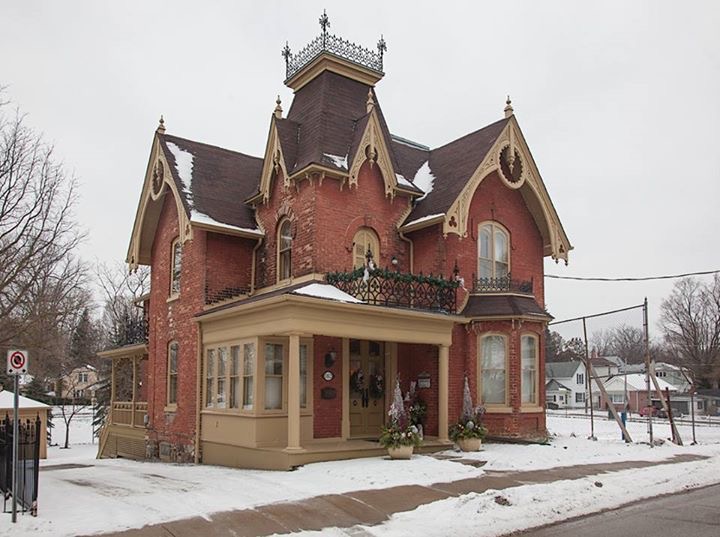 A simple question you may think.
At last week's Site Plan meeting on the King George development, consultant urban planner Brad Rogers told councillors that 182 Church Street was 2.7 metres away from the flank wall of the proposed Townhouses.
This is incorrect.
The true distance is 2.29 metres.
Brad Rogers didn't just walk in off the street. His company, Groundswell, wrote the Planning Justification Report for the development. He had also been to Dave Kerwin's home to discuss the development "in detail". This is what Brad said: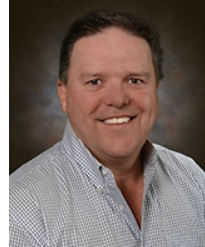 "These are some of the dimensions and the interface between the Campbell home and ours. As of today, what we show in our plan is a setback of 1.5 metres to the wall of our first Townhouse and a total of 2.7 metres from wall to wall and we were asked by council to have a look at this and to see if we can make that 3.0 metres from 2.7 and we are looking into that right now to see if we can narrow up a few units to get to 3.0 metres."
Anyone can make a mistake. Even a planner. But what surprised me most was that no-one corrected him. Not Dan Berholz from the Rose Corporation who was sitting alongside. Not even the unctuous Dave Kerwin who couldn't wait to tell Brad how wonderful he was.
"I would like to thank Brad Rogers for taking the time to come over to my house and go through this architectural plan in detail. And we tried to make an input and it has been listened to today.
And Brad, I would be remiss if I didn't thank you because when I see you here sometimes I feel very comfortable. You would not do anything to harm the Town of Newmarket so thanks again for the time."
Don't Challenge the Experts!
Ward 5 councillor, Bob Kwapeese, the jewel with a backbone, was present at meetings at 182 Church Street when the true distance between the buildings was put on the table (and never challenged). But Kwapeese, on his own admission, always defers to experts. So why would he doubt Brad Rogers?
When the King George plans first went into the Town Hall the distance between the buildings was 1.79 metres. (5' 10")

The Town's Engineering Department raised concerns about the proximity of the buildings.
"Sufficient landscape buffer has not been provided between the east Townhouses and the existing dwellings and the south Townhouses and the existing dwellings. A landscape buffer is required to screen the 2 existing dwellings from the retaining wall and the Townhouses."
The Rose Corporation responded on 27 January 2017:
"This zone will not receive any landscape treatment as it was meant to provide access along the side of the building. Any landscape installation in this area is not sustainable due to the narrowness of the strip."
The developer subsequently stretched the distance on Church Street between his property line and the flank wall of the end Townhouse from 1 metre to 1.5 metres, making the distance wall to wall 2.29 metres (or 7' 6").
Landscaping challenges

Landscaping such a narrow strip was always going to be a tall order. Kerwin said that when he and his wife first saw the plan:
"we suggested things like English Oak or Cyprus Evergreen or Cedar."
How on earth was it possible for Kerwin to overlook the fact that 182 Church Street sits on 136 year old rubble stone foundations and you don't plant trees within spitting distance?
It is not as if Kerwin is unaware of the fragility of these foundations. He knows from the Old Town Hall the perils of working with rubble stone.
So, where does this leave us?
The developer says he will try to get to a 3 metre distance between the designated heritage house and the Townhouses. He says he will not get rid of one Townhouse to achieve the 20' buffer the Town's own Heritage Advisory Committee insists on.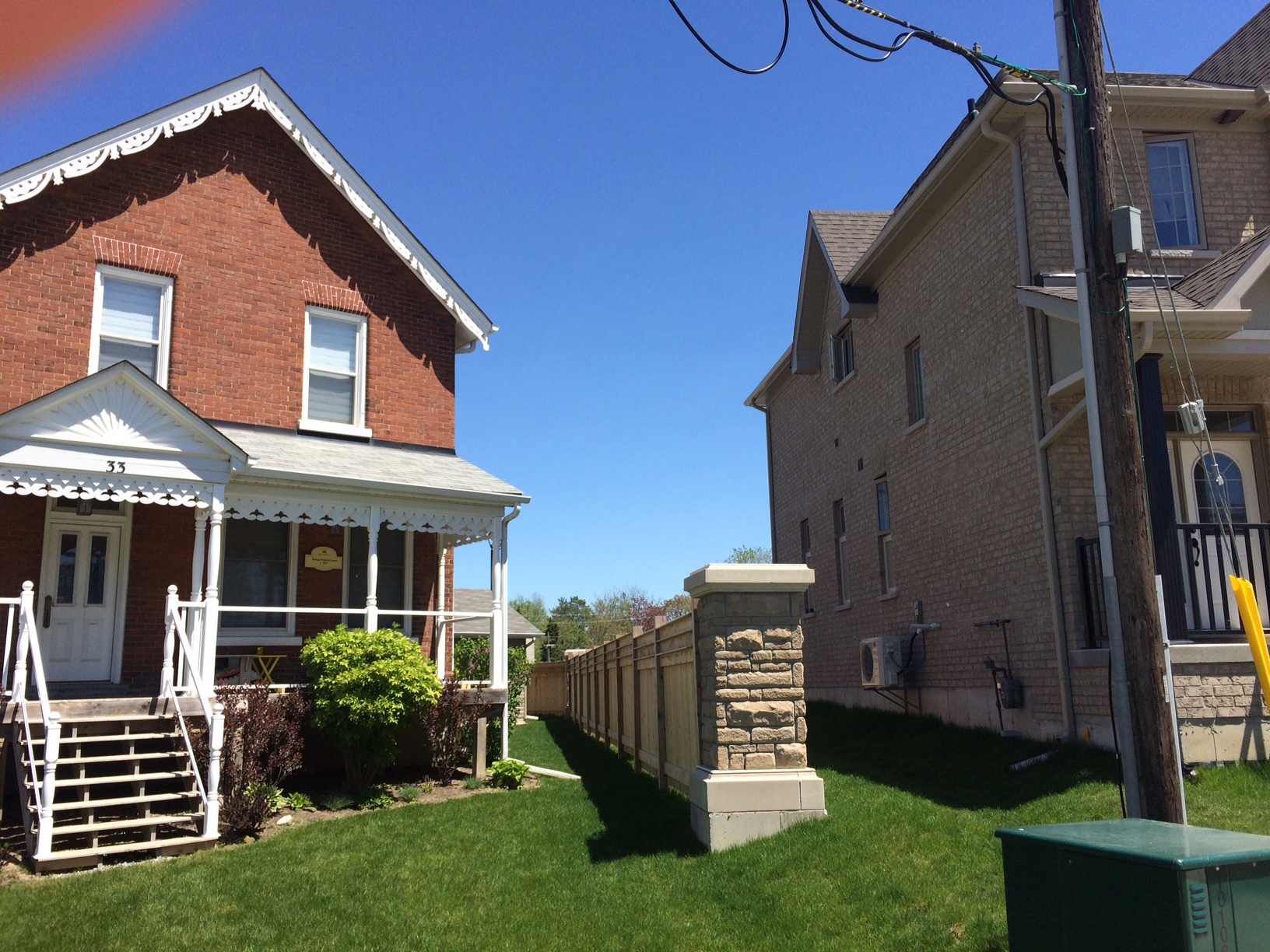 Eye off the ball

I think the Town took its eye off the ball. Councillors were so mesmerised by the proposal to bring the old school back to life they simply didn't consider the implications for 182 Church Street.
The Town should have required a cultural heritage impact assessment but chose not to. And in the documentation submitted by the developer to the Town the main focus is on the development itself and not the designated 1881 house sitting on its doorstep.
Point me to other examples

Ages ago, I asked the Planning Department for examples of Townhouse developments going up cheek by jowl next to a designated historic building sitting on a rubble stone foundation.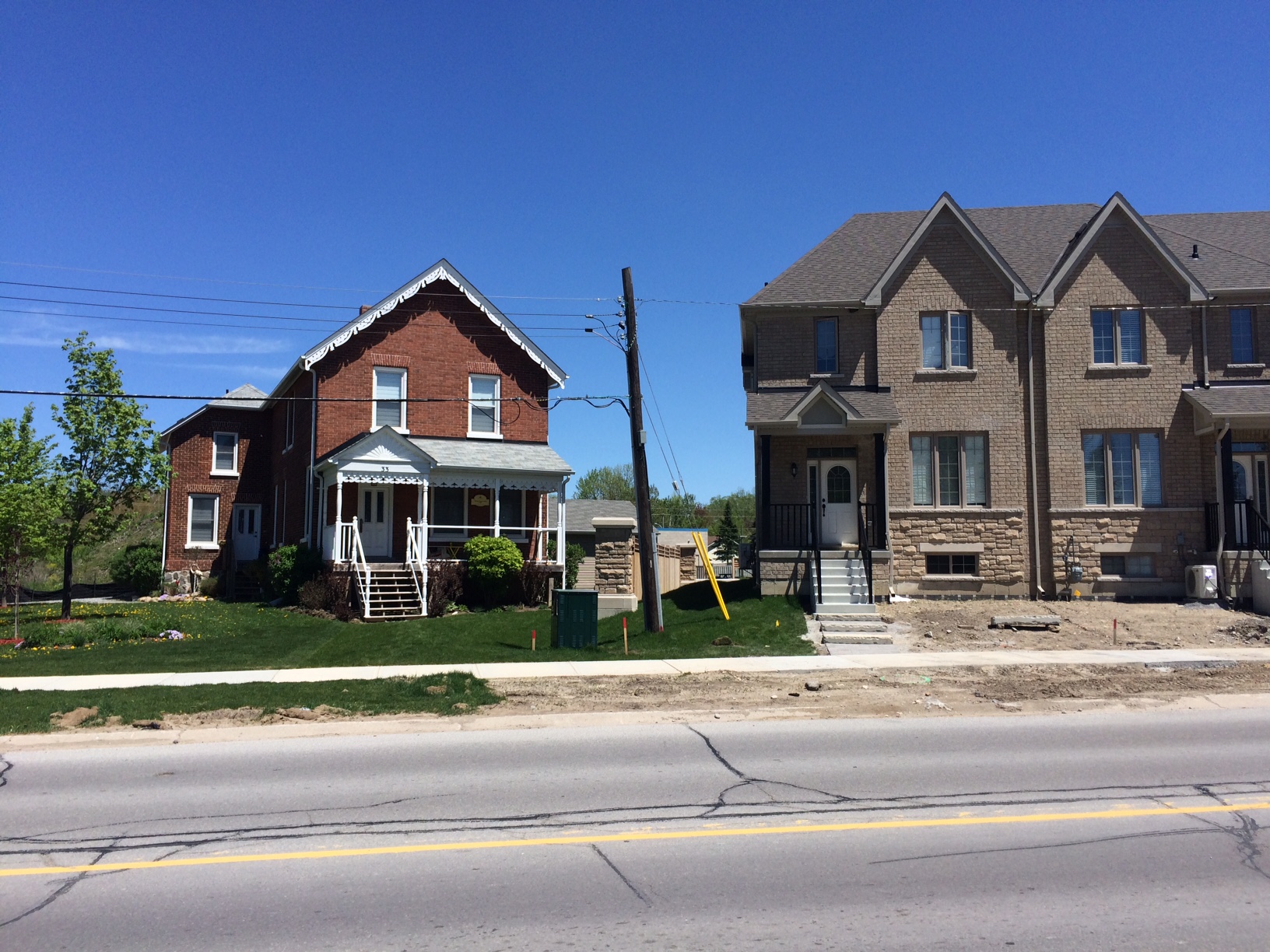 The planners helpfully pointed me to two examples but neither is, in my view, comparable. In both cases the distance between the old building and the new Townhouse was greater than what is being proposed here. The photos here show the George Vrooman House (c1895) in Sutton. It does not have a rubble stone foundation. The distance between it and the adjacent Townhouse is around 20 feet.
You can decide for yourself if you think this is "good planning" - a term routinely used to give cover to weak concepts and appalling designs.

Hands Tied

Some councillors would have us believe their hands were tied and they had to approve the application as presented to them by the developer, complete with the Official Plan amendment and the zoning by-law amendment. They would have us believe the site specific zoning for Residential Townhouse Dwellings was something they simply couldn't resist.
The credulous Bob Kwapeese – the jewel with the backbone - falls into this category.
It is disappointing so many others do too.
This email address is being protected from spambots. You need JavaScript enabled to view it.
Brad Rogers talks about the distance issue at the Site Plan meeting on 15 May 2017 at 23 minutes in.
---
Details

Created on Monday, 22 May 2017 10:28
Written by Gordon Prentice
Work is coming along quite nicely on 1011 Elgin Street, the monster home that now dominates the neighbourhood.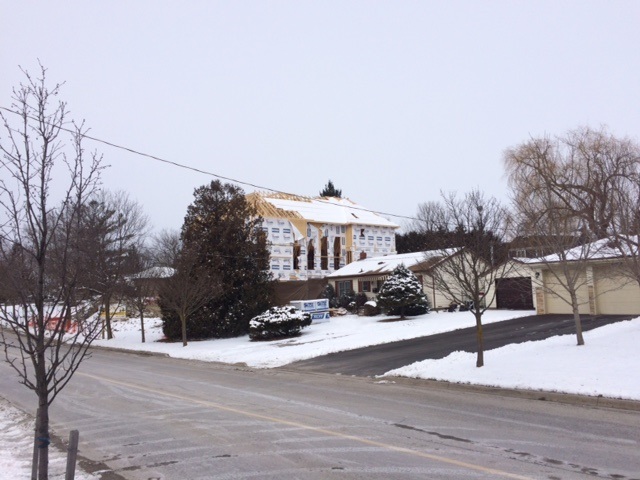 The monster home only required a building permit as we are told on the authority of the Town's Director of Planning, Rick Nethery, that it satisfies all the requirements on lot size and so on. But every time I drive past it seems more colossal than before. In any event it is a very tight fit.
The Ward councillor, Jane Twinney, called for a debate on 27 March 2017
 "to address best practices related to infill development standards across the Town as a whole and provide a report to Council."
Since then things have gone eerily quiet. I suspect we won't see any "debate" this side of the summer break.
Property Survey

Mr Nethery, for his part, is trying to extract from the owner, real estate agent Morad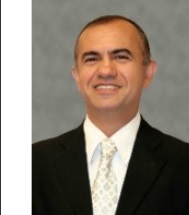 Dadgar, a copy of the property survey. I am grateful to Mr Nethery who is clearly going the extra mile just to satisfy me. I appreciate that. He told me on 31 March 2017 that:
 "Under the circumstances of your on-going concern, we will contact the applicant to determine if there is or will be a survey they could share with us to determine compliance."
I gave Mr Nethery the usual period of grace and on 11 May 2017 decided to chase matters up, gently:
"It is now over one month since you told me you would endeavour to get sight of the survey of 1011 Elgin Street. Would it be possible to let me know where things currently stand?"
On Wednesday 17 May 2017, I heard back from Mr Nethery:
"To date, the owner has not provided us with a survey of the noted property."
I replied the same day:
"Can I ask when you expect to receive it?"
This is turning into quite the little minuet. 
Area being re-developed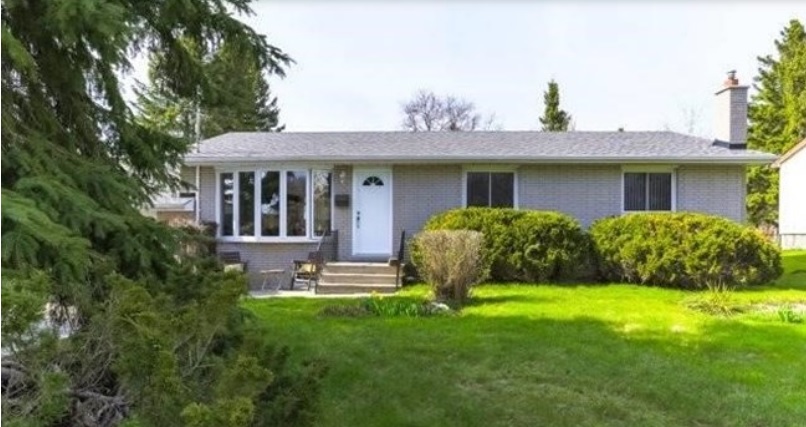 Three doors away an attractive 3 bedroom, 2 bathroom bungalow is on the market for $1,348,000. It comes with a two bedroom basement apartment with a separate entrance.
Clearly this is not a property for a young first time buyer - unless they are very well heeled. Even with a hefty deposit of $400,000 (and with a 25 year term at 4%) the monthly repayment comes in at an eye watering $5,003.
The sales spiel tells me:

"Area Being Re-Developed, Large Foot Print"
The fact that this chunk of her Ward is being re-developed may come as a surprise to Councillor Twinney.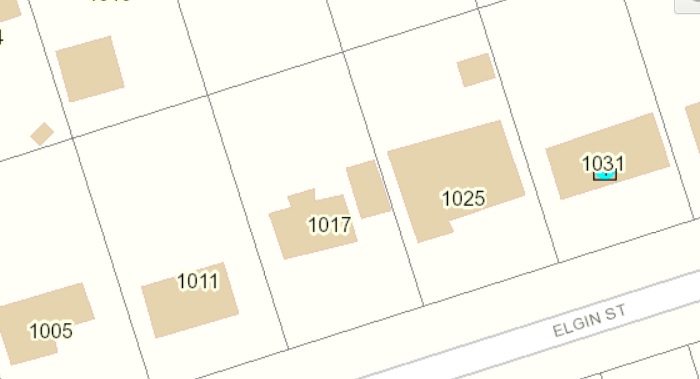 It doesn't surprise me. The property sits on a big lot at 80' x 150' and, if you observe the zoning rules, no permissions are required from the Town, just a building permit.
I look into my crystal ball and, indistinct at first, I see the outlines of another monster home emerging from the swirling mists.
This email address is being protected from spambots. You need JavaScript enabled to view it.
**80 X 150 Ft Lot** Ranch-Style Bungalow, Do Not Miss This! Level, Clear Lot, Bordered With Trees. Large Bdrms, Large Bright Bsmt, With Separate Entrance To 2 Bdrm Bsmt Apt, Full Kitchen, Another 4Pc Bath. This Is **Prime Location** Off Of Leslie, 5 Min To 404, Great School District, Parks, Shopping, Area Being Re-Developed, Large Foot Print...
---
Details

Created on Sunday, 21 May 2017 18:04
Written by Gordon Prentice
Dave enjoys flattering people and, in turn, being flattered.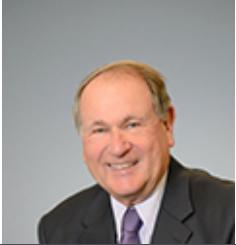 Laying it on thick. Preferably with a trowel.
The oleaginous Dave Kerwin is the longest serving councillor in the whole of Canada, shamelessly flattering his way through the decades, selecting his victims at random.
As he is quick to remind us, he is ten years older than the Mayor. Tony Van Trappist. A whole decade more of solid flattering under his belt.
Last week, Kerwin made a million toes curl when he eulogised the newish Ward 5 councillor, Bob "Kwapeese" for having a "backbone". (You can see it here at 28 minutes in.)

Bob Kwapeese faced down local Ward 5 residents who thought a row of Townhouses on Church Street shouldn't be built 7' 5" away from a beautiful designated heritage home built in 1881, sitting on fragile rubble stone foundations, a stone's throw from the Old Town Hall.
But why say Kwapeese showed backbone?
Bob wasn't standing alone, arm raised, in front of a gang of Hell's Angels roaring down one of his bike lanes.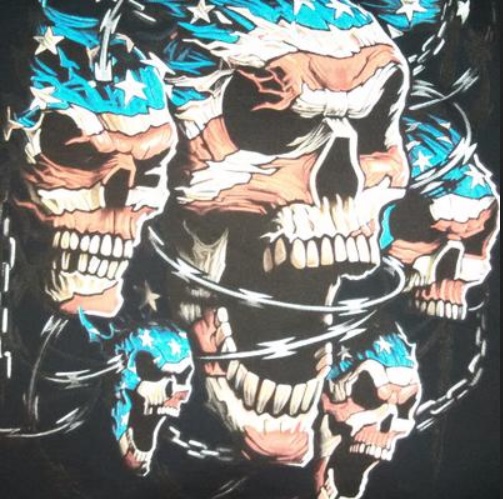 That's what I call backbone.
No. No. No.  According to Dave, Bob showed backbone for having the courage to walk away from an 136 year old heritage home that needed his help.
Bob "Kwapeese" is a jewel with a backbone
At last week's Site Plan Review Committee (15 May) on 182 Church Street, Kerwin quickly moved in to top gear, lavishing praise on the Rose Corporation:
"They are not questions they are just comments. But this is the site plan. The Town of Newmarket has been extremely lucky to have the Rose Corporation and yourself Daniel handling this infill and we're lucky you've taken the care that you have to preserve the King George School. It is going to look better today than it did yesterday or in the future.
So we're very lucky and you've done everything you can to work with Mrs Campbell. I've been present with Bob Kwapeese in her home and my wife and I have worked with you and with the residents in that area and tried to come up with different solutions. Even talked to your landscape architect about the trees and the English Oak and the Cyprus Evergreen and so forth. So we are very very lucky in that case.
Exemplary Reputation
And I know that during the construction you will take care to work with the residents. So your corporation is one that we've worked with before and it has an exemplary reputation within the Town and, secondly, you know, its... we have a new councillor in Ward 5 his name is Bob Kwapeese. I've worked with him and met with Ann Campbell. Bob and I even had cookies and tea there with the late Tom Campbell and Ann Campbell.
I would say to the residents that in the Town that we are lucky to have a person like Bob Kwapeese representing Ward 5 and we are lucky to have him on Council.
 He's a man who has a backbone. He's not afraid to take on issues - and I watched him work with the bike lanes and I've watched him work with this development.
I salute Bob Kwapeese! I compliment him! And I admire him!
I salute him and I compliment him and I admire him so I know we are in good hands here. We are not going to be always 100% perfect but all of us around this table have done our best and we need accommodation in this Town and this one is gonna be just a jewel. It's one we can look back on in three years, five years. And these issues, five years from now, seven years from now they'll work themselves out.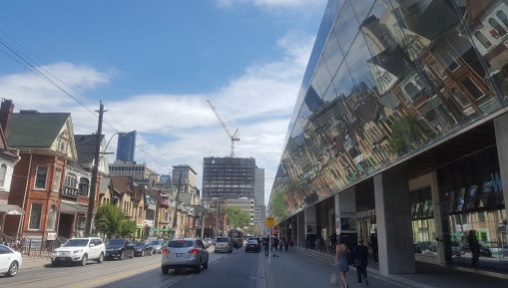 And I took the opportunity to go to the Art Gallery of Ontario and I sat out in the Italia Galleria and I looked across at what they've done at Dundas Street with the heritage and the new and the old and its just beautiful and I know when this is all finished and people are living there that the issues will have faded and people will walk away and they'll be very happy with what you've done so that's just my comment Bob.
(The Galleria Italia at the AGO is on the above right. Second floor. This is what Dave saw while sipping his cappucinno.)

You are a jewel to work with. I know we won't always agree on everything but I know you have a backbone and that to me means everything."
Bob Forrest walks on water
This encomium perhaps surpassed his earlier speech on the merits of Clock Tower developer, Bob Forrest, which, until now, had been the high water mark:
On 18 April 2016, Kerwin gushed:
"I have known Bob Forrest for a very long time, probably over 20 years; two decades.  He is an absolute, consummate gentleman and he is a visionary.  I dealt with him on five projects within Ward 2 and all these projects have been unbelievably successful... 
The Residents love him
I have had an intimate relationship in the development industry and the building industry and when Bob Forrest sold Renessa I went to his retirement party from that building and the residents were in tears because he and Colleen gave everything they had to the residents and the residents loved him and they still remember him because I go back there constantly. 
His word is his bond. He is a gentleman
I am going to give blood, sweat and tears, meeting with anyone I can and I attended Trinity and go to all the public meetings I can to work our way through this (the Clock Tower development) because I know that, in the end, I am working with a man I have known for 23 years who is absolutely transparent.  He's a gentleman.  His word is his bond.  And he wants to make the World better and provide accommodation for people who need it."
Notwithstanding this embarrassing love-in, my spies tell me Kerwin believes Bob's Clock Tower project is doomed.
That is a big admission. Kerwin is programmed to side with developers so when he thinks things are going pear-shaped then that's it. Curtains for Bob Forrest.

Flattery
As it happens, at the moment I am reading James Boswell's essays published in the London Magazine between 1777 and 1783. In August 1782 he turned his attention to Flattery.
"...People whose tastes are refined must have the sweet and soothing potion of Flattery administered with a gentle hand, that they may sip it as it were imperceptibly, and enjoy the essence without feeling the coarseness of any vehicle. The most effectual Flattery to such people is what is contrived shall come to them by report."
That's not Dave's way.
If you are a jewel with a backbone you are gonna hear it from Dave first.
This email address is being protected from spambots. You need JavaScript enabled to view it.
---