Details

Created on Wednesday, 07 June 2017 09:51
Written by Gordon Prentice
181 Beechwood Crescent was the centre of attention back in February when the owner, Norm Stapley, a builder by trade, took his chainsaw and clear cut the lot in 24 hours, denuding it of long established trees including a 125 year old Heritage Sugar Maple.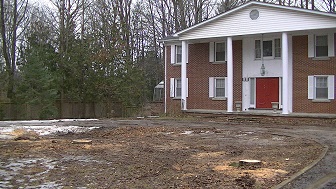 This was a public relations disaster but, for Norm, a necessary prelude to a lucrative redevelopment of the site.
Norm weathered the storm - even taking a call from the Town's chief administrator, Bob Shelton - and last month was seeking permission to sub-divide the lot.
My spies who know about these things tell me Norm could build a 6,000 sq ft house on the west lot and 5,000+ on the east in this supposedly stable residential neighbourhood.
Ward 5 Councillor Bob Kwapeese, the jewel with the backbone, has been telling people the developments will be 2,000 sq ft but that is, apparently, only the footprint.
Newmarket's jewel is probably just passing on what he has been told by an expert.
Elgin Street

Elsewhere... there is still radio silence on the monster home going up at 1011 Elgin Street. On 27 March 2017, Ward 3 councillor Jane Twinney called for a debate on infill developments but I suspect that's been kicked into the long grass.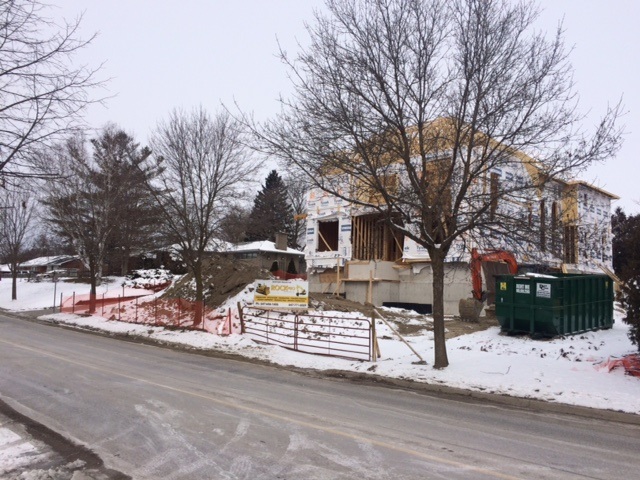 It would be impossible for Jane to speak authoritatively in a debate she initiated on infill development without knowing for certain that the house being built at 1011 Elgin Street complies with the Town's zoning by-laws.
In the Elgin Street area, these stipulate a maximum lot coverage of 35%. The site plan shown to the Town indicates a lot coverage of 31.33%.
The Town's Director of Planning, Rick Nethery, went down to have a look in mid-March this year and says it complies with the Town's zoning standards. Two months ago he asked the owner for sight of the survey which, so far, has not been forthcoming.
This email address is being protected from spambots. You need JavaScript enabled to view it.
---
Details

Created on Friday, 02 June 2017 21:36
Written by Gordon Prentice
Bob Forrest, the developer who wants to demolish historic commercial buildings in the middle of Newmarket's heritage conservation district, is up to something.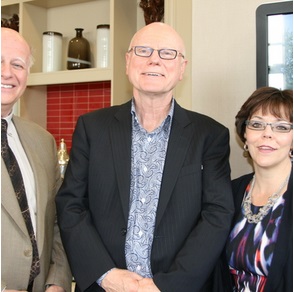 After years in which his boarded up Main Street properties were left gently to decay we now see a flurry of activity. He is sprucing the place up.
Much needed repairs are now being done to the Clock Tower's bricks and mortar. And not a moment too soon.
The landscape people are putting down fresh cedar mulch.
Roofers have been sighted but, for the moment, the notorious blue tarpaulins are still there, as they have been for months.
Most of the back porch has been removed from the back of 186 Main Street South and the fire escape has disappeared from the rear of 192. 
My spies tell me Bob's wife, Colleen, has been marching about Market Square, observing and inspecting, making sure everything is tickety-boo.
up for sale again
Is the property - which is a financial ball and chain around Bob's ankle - going up for sale? Bob put it on the market once before and then subsequently denied ever having done so. 
Bob's original application, turned down by the Town, will never be built as it needs Town-owned land which is not forthcoming.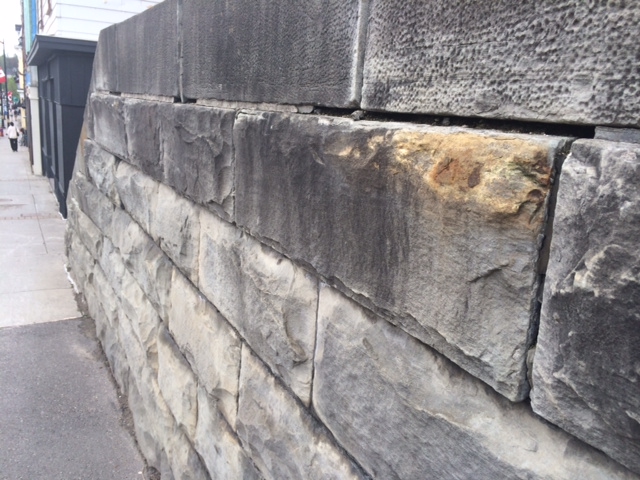 Bob has, therefore, been working on a fall-back Option B in which his proposed development, including the five level underground garage, would lie entirely within the footprint of the land Bob owns. It was delivered to the OMB pre-hearing last month in a half-baked state.
Does anyone seriously believe Option B is even remotely credible?
I don't think so either.
This email address is being protected from spambots. You need JavaScript enabled to view it.
---
Details

Created on Tuesday, 30 May 2017 18:04
Written by Gordon Prentice
Today (30 May 2017) legislation was passed which will force York Regional Council to appoint an Integrity Commissioner - either its own or one drafted in from another municipality - and bring in a Code of Conduct for its own members.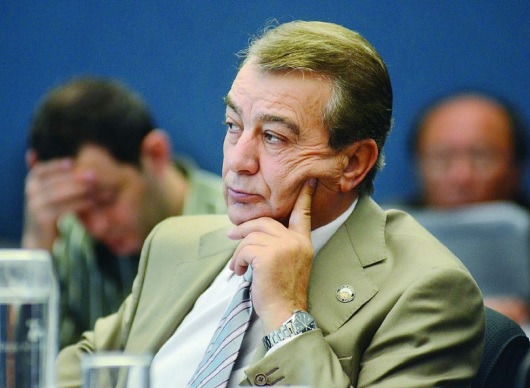 The Council has resisted both measures saying it needs "flexibility".

The Modernizing Ontario's Municipal Legislation Act amends the Municipal Act and the Municipal Conflict of Interest Act. The press briefing says the new legislation will:
"Enhance local government accountability and integrity across the Province by requiring municipalities to have a code of conduct for members of municipal councils and local  boards."
and
"Ensure the public and municipal councillors have access to integrity commissioners with a broadened role related to conflicts of interest and municipal codes of conduct."
It is truly astonishing that York Regional Council has survived so long without a Code of Conduct for its members or an Integrity Commissioner.
In its clubby self-satisfied atmosphere the under-reported Regional Council floats above scrutiny and controversy. They get away with murder.

Even after the scandalous behaviour of Vaughan's Deputy Mayor, Michael Di Biase, came to light, the Region's members politely declined to discuss the matter.
Di Biase has now resigned - but on an entirely separate issue from the one which led to his loss of pay for 90 days from his home council in Vaughan. Even after his pay had been docked from Vaughan, York Region just kept paying him his "stipend" as before.

Commenting on the then draft legislation back in January this year, a report to the Region's Committee of the Whole explained:

"Greater accountability measures are proposed, including the mandatory appointment of an Integrity Commissioner and a requirement for a code of conduct for Council members.
Currently, the provisions in the Act designed to promote accountability and transparency are generally permissive rather than mandatory."
The Region's submission to the Province recommended these provisions should

"remain largely permissive to enable flexibility according to individual needs and circumstances."
This allowed Council members to turn a blind eye to the shocking behaviour of Michael Di Biase rather than risk any unpleasantness by confronting the issue head on.
"Flexibility" gave them the option of doing nothing and looking the other way.

And that's exactly what they did.

This email address is being protected from spambots. You need JavaScript enabled to view it.

Update on 14 June 2017: More on Di Biase who acted improperly in land deal.

---
Details

Created on Sunday, 28 May 2017 16:22
Written by Gordon Prentice
Tomorrow (29 May) York Region's Chief Planner, Valerie Shuttleworth, and Rick Farrell, General Manager Housing Services, will be giving a presentation to Newmarket's Committee of the Whole on housing initiatives and incentives.
It promises to be a bleak and dispiriting affair.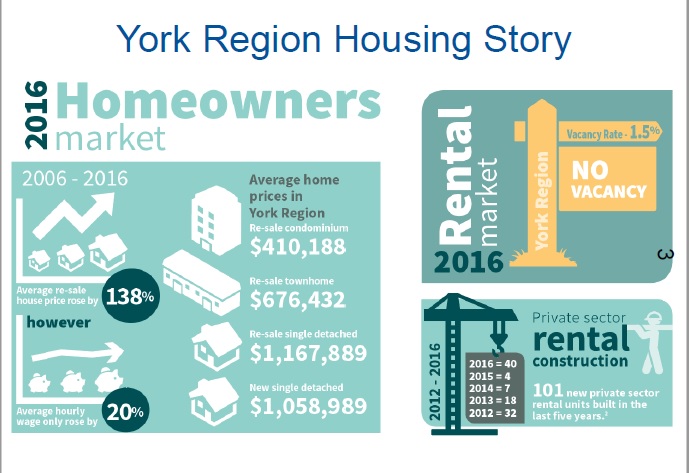 The slide above shows the scale of the problem. In the decade to 2016, the average re-sale house price in York Region rose by 138%. Over the same period, average hourly wages increased by 20%.
In the five years to 2016 there were only 101 new private sector rental units built. Of course, 212 Davis Drive here in Newmarket will add another 200+ units and this is welcome but overall the position is dire.
Ms Shuttleworth has been going round the municipalities delivering her message that York Region can't do it alone. True.
A starting point would be for all of us to acknowledge the scale of the problem.
In Georgina - theoretically one of the more affordable areas in York Region - I read in The Georgina Post (May 10) the median family income (mid-point between the highest and lowest) is approximately $84,000 which caps the home ownership threshold at about $325,000 and there is very little on the market in that price range. I wonder what the equivalent figures are for Newmarket?
Here, relatively modest homes are going for well over a million dollars. This is simply unsustainable. How on earth can local people afford to live here?
The Government has just announced its Fair Housing Plan. It is, I suppose, a step in the right direction but we wait to see how it translates on the ground.
This email address is being protected from spambots. You need JavaScript enabled to view it.

In a recent report, "Understanding the Forces Driving the Shelter Affordability Issue", the Canadian Centre for Economic Analysis tells us:
* 1 in 8 Ontarians are under-housed (i.e., do not have enough bedrooms).
It would take 2.5 years just to supply 'missing' bedrooms. But over half of Ontarians (and 3/4 of those aged 65+) are over-housed (i.e., have too many bedrooms). There are over 5m spare bedrooms in Ontario, equivalent to 25 years' worth of construction. (In fact, there are over 400,000 homes in Ontario that have three or more empty bedrooms - that is, nearly 1.3 million empty bedrooms in family-sized homes.)
* In the GTHA, approximately 45% of housing units are single-detached homes and 35% are in apartment buildings (equal to New York City metro area); only 20% are "missing middle" housing
* 30% of GTHA commuters commute 45+ min. each way. Outside the GTHA is very car dependent – 85% commute by car (5% by transit). In the GTHA, "only" 70% commute by car (20% by transit)
* Since 1990, rental stock per capita has fallen by 1/3 in the GTHA (1/8 outside).
 * Over the last 20 years, over 10 times more condo units have been built than purpose-built rental in the GTHA (roughly equal numbers built outside). 1/3 of Toronto's condos are now rented out.
* Over half of  "family-sized" renter households (4+ people) in Ontario are under-housed (far more than owners). 20% of such households (25% in GTHA) are under-housed by multiple bedrooms.
* The rent-to-price ratio in Toronto is lower than every major North American city (except Vancouver and Ottawa), and is much closer to other 'world class' cities, suggesting that renting in Toronto could be a good alternative to buying
* An "estimated 95% of all investment properties purchased in 2016 are losing money every month" on the assumption that prices will continue to rise – a sign of speculation, not investment
* "Roughly 17% of homes were resold within 2 years as of March 2016, up from about 9% a year earlier" – a sign of house-flipping
* An estimated 1.5% of the stock in Ontario (or about 85,000 dwellings) is vacant, down from 3% in 2011. This is equivalent to about 1.5 years' worth of construction. (It is estimated that vacant stock in the GTHA represents a much lower proportion and number)
* Affordability is largely driven by average household size (which is shrinking) and average wages (which are growing, but unevenly). For example, a very small change in average household size (say 2.6 to 2.5) would necessitate a very large increase in housing stock (=3.5 years' worth of construction)
* Economic prosperity is a huge driver of affordability. Real median family market income has been effectively flat for decades, despite significant real increases in shelter prices
---