Details

Created on Tuesday, 30 May 2017 18:04
Written by Gordon Prentice
Today (30 May 2017) legislation was passed which will force York Regional Council to appoint an Integrity Commissioner - either its own or one drafted in from another municipality - and bring in a Code of Conduct for its own members.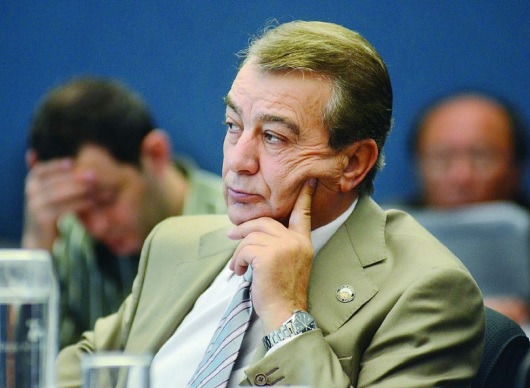 The Council has resisted both measures saying it needs "flexibility".

The Modernizing Ontario's Municipal Legislation Act amends the Municipal Act and the Municipal Conflict of Interest Act. The press briefing says the new legislation will:
"Enhance local government accountability and integrity across the Province by requiring municipalities to have a code of conduct for members of municipal councils and local  boards."
and
"Ensure the public and municipal councillors have access to integrity commissioners with a broadened role related to conflicts of interest and municipal codes of conduct."
It is truly astonishing that York Regional Council has survived so long without a Code of Conduct for its members or an Integrity Commissioner.
In its clubby self-satisfied atmosphere the under-reported Regional Council floats above scrutiny and controversy. They get away with murder.

Even after the scandalous behaviour of Vaughan's Deputy Mayor, Michael Di Biase, came to light, the Region's members politely declined to discuss the matter.
Di Biase has now resigned - but on an entirely separate issue from the one which led to his loss of pay for 90 days from his home council in Vaughan. Even after his pay had been docked from Vaughan, York Region just kept paying him his "stipend" as before.

Commenting on the then draft legislation back in January this year, a report to the Region's Committee of the Whole explained:

"Greater accountability measures are proposed, including the mandatory appointment of an Integrity Commissioner and a requirement for a code of conduct for Council members.
Currently, the provisions in the Act designed to promote accountability and transparency are generally permissive rather than mandatory."
The Region's submission to the Province recommended these provisions should

"remain largely permissive to enable flexibility according to individual needs and circumstances."
This allowed Council members to turn a blind eye to the shocking behaviour of Michael Di Biase rather than risk any unpleasantness by confronting the issue head on.
"Flexibility" gave them the option of doing nothing and looking the other way.

And that's exactly what they did.

This email address is being protected from spambots. You need JavaScript enabled to view it.

Update on 14 June 2017: More on Di Biase who acted improperly in land deal.

---
Details

Created on Sunday, 28 May 2017 16:22
Written by Gordon Prentice
Tomorrow (29 May) York Region's Chief Planner, Valerie Shuttleworth, and Rick Farrell, General Manager Housing Services, will be giving a presentation to Newmarket's Committee of the Whole on housing initiatives and incentives.
It promises to be a bleak and dispiriting affair.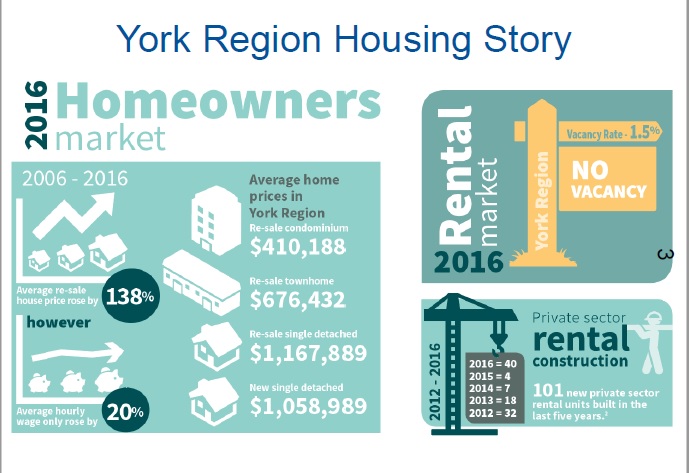 The slide above shows the scale of the problem. In the decade to 2016, the average re-sale house price in York Region rose by 138%. Over the same period, average hourly wages increased by 20%.
In the five years to 2016 there were only 101 new private sector rental units built. Of course, 212 Davis Drive here in Newmarket will add another 200+ units and this is welcome but overall the position is dire.
Ms Shuttleworth has been going round the municipalities delivering her message that York Region can't do it alone. True.
A starting point would be for all of us to acknowledge the scale of the problem.
In Georgina - theoretically one of the more affordable areas in York Region - I read in The Georgina Post (May 10) the median family income (mid-point between the highest and lowest) is approximately $84,000 which caps the home ownership threshold at about $325,000 and there is very little on the market in that price range. I wonder what the equivalent figures are for Newmarket?
Here, relatively modest homes are going for well over a million dollars. This is simply unsustainable. How on earth can local people afford to live here?
The Government has just announced its Fair Housing Plan. It is, I suppose, a step in the right direction but we wait to see how it translates on the ground.
This email address is being protected from spambots. You need JavaScript enabled to view it.

In a recent report, "Understanding the Forces Driving the Shelter Affordability Issue", the Canadian Centre for Economic Analysis tells us:
* 1 in 8 Ontarians are under-housed (i.e., do not have enough bedrooms).
It would take 2.5 years just to supply 'missing' bedrooms. But over half of Ontarians (and 3/4 of those aged 65+) are over-housed (i.e., have too many bedrooms). There are over 5m spare bedrooms in Ontario, equivalent to 25 years' worth of construction. (In fact, there are over 400,000 homes in Ontario that have three or more empty bedrooms - that is, nearly 1.3 million empty bedrooms in family-sized homes.)
* In the GTHA, approximately 45% of housing units are single-detached homes and 35% are in apartment buildings (equal to New York City metro area); only 20% are "missing middle" housing
* 30% of GTHA commuters commute 45+ min. each way. Outside the GTHA is very car dependent – 85% commute by car (5% by transit). In the GTHA, "only" 70% commute by car (20% by transit)
* Since 1990, rental stock per capita has fallen by 1/3 in the GTHA (1/8 outside).
 * Over the last 20 years, over 10 times more condo units have been built than purpose-built rental in the GTHA (roughly equal numbers built outside). 1/3 of Toronto's condos are now rented out.
* Over half of  "family-sized" renter households (4+ people) in Ontario are under-housed (far more than owners). 20% of such households (25% in GTHA) are under-housed by multiple bedrooms.
* The rent-to-price ratio in Toronto is lower than every major North American city (except Vancouver and Ottawa), and is much closer to other 'world class' cities, suggesting that renting in Toronto could be a good alternative to buying
* An "estimated 95% of all investment properties purchased in 2016 are losing money every month" on the assumption that prices will continue to rise – a sign of speculation, not investment
* "Roughly 17% of homes were resold within 2 years as of March 2016, up from about 9% a year earlier" – a sign of house-flipping
* An estimated 1.5% of the stock in Ontario (or about 85,000 dwellings) is vacant, down from 3% in 2011. This is equivalent to about 1.5 years' worth of construction. (It is estimated that vacant stock in the GTHA represents a much lower proportion and number)
* Affordability is largely driven by average household size (which is shrinking) and average wages (which are growing, but unevenly). For example, a very small change in average household size (say 2.6 to 2.5) would necessitate a very large increase in housing stock (=3.5 years' worth of construction)
* Economic prosperity is a huge driver of affordability. Real median family market income has been effectively flat for decades, despite significant real increases in shelter prices
---
Details

Created on Wednesday, 24 May 2017 13:43
Written by Gordon Prentice
New housing developments will grind to a halt in Aurora in 2019 because of water and wastewater capacity constraints that won't be resolved until the Upper York Sewage Solutions (UYSS) project is completed in 2024.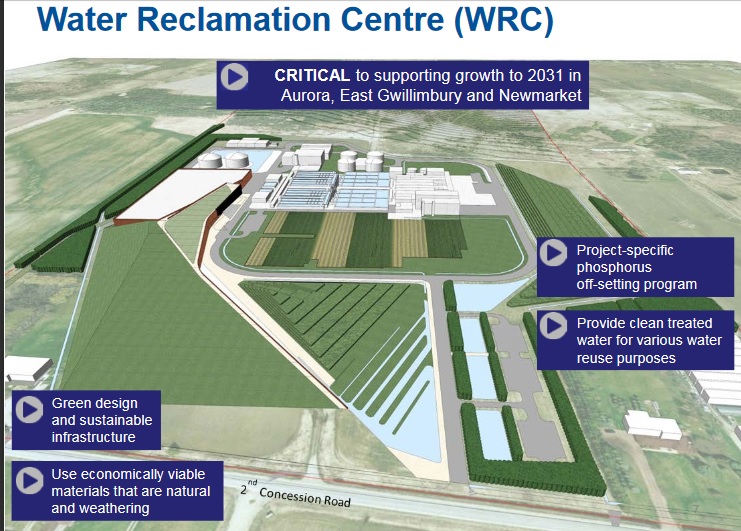 The same problem affects Newmarket and East Gwillimbury to varying degrees.
The three municipalities are all in the same boat. Or, to put it another way, they are all up the creek without a paddle.
Members of York Regional Council voiced their concerns at last week's Committee of the Whole (May 18, 2017) during a feisty debate on housing supply.
The Region assigns water and sewage allocations to the lower tier municipalities who, in turn, allocate capacity to development applications.
Nothing to allocate. Sorry!

But what happens if there is no capacity to allocate?
Mayor of Aurora, Geoff Dawe, who usually plays the part of the (unfunny) Court Jester, is wearing his most sombre expression when he tells his colleagues that in a couple of years there will be no servicing capacity whatseover for new developments in his Town.
East Gwillimbury Mayor, Virginia Hackson, says the Town will be fully built out by 2021 and there's a gap if UYSS doesn't come on stream until 2024. She says:
"East Gwillimbury will have incomplete communities."
Van Trappist stirs himself to tell everyone he is not going to belabour the servicing allocation point. Now he is mumbling about the importance of
"twinning the force mains".
I feel your pain now you hear mine

Now John "I feel your pain" Taylor is getting animated in a way the old banker never does.
He tells us
"It looks like there's a possibility of getting a zero allocation in Newmarket, Aurora and East Gwillimbury."
Adding for theatrical effect:
"I don't know if you can hear the pain in our voices!"
I can't believe he has just said this!
John "I feel your pain" Taylor is reflecting back at me my most astute observation of the great man and how he does his politics.
Empathise, emote and move on.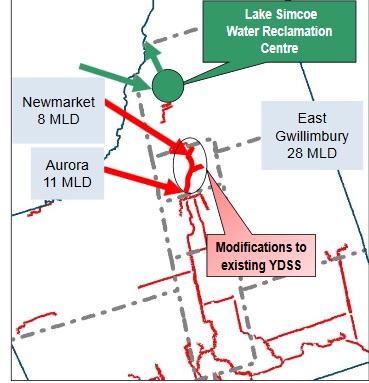 The Chief Planner, Valerie Shuttleworth, tries to sooth the passions:
"We know there are localised issues. We are looking at more capacity for Newmarket and Aurora."
Now the inventive Head of Engineering, Erin Mahoney, is rootling about in her toolbox.
"We shall bring back some additional solutions next year."
Holland Landing in reserve
She talks about the Holland Landing Lagoon being "a reserve". I am sure people living in Holland Landing are gonna just love that one.
Now she is reassuring us:
"There is more than one tool in the toolbox that we are trying to activate."
She says she will be talking to the Minister that very afternoon, stressing the urgency of it all. The Region needs the go-ahead from the Province before it can start work.
Now the Regional Chair, Wayne Emmerson, is reminding everyone that the Region has done everything it can to get the Sewage Solutions project up and running. He is now telling us it takes two years to build a second force main. Two pipes rather than just one. I see the bald Van Trappist raise one of his bushy eyebrows.
Now Emmerson is talking about risk management and how we need "redundancy". If one pipe were to fail we need a second one as a back-up.
It seems that if there is heavy and prolonged rainfall we are all doomed.
There is no delicate way to put this.
We could be in it up to our necks.
This email address is being protected from spambots. You need JavaScript enabled to view it.
Thinks..... I wonder if we shall hear any tributes to Michael Di Biase who has just resigned his Vaughan Council and York Regional Council seats. I suspect not.
Update 25 May 2017:  Wayne Emerson tells the Council extra cash is, I think, on the way from the Federal and Provincial Governments to make UYSS happen. The details will no doubt follow.
---