Last week's revelation that foreign buyers bought 9.1% of all homes sold in York Region between 24 April and 26 May 2017 is, at least to me, unsettling. That's 1 in 11 homes going to people who are neither Canadian citizens nor permanent residents and who have no obvious connection with this country.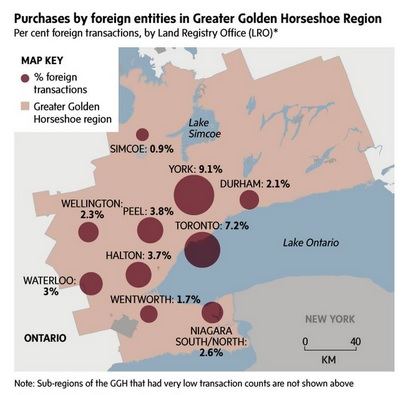 Who are these buyers? Where do they come from? And why are they buying homes here?
Some of the answers are self evident.
Safe Haven
Foreign buyers see Canada as a very safe haven to protect chunks of their wealth. Canada is a stable, mature democracy unlike, say, China where the private ownership of land is prohibited. (Everyone leases from the State.)
Like Canada, the UK has traditionally been seen as a safe berth, attracting the super rich - from Saudi princes to Russian oligarchs and everything in between. This arresting video clip from 2014 shows what happened to Bishops Avenue in Hampstead, London, when the billionaires bought mansions but then left them empty.
Justin's Choice

For reasons best known to himself, Justin Beiber last year rented a mansion in Bishops Avenue for C$178,000 a month. At 22 he is old enough to know what to do with his money.
The entry of super-rich (or just very rich) absentee foreign buyers distorts the housing market at the top end. But I suspect the ripples are felt further down the food chain in the prices being asked for more modest properties.
Newmarket's housing bubble

Figures from the Toronto Real Estate Board in the June 2017 Home Price Index for Newmarket are truly startling. The figures were published on 6 July. (The index starts at 100 in 2006. The benchmark price refers to what can be expected for a standard property in its class - single detached, semi, townhouse or apartment.)
A detached home goes for $955,900 - a year over year increase of 24.4%
A single family attached goes for $659,700 - up 20.9%
A townhouse goes for $559,800 - up a staggering 37.9%
An apartment sells for $463,900 - up 27.5%
The Toronto Real Estate Board says its index doesn't predict the future. Just as well.
We don't know how many foreign buyers are active in Newmarket but, whatever it is, something is going on. The figures released last week do not go down below the Regional level to the municipalities.
Foreign Buyers Tax

The Globe and Mail story quotes Markham councillor Karen Rea who pushed for a foreign buyers tax after getting lots of complaints about homes being left empty. She also wants figures that reflect what is happening in the municipalities.
The Globe and Mail points out:
"The new Provincial form requiring home buyers to declare their citizenship did not become mandatory until May 6, meaning the Government's figures may understate the extent of international investors' purchases."
Why do we allow foreign nationals to buy houses as an investment and then leave them empty?
What's in it for the rest of us?
Apart, that is, from runaway housing inflation.
We need a foreign buyers tax set at a level that bites and empty property taxes that send a signal to those who believe houses are not to be lived in, but are, rather, a store of value to be cashed in when the time is right.
This email address is being protected from spambots. You need JavaScript enabled to view it.
---