I drop in to the Metrolinx open house on rail electrification at the Community Centre in Doug Duncan Drive, Newmarket. It is Wednesday 5 July 2017 at 7pm and there is a good crowd - mostly people who will be directly affected as they live close to the rail tracks.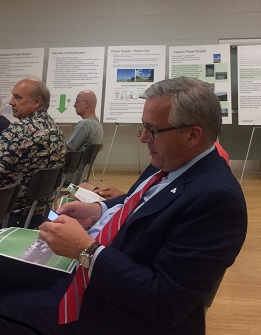 Metrolinx is planning to electrify the entire Barrie line from Toronto up to Allandale. I am very much in favour of this but it should have happened twenty years ago.
As I enter it is impossible to miss Chris Ballard, Newmarket-Aurora's smiley MPP, who is standing strategically by the entrance, making sure his constituents know he is here.
When the facilitator (with a melodious faintly Bronx accent) asks how many people actually use GO trains only five hands go up, including Chris Ballard's and mine. Oh dear! Then again, most people - including rail commuters - are getting on with their lives rather than sitting through two hours on the minutiae of electrification, overhead wires, gantries and all that stuff.
I am here to learn more about electrification and level crossings. We have four of these in Newmarket and only one will disappear as a result of grade separation - Mulock Drive.
25,000 volts

The remodelled Davis Drive is going to be a jumble of wires. The thick cables slung from the hydro poles will be joined by sizzling 25,000 volt overhead wires above the level crossing, adding to the general clutter. 
Of course, 25,000 volts is no big deal. There are level crossings all over the world with live wires above them. Hmmm. 

Electricity can jump or arc so you don't need to touch the wire to get electrocuted. So I suspect open top double-decker buses will be a no-no on Davis Drive. And these SUVs sporting ridiculously long wavy aerials would be well advised to find another route.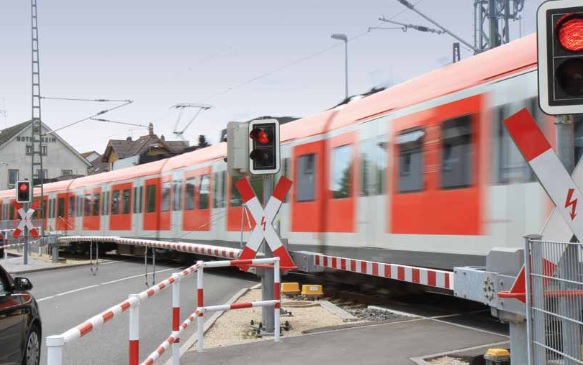 As it happens, the questions from the audience touch on a thousand issues far removed from the main topic, electrification.
15 minute service

Some people are getting quite animated about the 15 minute service stopping at Aurora, calling for it to be extended northwards. Hear! Hear! I say, turning towards Chris Ballard.
He smiles and hints this is his next project.
Over two years ago, on 17 April 2015, he tweeted:
"Enhanced service coming to Newmarket. Need time to build a number of crossings in Newmarket before 15 minute service possible, though."
I can understand why he would want to move the 15 minute cut-off point to Newmarket, East Gwillimbury or points north. An army of commuters is going to descend on Aurora to take advantage of the 15 minute service. No doubt about it. The figures from Metrolinx' studies already predict this.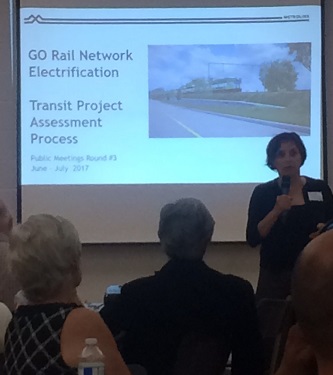 No rush says Van Trappist
We in Newmarket, a designated Place to Grow, will have the silver service while Aurora gets the gold. Our steady-as-she-goes, don't rock the boat Mayor, Tony Van Trappist, told the Council on 9 November 2015:
"In my own mind the difference between a 15 minute and 30 minute service doesn't change the world although I think eventually we'll need to get there. But I'd rather see us easing in to that, responding to the demand as we go forward."
Someone asks why Aurora? And we get referred to a 2013 study which suggests it was all thoroughly examined. But was it?
Population up

We shall soon be seeing explosive population growth in East Gwillimbury. Newmarket's population grew by 5.3% from 2011-2016 (above the national average) while Aurora's increased by 4.2%.
I recall Leslie Woo, Metrolinx Chief Planning Officer, telling Newmarket councillors on 9 November 2015:
"Newmarket will be getting two-way all-day service every 30 minutes. When we were developing the business case for Regional Express Rail there are several markers for evaluating the extent of the ten year program. It is based upon ridership uptake and also the level of difficulty for implementation. It was felt Aurora would be the best "edge-point" for the 15 minute service and that was the business case for going to Aurora. Every 30 minutes to Newmarket."
Ballard would like to push that "edge-point" north but the cost could be cripplingly expensive. I understand that but I don't lose sleep over these things. I'm not the Minister of Finance. (As if!)
Phasing out level crossings

Transport Canada guidelines say grade separations are warranted where the "exposure index" exceeds 200,000. (The index multiplies daily road vehicle traffic by daily train traffic.)
In 2015, the index was exceeded at Mulock Drive (458,400), Davis Drive (396,000) and Green Lane (464,400).
Metrolinx say they don't have the money to do everything they want to do. Fair enough. It is a huge undertaking with lots of moving parts.
But I am left wondering how much time Chris Ballard needs before we get the grade separations that will allow a 15 minute service to Newmarket.
It is not a trick question.
Difficult. Yes.

This email address is being protected from spambots. You need JavaScript enabled to view it.
---