Paddytown campaigner, Christina Herancourt, has scored a famous victory.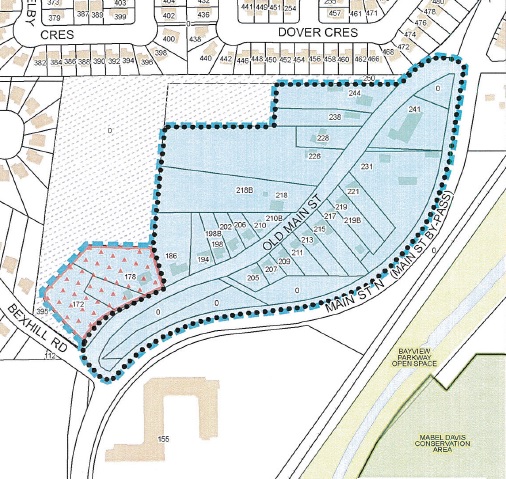 Coming from a standing start, she persuaded the Town's planners to recommend to Council on Monday (15 May 2017) that an "Interim Control By-law" should be slapped on Old Main Street, immediately halting development applications that were threatening to change the face of the neighbourhood.
Her deputation to the Committee of the Whole earlier this week listed a string of concerns about the impact of new developments.

The planners'  report to Monday's Council meeting says:
"Council is given power to enact Interim Control By-laws through the Planning Act. They are, in effect, a pause button, allowing Council to put a freeze on development applications, in order to take some time out and study the situation. It allows for Council to take a bigger picture view of the potential for change in an area where large scale redevelopment was not previously considered."
The report goes on:
"Council must have a justifiable planning rationale for enacting an Interim Control By-law. They can be appealed to the Ontario Municipal Board after their passing. An Iterim Control By-law can freeze development for a period of one year with a possible renewal of one more year (renewal requires Council enact another By-law); for a total of two years..."
The Town's planners have a symbiotic relationship with developers, nurtured over many years. They are rarely on the side of community groups. Now, in a welcome move, they say a study of the area is required.
Their report says:
"An Interim Control By-law could freeze all development, including the current Development Application and prohibit the acceptance of any new applications."
Councillors, who typically lean like crutches on the recommendations of the Planning Department, are certain to approve the report and impose the Interim Control By-law.
This would never have happened without the Paddytown campaigners.
Christina Herancourt, in particular, deserves a round of applause.
This email address is being protected from spambots. You need JavaScript enabled to view it.
You can read the report here. Open packet for Council meeting on 15 May 2017 and scroll to page 62.

---