It takes a certain resilience to run for office. Perhaps even more so second time around.
Ron Eibel got 61 votes when he stood for election in Ward 5 in 2014. I ask him how many votes this time?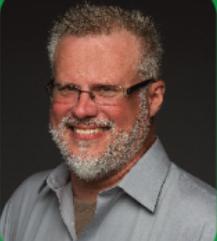 He bursts out laughing. 62!
But Ron is joking. He is in it to win although, I fear, he has a mountain to climb.
He admits Bob Kwapis has more lawn signs up than all the other candidates put together.
We talk about social media and I suggest its reach is exaggerated. More conventional campaigning is still important.
I ask if he has knocked on every door in Ward 5. (A claim made by Darryl Wolk and Bob Kwapis.) No he says with disarming candour.
That's probably because he spends enormous amounts of time chatting with people on the doorstep. Half an hour doesn't seem unusual. Ron likes to talk.
Ron's website tells me his Mom's side of the family is German and, as a boy, he spent many summers with his grandparents in Munich. Pedestrian only streets and squares were commonplace and he yearns for the same kind of traffic-free ambiance in downtown Newmarket.
The anti-politician
Ron's big selling point is that he is the anti-politician. He is not going to make promises he can't keep or on areas of policy – such as education – which lie outside the realm of responsibilities of a Ward councillor. I tell him this could be quite limiting. Expressing a view on Metrolinx policies for Regional Express Rail, for example, could help people understand where he is coming from.
He tells me with jaw-dropping frankness that GO Rail "is Darryl's issue".
I learn that Darryl Wolk has been going on about this since 2014 and Ron gives me the impression he doesn't want to trespass on "Darryl's issue". What saintliness! Politicians borrow and steal good policies from others all the time providing they resonate with voters. But not Ron. He will say things that, to my delicate ears, shock and stun.
People who want to get elected are not supposed to say they have never been on a bus in Newmarket. But Ron happily confesses. If he wants to go someplace nearby he will walk. If it is further he will jump in his truck.
But at some point this won't be an option. What happens when there are another 32,000 people living in Town?
Empty buses
He talks about the $4 fare which is way too high for short trips in Town. I agree. And, inevitably, he mentions the empty buses. I wearily tell him everyone talks about empty buses, including the Chair of York Region, Wayne Emmerson.
I heard Emmerson tell the Committee of the Whole on 8 September it would be cheaper for the Region to pay a taxi to pick someone up every other day than run an empty bus every day. (The media doesn't cover York Region as it should so remarks like that one disappear into the ether.)
Authenticity
Authenticity is Ron's big thing. He doesn't pretend to be someone he is not. He prides himself in not being the smooth polished operator – although he can don the suit when he has to. As a man of the people, he tells it as it is.
He says that of all the candidates at the by-election Q&A at Newmarket Theatre he was the only one not to have notes in front of him. He says they would be distracting. And, I guess, he doesn't want to appear rehearsed.
I sense he believes other candidates are guilty of burnishing their credentials.
Clock Tower and the 3 storey height cap
We are now talking about the Clock Tower which is the key issue facing voters in this by-election. He is one of three candidates who have stated unequivocally that the 3 storey height cap must be respected. (The others are Tracee Chambers and Darryl Wolk).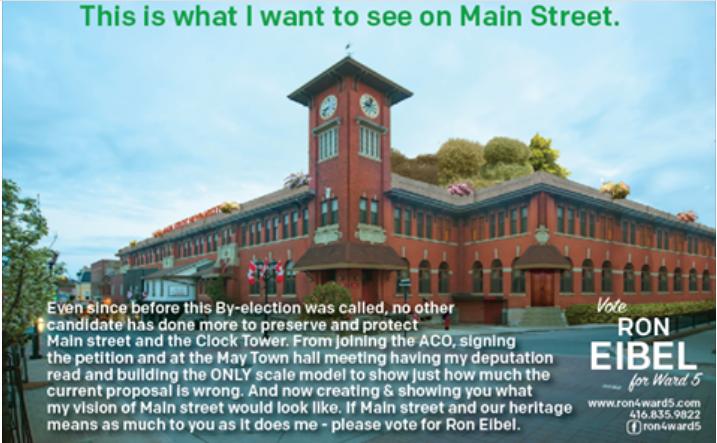 He won great plaudits for the scale model he built for the Statutory Public Meeting on 9 May 2016 which showed the overbearing mass and scale of Bob Forrest's development, looming over the old Main Street. I tell him his latest rendition of what people want for the Clock Tower may come across as slightly eccentric.
He laughs the criticism off, explaining how it would all work – right down to the rooftop terraces.
Ron is now talking enthusiastically about Main Street and its terrific shops. He wants to make it even better.
That's the kind of thing politicians say.
This email address is being protected from spambots. You need JavaScript enabled to view it.
---