A Town Hall on OMB reform will be held at Trinity United Church, 461 Park Avenue, Newmarket from 6pm – 9.30pm on Tuesday 18 October 2016.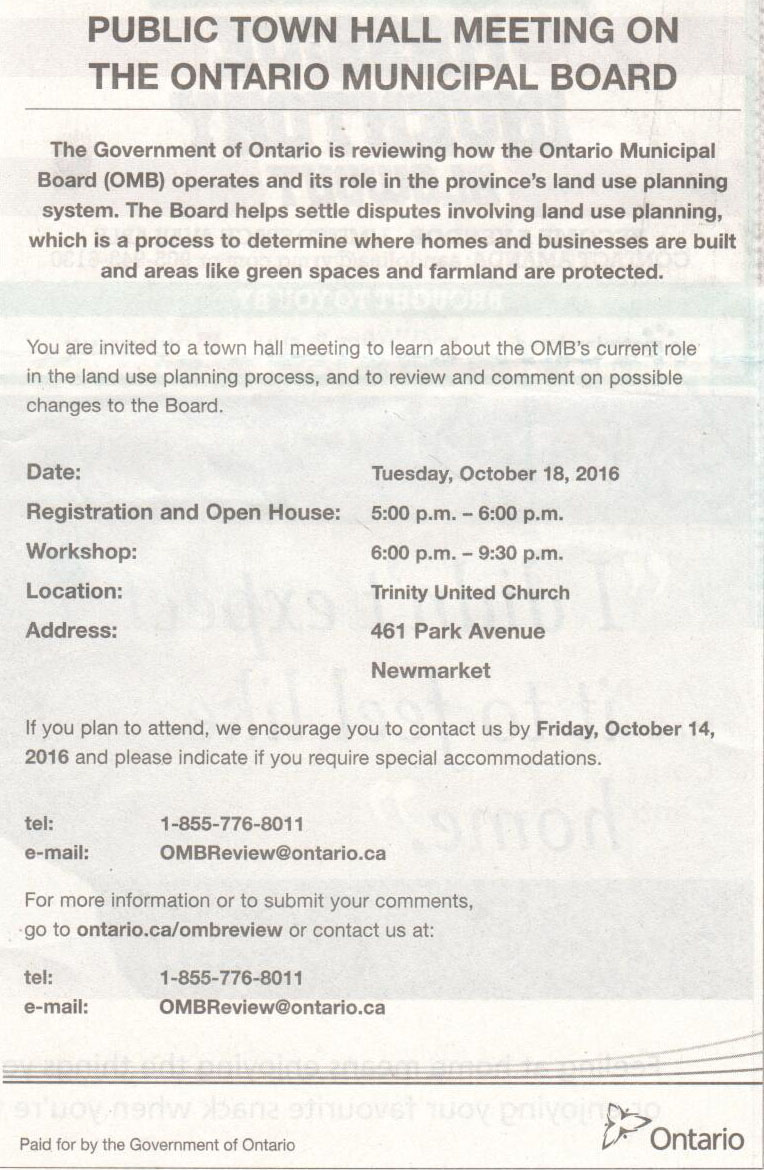 This is a great opportunity to help shape Provincial policy on the future of an appeals body that is never far from controversy.
The Minister of Municipal Affairs, Bill Mauro, says the Government will not be scrapping the OMB but
"We are going to try as best we're able, through the proposed changes that we're putting forward, to show more deference for local municipal decision-making."
You can read the consultation report here.
Who should go?
1. The Mayor, Tony Van Bynen, who, before the last municipal election in 2014, promised Newmarket voters:
"Bringing reform to the Ontario Municipal Board and the Planning Act to ensure our residents have a say in shaping their community will be a priority in the next term. Our Council's decision to fight for Glenway and defend our Town's official plan was the right thing to do. I will be working with the Association of Municipalities of Ontario and a number of mayors to meet with the Province to bring about real change to the municipal planning process."
2. Councillors (if possible - after the Committee of the Whole 7pm session ends) and wannabe councillors.
3. People living in Glenway who were burned by the OMB's decision and whose neighbourhood is now being utterly transformed.
4. The Town's Director of Planning, Rick Nethery, who, with his staff, boycotted the Glenway OMB Hearing
5. People concerned about the proposed 7 storey Clock Tower development and the developer's appeal to the OMB.
6. Anyone else who believes local democracy and good planning are being subverted by the OMB.
More to come on this.
This email address is being protected from spambots. You need JavaScript enabled to view it.
---