Bob Kwapis election signs are all over Ward 5. No other candidate comes close to matching him.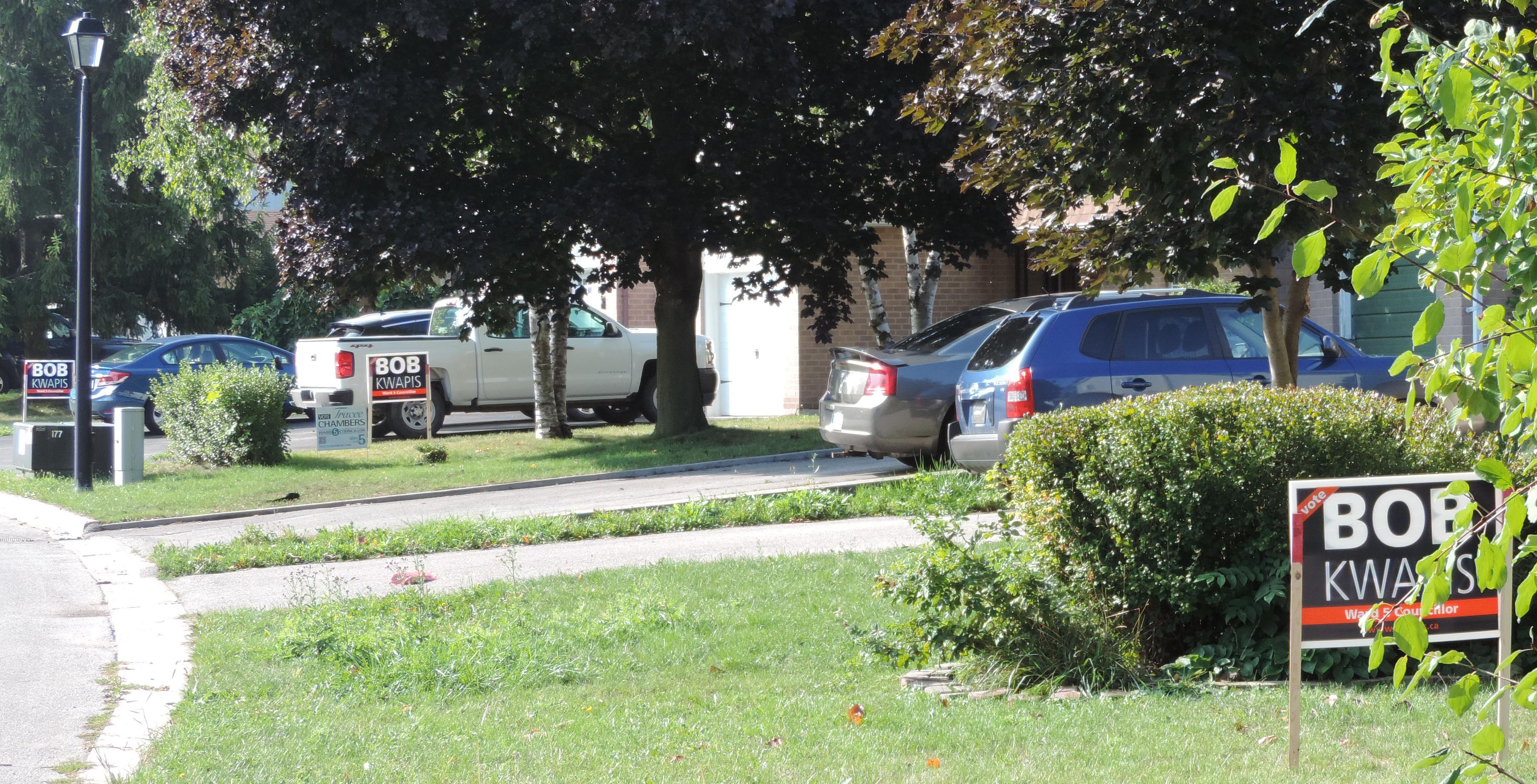 It gets me thinking. How effective are election signs in the age of social media? Do they make a difference? (See below)
I had a hunch something spectacular was going to happen. When my wife and I were driving home from the Aurora Hoedown late on Friday evening we saw Kwapis' young muscular team driving wooden stakes into the ground with a sledgehammer. No dainty election signs for Kwapis. You know, the ones with wires you effortlessly sink into the lawn – the type used by Darryl Wolk and Tracee Chambers.
No. The Kwapis signs are big and bold and can't be uprooted or blown over by a gentle breeze. They sprang up overnight like mushrooms.  
On Saturday, they were absolutely everywhere. Clearly, Kwapis has extensive lists of supporters through his Progressive Conservative contacts and, presumably, from his work on traffic safety issues in Ward 5.
Sandford Street likes Bob Kwapis
Sandford Street – probably a rat-run from Eagle to Mulock – had a Kwapis sign on every second lawn. The one Wasim Jarrah sign I spotted was also on Sandford. It was the same size and dark blue colour as Kwapis and could easily have been overlooked. (Whatever happened to the purple signs at Wasim's launch at the Hungry Brew Hops?)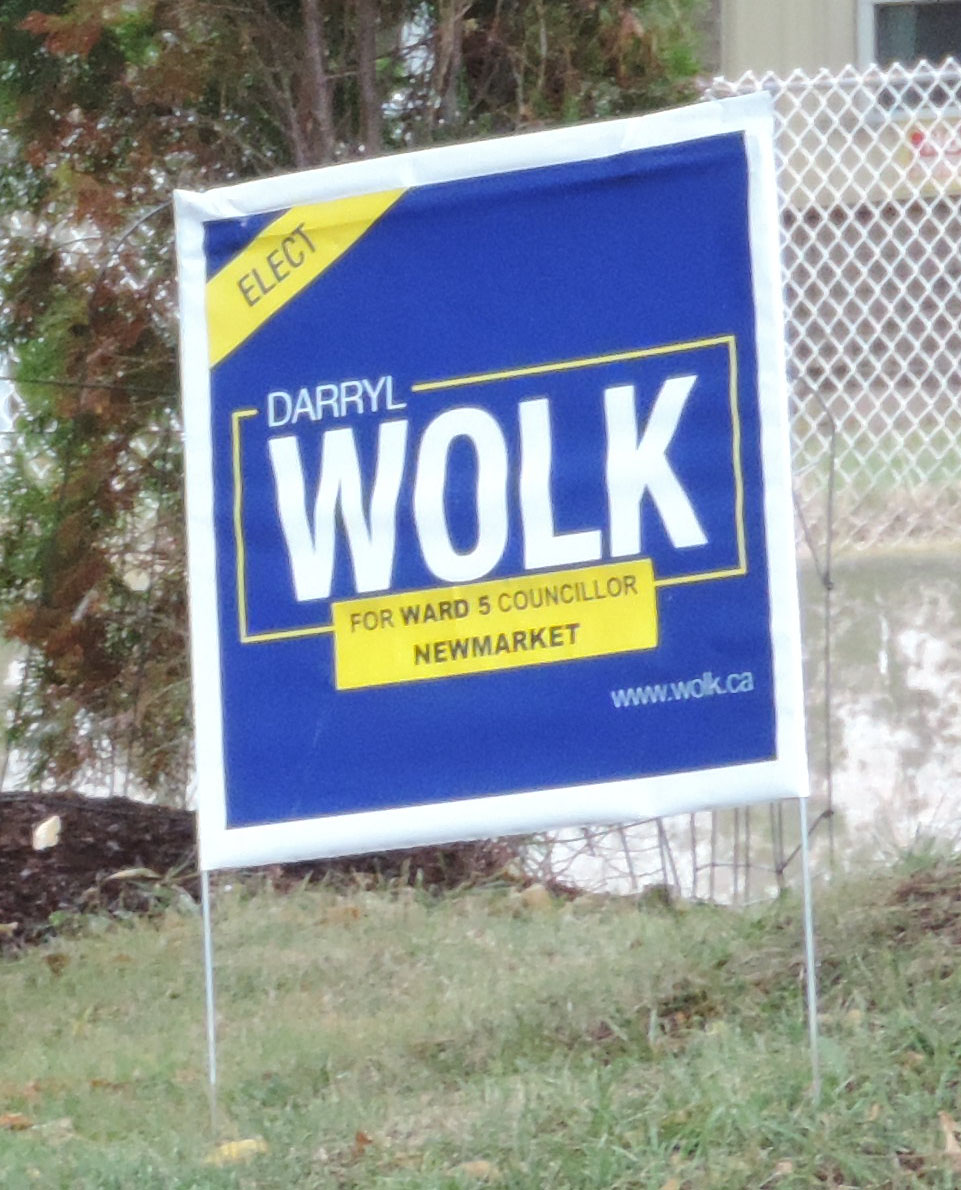 So, do election signs make a difference? Some recent research from academics in the US suggests they matter only at the margins. Certainly, lawn signs show who is in the race. If some candidates can't get a single lawn sign up then, I suspect, they are facing Armageddon at the polls. Tracee Chambers and Darryl Wolk both have a fair sprinkling of lawn signs but must do better.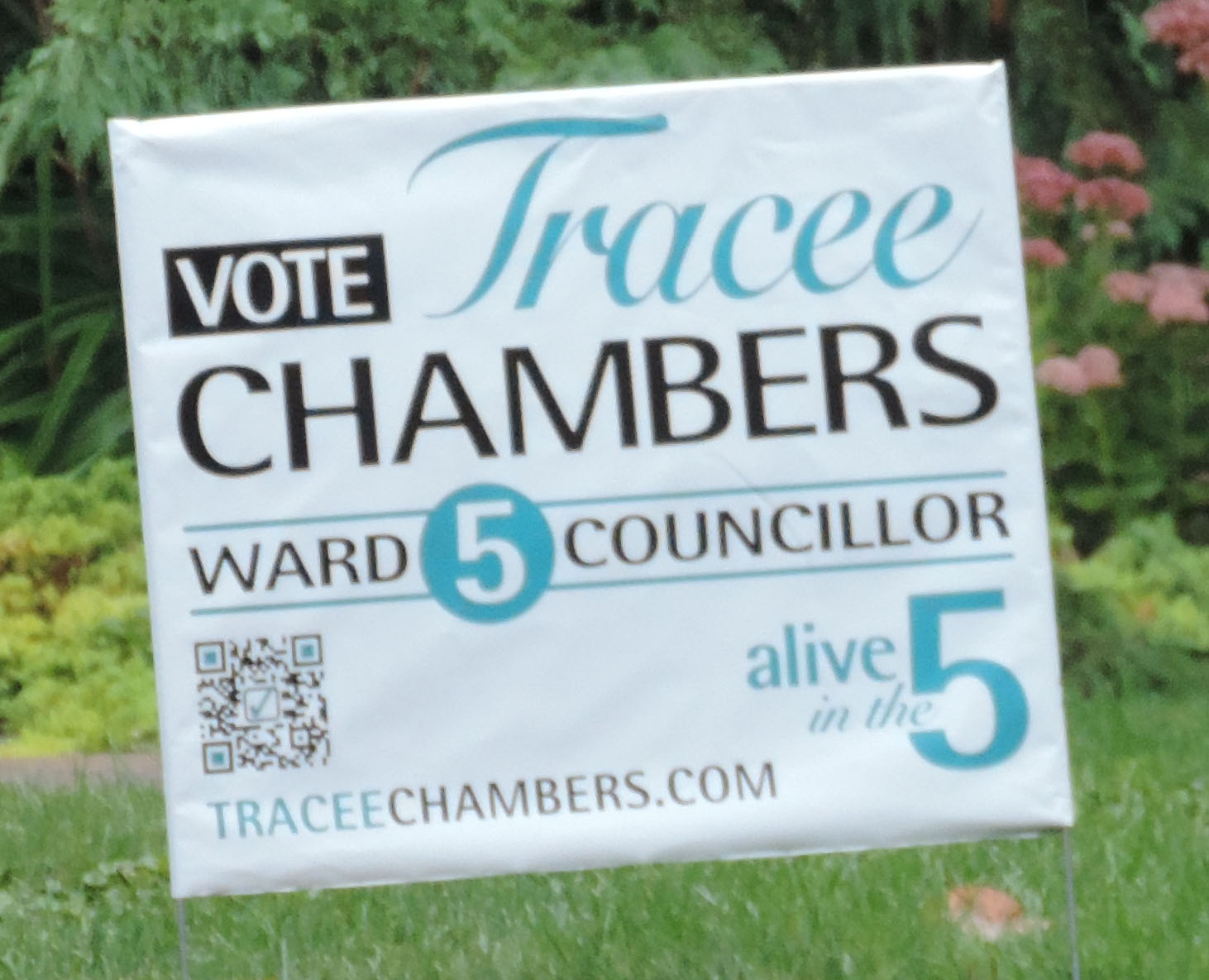 York University politics professor, Robert MacDermid, says:
"Even in supposedly low-cost municipal elections, a small amount of money may give a candidate publicity and profile. Where voters often know next to nothing about what a candidate stands for, election signs and a campaign brochure may suggest that one candidate is credible while another, who lacks financial support, "must" represent fringe views."
Lawn signs, he says, leave an impression of popular support. 
There are, of course, no opinion polls in municipal by-elections, so signs are one, crude, measure of support. But not everyone in a household necessarily agrees with the message planted on the lawn. And people risk upsetting their neighbours by putting up a sign. But, here in Ward 5, I suspect putting up a Kwapis sign may be a cry for help. Kwapis is selling himself as the candidate who can solve the Ward's traffic problems – and who wouldn't support that?  
The whole Town has traffic problems
I have traffic problems where I live. In fact, the entire Town has traffic problems. If I could vote for someone who could make our traffic problems vanish overnight I guess I'd back them.
Traffic though, while important, is a second order issue in this by-election. 
The Ward 5 by-election should be a referendum on the Clock Tower. Because a decision to redevelop will be irreversible and do huge and lasting damage to our historic downtown.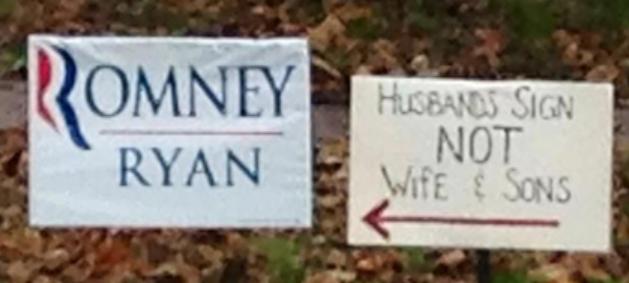 Are the people of Ward 5 going to elect someone who believes, like the Mayor, Tony Van Bynen, that the seven storey Clock Tower development is a great example of the type of intensification the old downtown needs? 
Or are we going to elect a councillor cast from a different mould, someone prepared to say no – confidently and unambiguously?
For me – and, I suspect, for many others - that is the over-riding question.
This email address is being protected from spambots. You need JavaScript enabled to view it.
Do Signs Buy Support?                                            

Sign wars erupt nearly every election, says York University political science professor Robert MacDermid.
It's become part of the election fabric: first the campaign signs dotting the landscape, then the campaign-sign controversy – who placed them when and where, who stole them and why.
That's because signs can have an influence on the outcome of a vote, MacDermid said.
"There is a weak relationship between spending more money on signs, and being more likely to win."
Often, signs are most effective among those voters who have not followed local politics closely, he said.
Signs placed on front lawns appear to be more effective than those on public land near intersections, because lawn signs leave an impression of popular support. That's crucial in a municipal election where no opinion polls are available to let voters know who is in the lead, he said.
It's why money spent on signs is a key expenditure for most campaigns, he said.
"You may have a lot of money, but not a lot of support. You may have a few big developers backing you, or wealthy individuals...  It allows you to manipulate that impression ... and it could mislead voters to the true level of support."
Signs placed on private property without permission could be accidental, he said – an over-enthusiastic campaign worker, for example, or voters who inadvertently provided their contact information to a candidate's data list.
But if it's used as a campaign strategy, it can backfire, he said. "Any experienced campaign manager knows it's not worth doing. It looks disorganized."
Some residents may leave the unasked-for signs on their property, others may toss them.
"Lots of people aren't interested in signs. It forces them to reveal a partisan belief and they don't want to display that.
"There's not much to gain here ... You may just annoy people who don't want signs. It's a gamble.
---