Once again I find myself in the Goulash House on Main Street South listening to a Ward 5 hopeful. The last time I was here, Darryl Wolk was strutting his stuff.
Tonight (Monday 12 September) it is the turn of Tom Pearson, a long time anti-poverty campaigner with a track record that got him the Queen's Diamond Jubilee Medal in 2012. The crowd is, alas, on the thin side.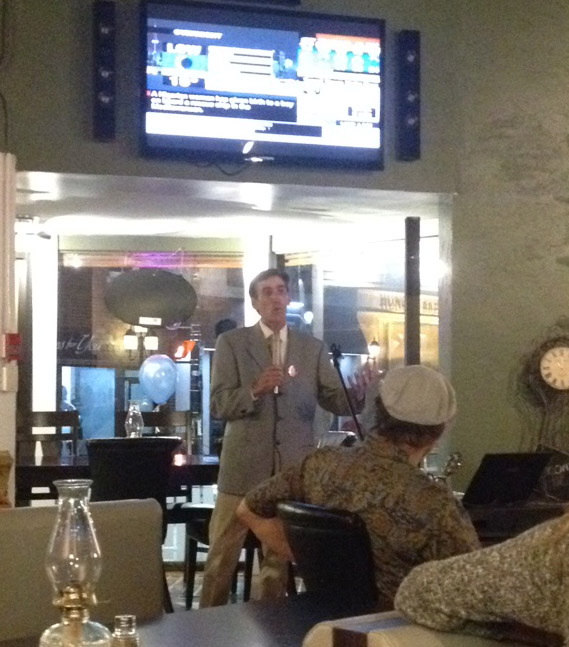 I see some familiar faces. These are the by-election groupies who turn up for campaign launches and the free entertainment they provide. Tom Pearson doesn't disappoint.
On the stage is the warm up act – a singer creaking out some ancient Beatles songs.
Now Tom grabs the microphone and delivers his stump speech, without notes. It is a confident performance. Two women sitting at a table in the window bay continue talking. Tom clearly finds this distracting (as do the rest of us) and he pivots towards them yelling:
"Ladies! Please!"
Terrific!
Tom is like a coiled up spring. He is very animated. He tells us about his Mom, his life and his Town.
Tom is probably the archetypal WYSIWYG (what you see is what you get). He comes across as authentic – an elusive quality in politicians. If elected, he would not be one of those councillors who ride two horses at the same time. He tells us:
"I am not someone who can be bought or manipulated."
He clearly believes the Council needs a good shake-up. He claims people are not getting all the facts. He says the council needs someone whose heart is in the Town. Then he takes a swipe at those candidates "who have a relationship with real estate". Clearly, he doesn't think this is desirable but, for once, he pulls his punches. Unfortunately, he doesn't tell us why.  
Tom tells us he has the best interests of the Town at heart. He doesn't like party politics because politicians – if they want to climb the greasy pole – listen to the Party rather than to residents. The Town, he says, is his top priority.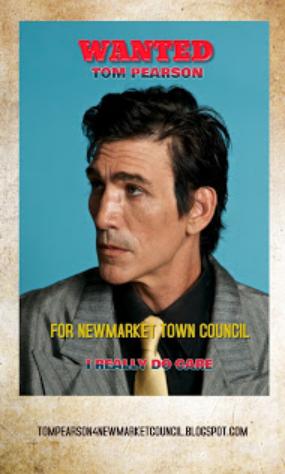 Yes. But…
Now I must digress. There is one problem with the absence of parties in municipal elections. It is very difficult for voters to distinguish between so-called "independent" candidates. Voters would have to immerse themselves in the campaign and, even then, they might end up voting for a candidate who promises a raft of spending but turns out to be a fiscal conservative who prefers to keep his/her money in the bank. Candidates who talk of "respect for taxpayers" generally fall into this camp.
Political parties, love them or loathe them, telegraph immediately recognisable signals to the voters. If the candidates are wearing red, blue, orange or green rosettes you know broadly where they are coming from. "Independents" – constantly shape-shifting - are much more difficult to pin down.
We know Regional Councillor John Taylor ran for the Liberals in 2003. Christina Bisanz ran for the Liberals in the Provincial Election in 2011. Jane Twinney ran for the PCs in 2014. Former Councillor Maddie Di Muccio, a rolling eyed conservative if there ever was one, tried for the PC nomination in the provincial elections in 2014 but was blocked by Tim Hudak. Darryl Wolk is a dyed-in-the-wool Conservative. Bob Kwapis was, I believe, on the Executive of the local PC association. If I am wrong he will correct me. The list goes on. Do they leave their political preferences at the door when they enter the Council Chamber? No, of course not.
Sometimes it is difficult to discern where candidates are coming from – so skilled are they in sending out mixed messages to the electorate. But everyone on Council or running has a "political" position – even those who stoutly profess to being "non-political".
We elect them to make choices on our behalf. That's politics.
End of digression.
You can read Tom Pearson's platform here. Personally, I think some of it doesn't quite gel. But there is no doubt Pearson would be his own man.
If elected, he wouldn't sit in the Council Chamber looking wise and saying nothing like a few of the present incumbents.
He would tell it as he sees it.
Now I see Tom at the microphone again belting out the Beatles song "HELP!"
It is a cat's chorus.
I tell him afterwards he cannot sing.
This email address is being protected from spambots. You need JavaScript enabled to view it.
---