Since I was invited to Darryl Wolk's Campaign Launch at the Goulash House in Main Street South last night I thought it would be impolite not to show up.
It was a convivial affair hosted by Mayoral "runner-up" Chris Campbell.
I see 35-40 people including the former PC MP, Lois Brown.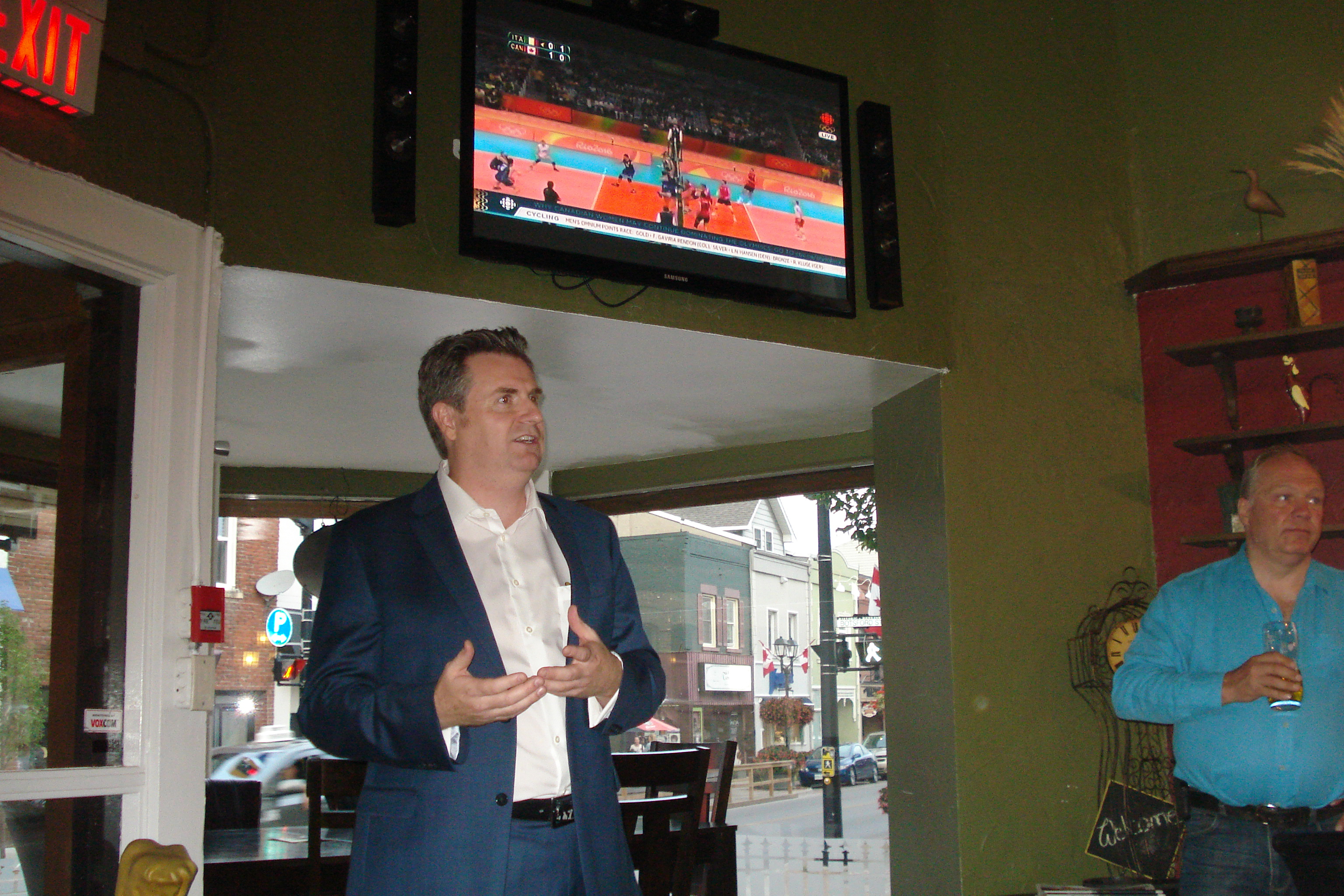 As I enter the lounge, Chris Campbell approaches and says he is there to meet and greet. His face is creased into a wide grin as he points to the bar and invites me to get a drink. It's free.
I can't believe what I am hearing. Just the first one, surely?
No, he beams. It's on the house from 7pm to 9pm.
I am at the bar watching my Boneshaker being poured and I find myself thinking of the poor innocents supping their beer at the Olde Village Ale House two doors away – and paying for it! They are unaware that a 60 seconds saunter could take them to a land where they could drink for free.
They'd just have to listen to a few speeches. Painless!
On cue, master of ceremonies, Chris Campbell, in his booming voice, calls us all to order. He describes Darryl Wolk in glowing terms. He paints him as a true man of the people. A champion for Ward 5! Darryl Wolks on water!
To Campbell's right stands the candidate himself, looking slightly tense. He is called forward to a big round of applause.
Wolk begins by thanking Chris. We learn they got close during the 2014 election campaign and became good friends. Now he thanks Lois Brown for bringing federal funds to Newmarket. I turn to get her reaction. She acknowledges the tribute with a watery smile.
Wolk lays out his stall
Now Wolk is taking us through his election platform which, we must all agree, is comprehensive if nothing else. He ticks all the boxes. We hear about the Clock Tower – he is opposed. We are reminded we should treasure Main Street and build on the success it is currently enjoying. He thanks the business owners who are present for the part they played in bringing a new buzz to the downtown. Wolk lays out his stall. There is something there for everyone. He is very focused on policy and doesn't mention the other candidates once. I approve of this approach.
There is no doubt he would press his agenda if he were elected. And he would undoubtedly challenge the group-think which seems to envelope most new councillors as soon as they get to Mulock Drive. But whether he would have allies on Council is an open question. He says he would take on the Town Hall establishment and I believe him. But would that be a creative or a wholly destructive process?
Wolk's delivery is faultless with every sentence well constructed. It is as if he is reading from an invisible teleprompter. He finishes to enthusiastic applause and goes round the room shaking hands.
Now Darryl is standing in front of me and I congratulate him on his speech. He tells me he didn't use notes because his delivery becomes wooden.
Who are the stooges?
I find this honesty and self awareness quite engaging. So, expecting him to be equally candid about the other candidates, I ask him what he thinks of them. Who are the serious candidates?
He tweeted earlier about "stooges" but tonight he steers clear of this self-defeating language. He is complimentary about Tracee Chambers, pointing to her roots in the area. He tells me some candidates will be spending serious money on the by-election. But to make an impact it seems to me they will need a detailed policy platform that covers the big issues.
Policy on its own is not, of course, enough. In 2014, Wolk had a policy on everything and got 5,128 votes when the incumbent, John Taylor, got 14,459.
Money helps. Taylor spent $57,737 on his campaign; Wolk $22,595.
But, to get elected, candidates need to connect with the voters and grab their attention - and they must have a story to tell.
Candidates' Debate
Looking at the field, I am more convinced than ever that we need a candidates' debate. Surely the Era Newspaper and the BIA can organize one?
In many very important respects, Wolk's politics are not mine. But he is obviously hungry for the job and has thought seriously about what he wants to do if he gets elected.
Many people are drawn to that.
Wolk, in his slightly stiff and awkward way, moves on and now I am asking others what they think.
One captures the mood in this admittedly partisan crowd.
"If he wants it that bad, why not give him a shot. It's only two years."
This email address is being protected from spambots. You need JavaScript enabled to view it.
---