Should the Ontario Municipal Board be reformed? If so, in what way?
Or should it be abolished outright? And if so, what, if anything, should replace it?
These are big questions that have been pre-occupying the capacious brain of Newmarket Mayor, Tony Van Bynen, for years. Unfortunately, he has chosen not to let the rest of us into his thinking. As a retired bank manager, he is by nature cautious and secretive, a man of process and procedure rather than original thought. But now, at long last, we are close to finding out what Van Bynen really thinks about the reform of the OMB.
Newmarket's Committee of the Whole will tomorrow consider a letter from Aurora (agenda item 15) urging
"the Government of Ontario to limit the jurisdiction of the OMB to questions of law or process; and that the Government of Ontario be requested to require the OMB to uphold any planning decisions of Municipal Councils unless they are contrary to the processes and rules set out in legislation"
The Town Clerk, Stephen Huycke, tells Newmarket councillors the resolution from his Council in Aurora is for their information and
"any attention deemed necessary".
I am startled to read the recommendation that the correspondence should "be received". This is officialese for "do nothing and file away".
I expect a lot more than this.
Aurora takes the initiative
Newmarket councillors should congratulate Aurora for taking this initiative and support it, enthusiastically. By taking a lead, Aurora is doing all the heavy lifting.
Aurora is totally exasperated by the failure of the OMB and planning law more generally to protect settled neighbourhoods from clever developers intent on infilling open land and steamrollering all opposition into the ground. The redevelopment of the Town's pleasant Highland Gate golf course echoes what is now happening in Glenway where the fairways and putting greens of the former golf course are now being built over.
Later this year Aurora will be hosting a municipal summit on the redevelopment of golf courses in stable residential areas and it is perfectly obvious that, after the searing experience of Glenway, Newmarket should be a key participant.
Van Bynen: the keynote speaker
In fact, I would go further. Van Bynen should be invited as the keynote speaker.
Before the last municipal election in 2014, Tony Van Bynen, promised Newmarket voters:
"Bringing reform to the Ontario Municipal Board and the Planning Act to ensure our residents have a say in shaping their community will be a priority in the next term. Our Council's decision to fight for Glenway and defend our Town's official plan was the right thing to do. I will be working with the Association of Municipalities of Ontario and a number of mayors to meet with the Province to bring about real change to the municipal planning process."
The Sound of Silence

Alas, when Tony Van Bynen talks Glenway we are treated to the dance of the seven veils. To this day, we do not know with any certainty when Van Bynen really knew the outside consultant Ruth Victor (hired to handle the Glenway file) was going to recommend building over the golf course and what, if anything, he did about it. Nor do we know what his reaction was when he learned that senior Newmarket town planning staff was going to boycott the OMB Hearing.
However, we know Van Bynen voted to go to the OMB in November 2013 at a cost of over $500,000, fully aware the Town's case was going to be sabotaged by its own employees. We are asked to believe that the Mayor and his ineffectual Director of Planning only knew in November 2013 that Victor was going to recommend the redevelopment of Glenway - the very same month the Council voted unanimously to support Glenway residents. (see Glenway Q&A below, prepared by the planning department for the Glenway Lessons Learned meeting, dated 2015)
Van Bynen chose not to speak about any of this at the Glenway Lessons Learned meeting.
Complete hokum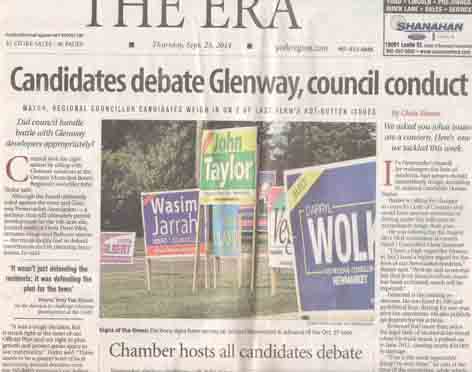 I expect the Deputy Sheriff, regional councillor John Taylor, to back the Aurora initiative. Before the last municipal election, Taylor told the Era (25 September 2014) "the issue is with the "highly flawed" OMB system, not the Town's approach".
This, as we now know, is complete hokum. It is a bit of both. Van Bynen allowed Ruth Victor to work alone in the basement with no supervision and with no line management. And when she revealed her thinking it was too late to do anything.
Taylor also told the Era that Ontario municipal leaders and provincial government representatives need to meet to brainstorm OMB reform and ways to improve growth planning. Quite so.
It seems to me that Tony Van Bynen and John Taylor could perform a great public service tomorrow by ending the equivocation and tell us how they would like to see the OMB reformed.
They have had time enough to think about it.
This email address is being protected from spambots. You need JavaScript enabled to view it.
Glenway: Questions and Answers (2015)
5. When did (a) the Mayor and (b) the Director of Planning, Rick Nethery, learn that Ruth Victor was minded to recommend allowing development on the Glenway lands?
Generally, Ms. Victor's position was made known through the submission of Planning Reports to Council. Ms. Victor submitted Report 2013-47 in October 2013 which indicated that there were a number of outstanding issues and development on the site as proposed could not be supported. In November 2013, Ms. Victor prepared a memorandum to Council providing responses to a number of questions raised by the public at the October 15, 2013 Committee meeting including indicating that there was not a planning basis to recommend a no growth option.
---
Update on 23 February 2016:  OMB Reform: Christina Bisanz takes the initiative
Glenway councillor, Christina Bisanz, tells the Town's Committee of the Whole yesterday (22 February 2016) that she will be bringing specific motions to the Council on OMB reform.
Bisanz tells councillors she attended a meeting convened by Aurora councillors Thompson and Mrakas to see whether it was possible to develop a collaborative approach to OMB reform with a view to bringing specific recommendations forward to Newmarket Council. She will be going to another meeting on 5 March to discuss things further.
The letter from Aurora Council is received without debate.
The Mayor, Tony Van Bynen, tells Bisanz:
"I know that the AMO (Association of Municipalities of Ontario) is also looking at the municipal framework reform/review in the context of the OMB so I'll try to stay in touch with that and keep you posted on what I hear there as well."
That's my boy! Leading from the front again!
---