The day after Donald Trump's impeachment by the US House of Representatives I find myself in the Art Gallery of Ontario enjoying their splendid exhibition on political satire from 1800 to today.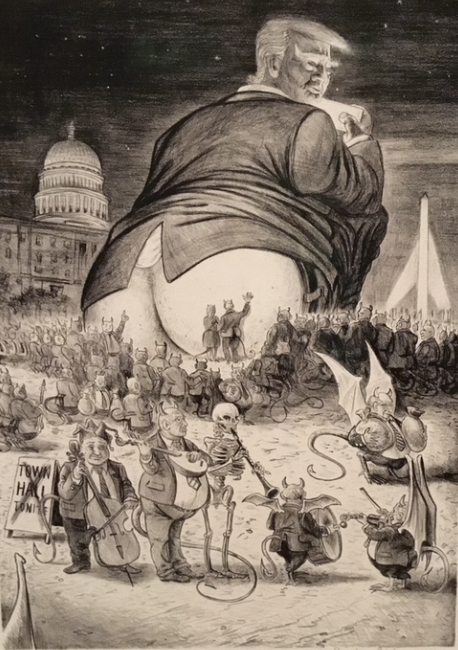 The exhibition "Crossing the Line" says this:
"Humour can be a powerful weapon to fight hypocrisy and corruption, and politicians, monarchs and the clergy have long provided easy targets for satirical artists.
Political cartoons critic the antics of people in high places. Inspiring debate and provoking a range of responses, from amusement to outrage. While witty and playful, visual humour can also be biting and cruel.
Where do you think political satire crosses the line? Even satirists themselves do not always escape unscathed: they have been fired, imprisoned, attacked and even killed for their images."
The exhibition includes a series of ten lithographs by the American Sandow Birk, drawn in 2017, which lampoons Trump and his administration.
I learn that Sandow Birk based his series on an 1800s edition of The Adventures of Gargantua and Pantagruel by Francois Rabelais and illustrated by Gustave Dore which
"tells the story of the misadventures of two bumbling giants. In his version, Birk portrays American President Donald Trump as the lumbering giant, unaware of the destruction he is causing.
Permanently fixated on his cell phone, the president appears oblivious to real world problems.
Through the guise of humour, Birk comments on Trump's impulsive nature and on the issues circling his presidency – such as Russian relations, climate change and threats to democracy."
Indelible Record
Trump's recent letter to House Speaker, Nancy Pelosi, written over six pages
"for the purpose of history and to put my thoughts on a permanent and indelible record"
complements the drawings perfectly.
This email address is being protected from spambots. You need JavaScript enabled to view it.
(To see more drawings click the link below)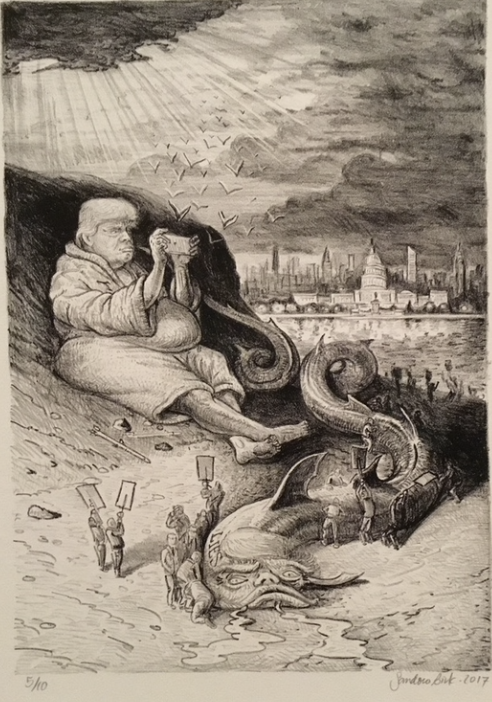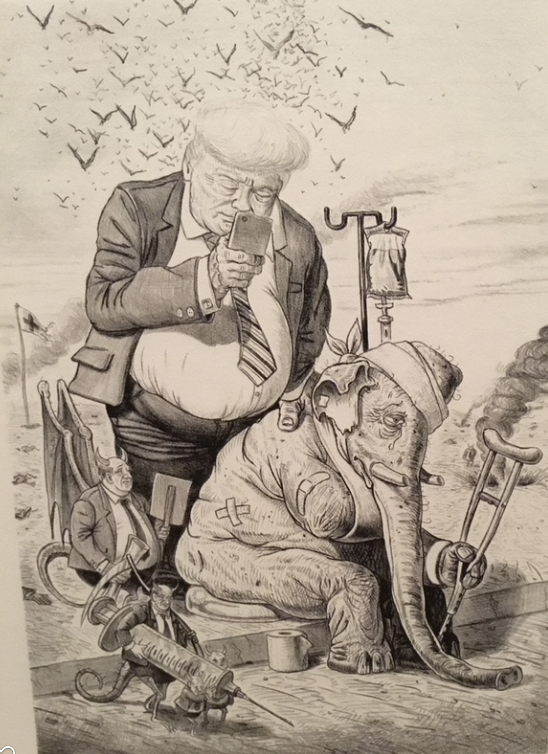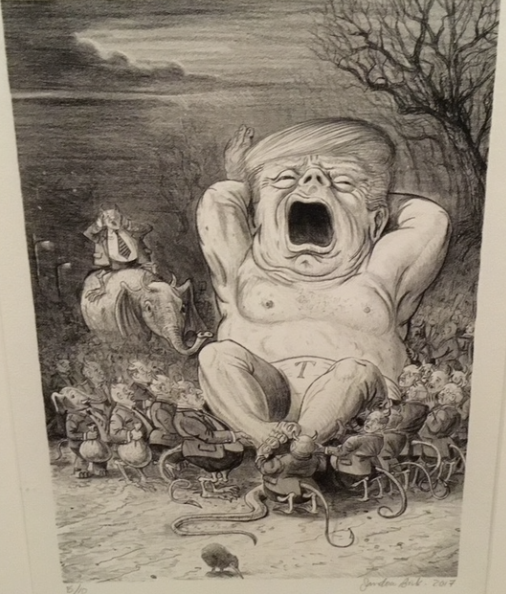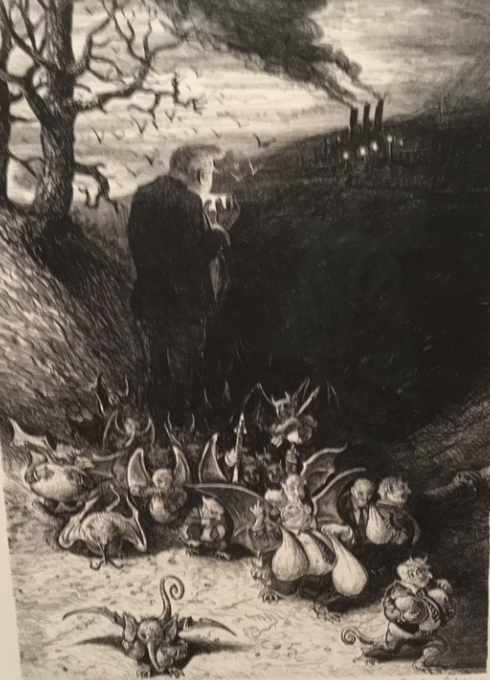 Elsewhere… I hadn't realised (until I saw the cartoon) that the NDP's Bob Rae had cut off the cash to the Art Gallery of Ontario when he was Premier all those years ago.
This is the original of the cartoon, drawn by Sakatooner Brian Gable, which appeared in the Globe and Mail on 30 June 1992. The description reads:
"Bob Rae (born 1948) was the leader of the Ontario New Democratic Party between 1982 and 1996. He led the NDP to victory in the 1980 provincial election, serving as premier on Ontario from October 1, 1990, to June 26, 1995. During that period, Rae's Government introduced a number of unpopular initiatives. In 1992, for instance, it drastically reduced the Art Gallery of Ontario's funding, leading to staff layoffs and closure of the gallery for several months."
Who needs words? The cartoon says it all.
Click to To see mo