Newmarket's Regional Councillor candidate Chris Emanuel warns voters they face a tax hike of over 40% if they elect Tom Vegh.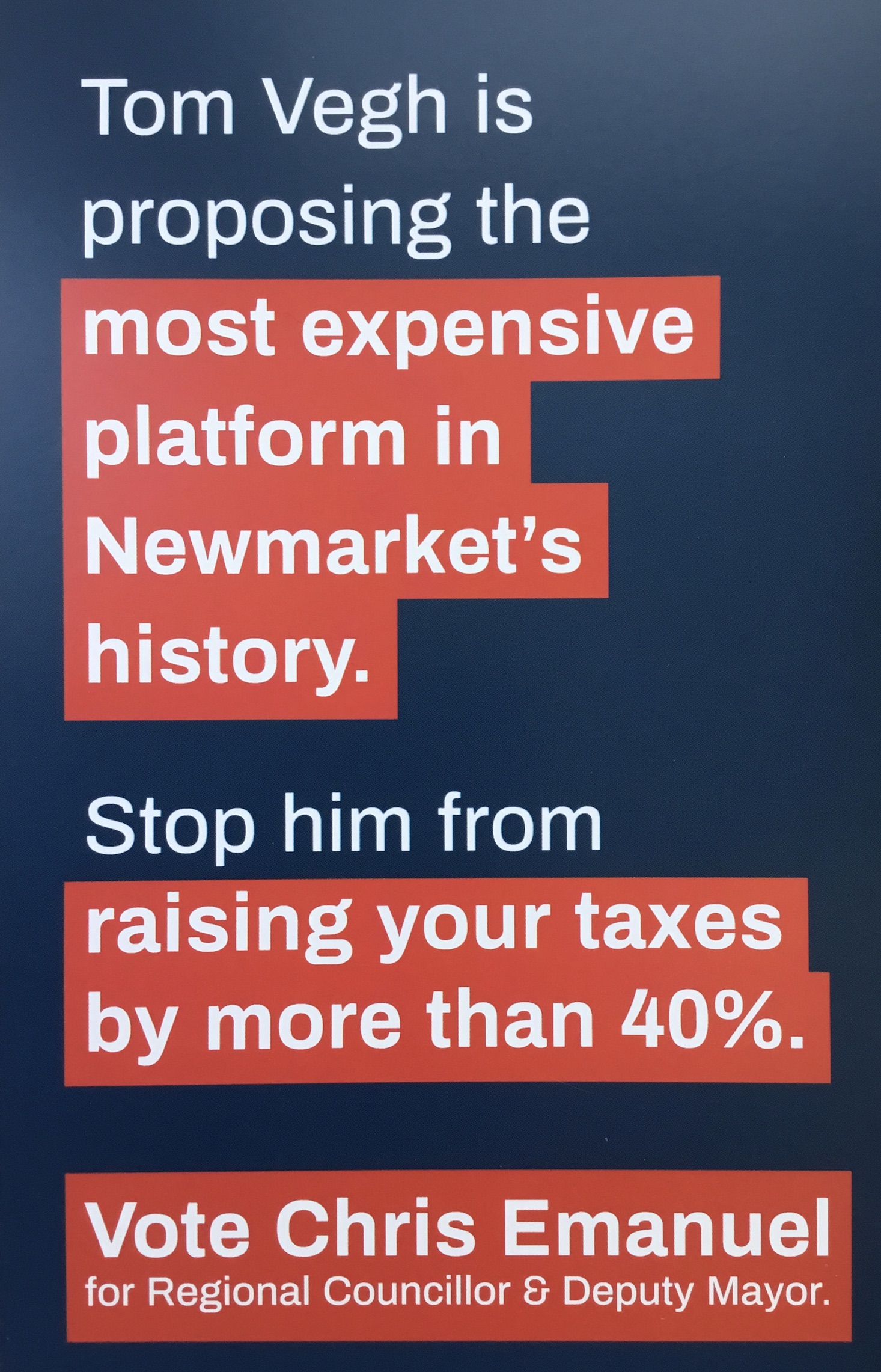 Is this on the cards? Or even remotely plausible? Or just another example of a ludicrous, hyperbolic attempt to smear a political opponent?
Leave aside for the moment that regional councillors – as elevated as they may be – have no powers to impose eye-watering tax increases. They have to persuade their colleagues to vote for policies which have consequences for taxpayers.
Vegh says Emanuel is fearmongering. He says the figures are absolutely untrue.
Emanuel claims Vegh's support for York Region subsidized housing would mean a staggering 27% increase in our property taxes.
Vegh counters by saying subsidized housing for seniors is 100% funded by the provincial and federal governments.
"Property tax dollars do not fund seniors' housing subsidies. therefore, this has zero impact on your property taxes. With the growing senior population in Newmarket, there is an urgent need for more affordable seniors housing and I will make it a priority to secure this funding."
But "subsidized housing" is not restricted to seniors. Can we agree the meaning of terms? York Region subsidizes rental at 212 Davis Drive but the tenants are not all seniors.
New Library and Seniors' Centre
Emanuel excoriates Vegh for pushing for a new library and seniors' centre predicting this will mean a 6% increase in property taxes.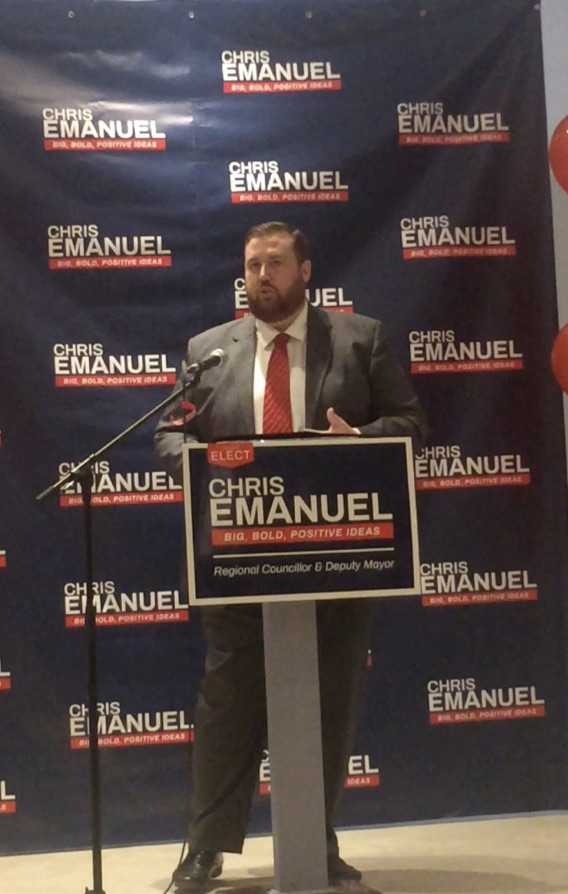 Vegh explains:
"Building a dual-purpose library/seniors centre is partially funded by development charges. The Town already has $2.6 million dollars in restricted reserves dedicated to this project, and that fund is growing by about $300,000 every year.
… the site I am proposing is already owned by the Town, and you must take into account that the two Town-owned assets (existing seniors centre and library) can be used to offset the cost. The Town will also achieve operational and capital savings by combining the two services. When you add together the annual development fees collected, the value of the two assets, and operational savings, they more than offset any borrowing costs. This new facility should not have any impact on your Newmarket property taxes."
Emanuel claims Vegh's "promise of a new Regional road" will add another 3-5% to our taxes. Vegh tells me:
"The Region of York and the Province are already in discussions to build an east/west link between highways 404 and 400. No one is sure what the cost will be, and it is a project still a few years away. It will likely be a tri-party (Federal, Provincial/Regional) funding agreement. Chris Emanuel made up the "3-5%" figure and it has no basis in fact.
Emanuel says Vegh's ward based campaign promises will marginally increase taxes – by 1%. Vegh hits back:
"Splash pads and other recreational amenities are funded by development charges, and the Town already has $9 million in our restricted reserve fund to pay for them. My plan is to have the building schedule accelerated from 10 years to four years. Again, doing this will have zero impact on your Newmarket property taxes."
Invented figures
Vegh says he has no clue what is meant by Chris Emanuel's "other promises" and says the 3% is just another invented figure.
I think Chris Emanuel should tell us how his figures were derived.
Personally, I like election campaigns that rely on facts, not distortions or half-truths or suppositions or meaningless predictions.
For myself, I can confidently predict with 100% accuracy that Tom Vegh's tax increases will never materialise unless he can persuade a majority of members of Newmarket Council to go along with them.
And what are the chances of that?
This email address is being protected from spambots. You need JavaScript enabled to view it.