Christine Elliott is my MPP.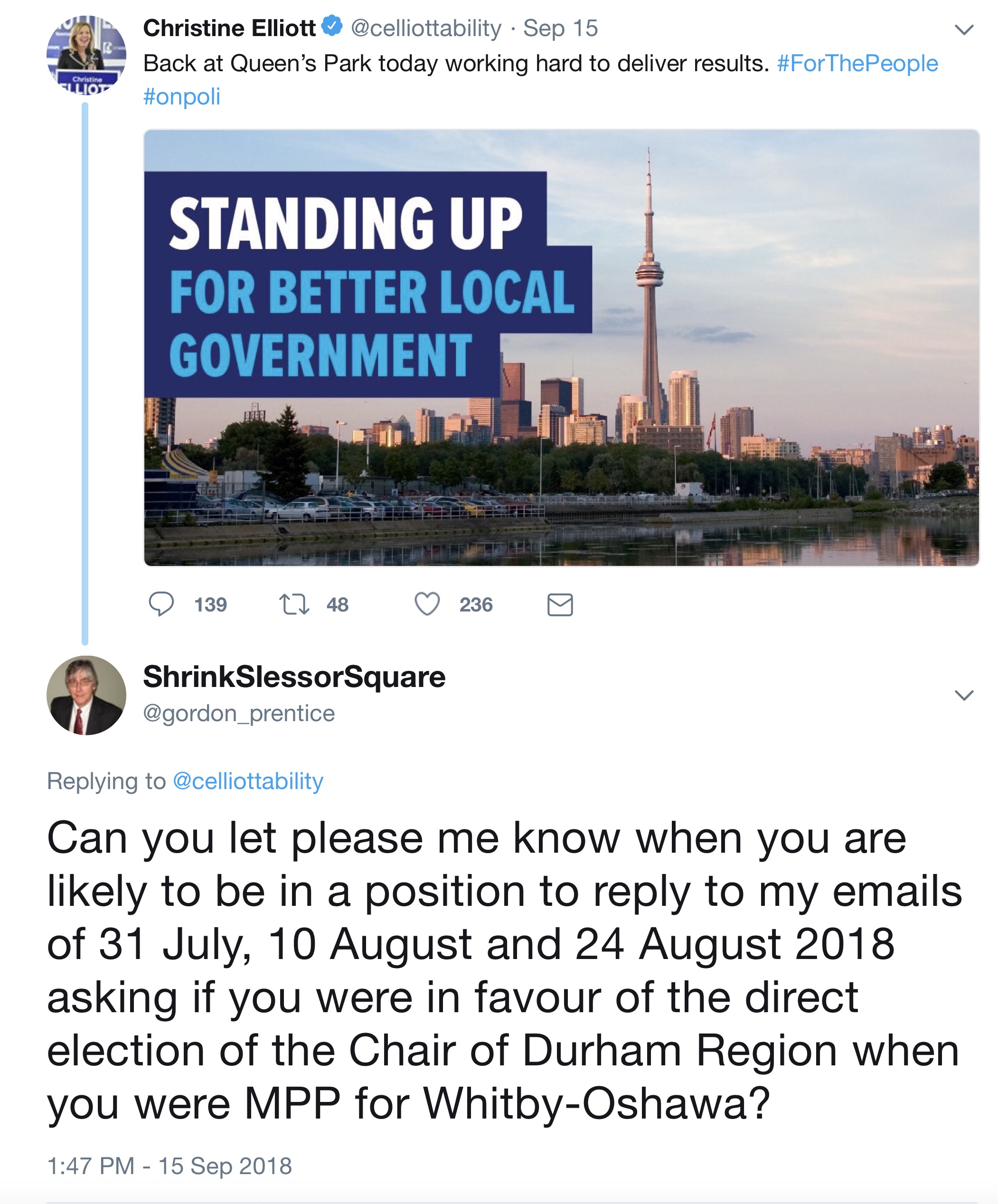 She steadfastly refuses to tell me if she was in favour of the direct election of the Chair of Durham Regional Council when she was MPP for Whitby-Oshawa.
It is not a trick question.
I want my MPP to tell me where she stands on a major issue of public policy - the election or appointment of the Chairs of Regional Councils.
Instead of a crisp straightforward answer all I hear is silence.
Durham Regional Council has elected its Chair by the voters at large since 2014. A municipal referendum was held in 2010 where a large majority of voters favoured direct election. The referendum failed because the number of voters participating did not reach the specified threshold. But the Regional Council persuaded the Minister to intervene.
Bill 31 – the Efficient Local Government Act – comes back to the floor of Queen's Park at one-minute past midnight tonight (17 September 2018) recreating the provisions of Bill 5 – the Better Local Government Act – and separating the regional sheep from the regional goats.
The Head of Council (Regional Chair) in York, Peel, Niagara and Muskoka will be appointed by members of the regional council. But in Halton, Durham and Waterloo the voters at large will decide.
Understandably, the entire focus of the debate so far has been on Toronto City Council. Mr Justice Belobaba declined to involve himself in how Regional Chairs are to be elected, concentrating on what he believed was the primary issue - the Province intervening in an election which was already underway.
But the manner in which Regional Chairs are selected is an issue that won't disappear.
York region's population is bigger than PEI, Newfoundland, Labrador, New Brunswick, Nova Scotia, Saskatchewan, and is rapidly closing on Manitoba. Yet the person who leads York region is indirectly elected by 20 people.
On 26 July 2018, York Region Chair, Wayne Emmerson, announced he would be withdrawing from the race to become the first directly elected chair:
"I have made this decision with the full support of my family. It is a difficult decision, but it is the right decision for me and those close to me."
On 27 July 2018, Emmerson tells the press:
"I love the job and I want to be able to do what I can for the region of York and the residents of the region of York. I've been thinking about it more and I'm going to go back in. I've changed my mind and I'm going to run for regional chair (appointment)."
In 2014, an anomaly in the provincial Municipal Conflict of Interest Act allowed Frank Dale to vote for himself as Chair of Peel Region, in a ballot he otherwise would have lost.
Now tell me indirect election beats asking the voters at large.
This email address is being protected from spambots. You need JavaScript enabled to view it.
Update: Watch former Newmarket-Aurora MPP Chris Ballard discuss the cancellation of the elections for Regional Chairs on Steve Paikin's "The Agenda" aired on 19 September 2018.