The Toronto Star tells me this morning that the new Chair of Metrolinx is Donald Wright, a former chair of Via Rail. He takes over from Rob Prichard who resigned in July following the change in Government.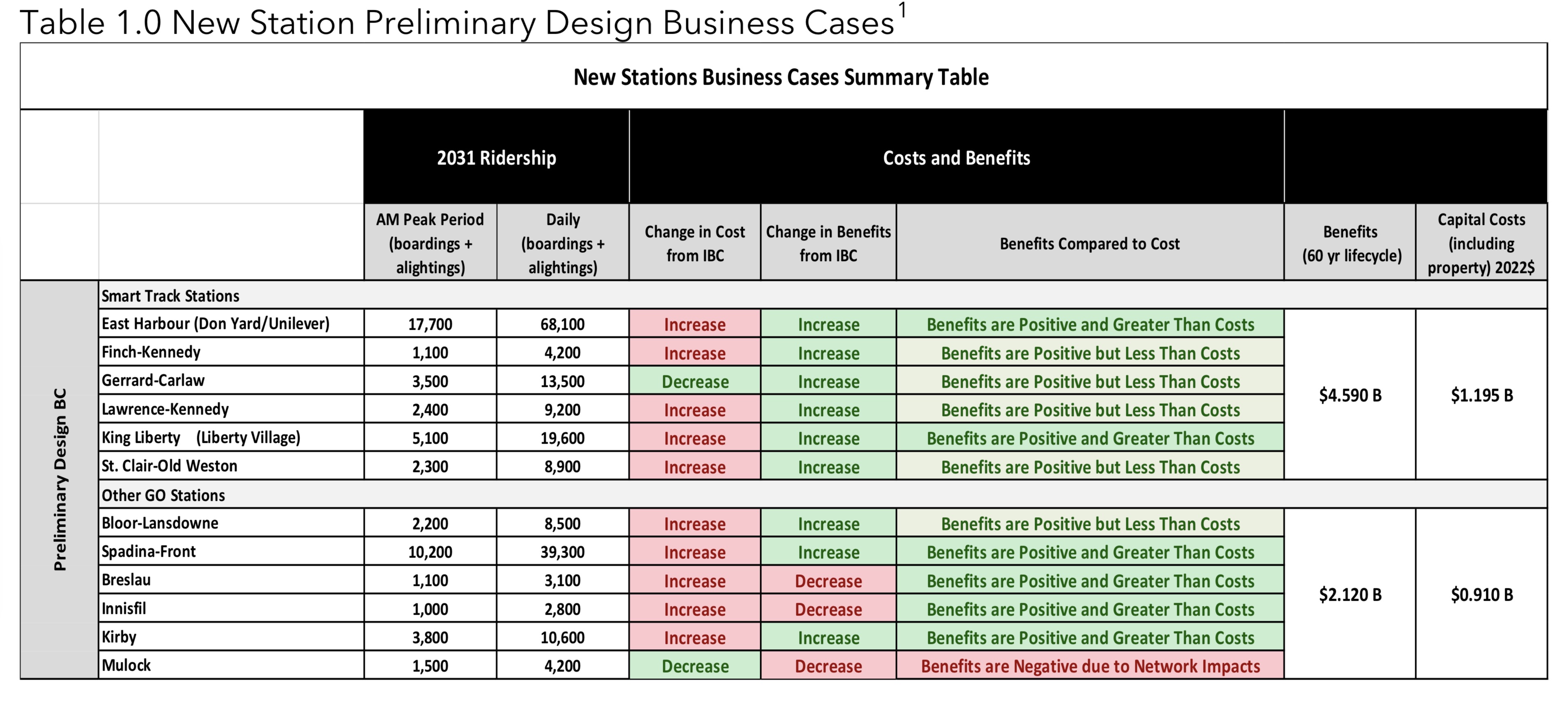 At the next Metrolinx Board meeting on Friday 14 September 2018 I hope he will find some time to consider the impact of level crossings on the Regional Express Rail program. Level crossings are inimical to fast and frequent GO trains. But the alternative - grade separation - is hugely expensive.
This is a big issue here in Newmarket where the busiest road in Town – Mulock Drive – is to keep its level crossing.
I wrote to the previous Chair of Metrolinx about this on 3 March 2018 (see below) and I expected my comments to be circulated to Board members prior to the Board meeting on 8 March 2018 – in line with Metrolinx Board policy.
"All comments received at least (12) hours before the scheduled Board meeting will be provided to the Board for consideration at its meeting, and subsequently posted online with the related meeting materials."
I thought the issue was important enough for there to be a short discussion so I take myself down to Toronto and sit in the front row within touching distance of the Board table. I don't want to miss anything. No-one mentions level crossings. The moment passes and the Chair moves on to the next item on the agenda.
I turn to the guy sitting next to me to express my frustration and I discover I am talking to the Director of Stakeholder Relations, Rajesh Khetarpal. He says gently that I am sitting in a seat reserved for staff. Hmmm.
I apologise and then explain the issue, giving him the main bullet points. He promises to look into it for me but, alas, there is radio silence for a couple of months. He gets back to me on 15 May 2018:
"I am following up with our project teams and will circle back with you shortly."
I haven't heard anything since. Clearly, Rajesh is still circling.
Town spends $250,000 on Plan to support the case for a new Station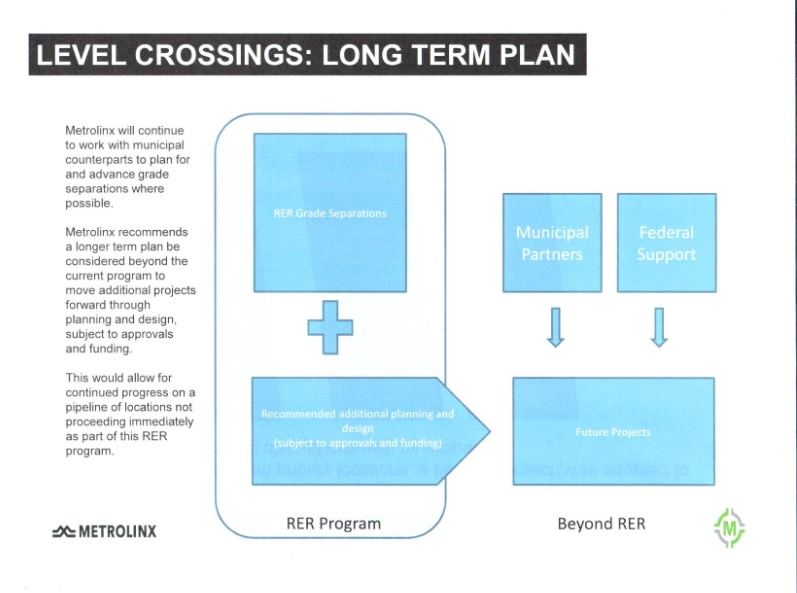 Meanwhile the issue hasn't gone away. The Town has committed $250,000 to develop a Secondary Plan for the Mulock Station area in the expectation the proposed station will be given the go-ahead. The new study, now underway, aims to show the GO Rail station at Mulock will have a catchment area that will generate train ridership.
The Metrolinx Board is scheduled to decide the final list of new GO rail stations on the Barrie line at its meeting in October. But, as it stands, Metrolinx calculates that the costs of Mulock Station outweigh the benefits.
Who knows how Premier Ford would react to this? (I think I know.)
For the moment I am assuming the Regional Express Rail program is not abandoned but is severely pruned. Ford will be looking for cost savings and I am pretty sure he won't be shelling out millions of dollars for grade separations even when, objectively, it can be shown they are required.
Which brings me back to my original question.
How does Metrolinx propose to deal with grade separations and level crossings?
I am still waiting to hear from the Director of Stakeholder Relations.
But Donald Wright may have a view.
This email address is being protected from spambots. You need JavaScript enabled to view it.
The email exchanges:
To Rob Prichard, Chair of Metrolinx, on 3 March 2018:
I have written to you before about developments on the Barrie line and appreciate the time you have taken to respond to my concerns.
I am concerned that Metrolinx may be about to abandon grade separation at Mulock Drive in Newmarket which is to be home to the proposed new Mulock GO Rail Station.
Mulock Drive is the busiest road in Town.
At your Board meeting next week you will have before you the New Stations Business Cases Technical Report 9 which says:
"The grade separation will not be developed as part of this project, but will not be precluded from future consideration."
The aim is to
"identify a design solution that does not require the grade separation. The design does not preclude a future grade separation at Mulock Drive, which will be considered separately as part of a system-wide rail crossing analysis."
An earlier report to the Metrolinx Board in July 2016 which set out the initial business case said
"Mulock not feasible without grade separation."
What is now making it feasible?
Technical report 9 talks of "deliverability and operational challenges with grade separation":
"The model shows that the performance of Mulock station is impacted by its proximity to Aurora station. Aurora station, which is immediately downstream, is the proposed terminus end point for more frequent electrified service on the Barrie corridor. Significant ridership growth is expected at upstream stations, including Newmarket and East Gwillimbury stations; therefore Mulock station would delay additional riders that travel through the station to points further south.
Travel time savings are expected to be limited for users of Mulock station, since many users would save wait time by driving to Aurora station. Exploration of possible alternate GO Expansion RER service pattern (e.g., extension of 15-minute service further north) is underway and would impact Mulock station's performance. Corridor-level changes are being examined as part of a broader study of the service patterns on the Barrie corridor."
The answer is to extend the 15 minute service (which terminates in Aurora) north to Mulock.
If Metrolinx decides against grade separation at Mulock and at Davis Drive (both areas slated for growth) I hope the land required for any future grade separation will be identified and passed to the Municipality to ensure it is properly safeguarded and not developed.
Yours sincerely….
To Rajesh Khetarpal on 8 March 2018:
I sat next to you at the Board meeting this morning.
Thank you so much for agreeing to get some information to me on the level crossing study and when it is likely to be completed. I am specifically interested in the Barrie Corridor but I think the study is network wide.
The proposed new Mulock station is now to proceed without grade separation. The initial business case told us that grade separation was needed and without it Mulock was not viable.
I emailed the Chair, Rob Prichard, a few days ago outlining my concerns and half expected the grade separation issue to be raised today.
As I understand it the final business case for the proposed new stations will go before the Board in October 2018 followed by the procurement exercise.
Am I correct in thinking the Municipality has six months in which to persuade Metrolinx to reinstate grade separation at Mulock Drive?
To Rajesh Khetarpal on 28 March 2018:
I was sitting next to you at the last Board meeting and chatted briefly.
I wonder if you have any information to give me on the level crossing study - its timeline and what it will look at. Specifically, when is it due to report to the Board?
I should be grateful for any update.
To Rajesh Khetarpal on 15 May 2018:
I wonder if you have now had an opportunity to consider the email I sent you on 28 March 2018 which, for ease of reference, I have pasted below.
From Rajesh Khetarpal to me on 15 May 2018:
My sincere apologies for the delayed response... I am following up with our project teams and will circle back with you shortly.