The Liberal incumbent for Newmarket-Aurora, Chris Ballard, yesterday said he could be in trouble if Liberal voters at the last Provincial election were to switch to the NDP, splitting the centre/left vote and letting Doug Ford in.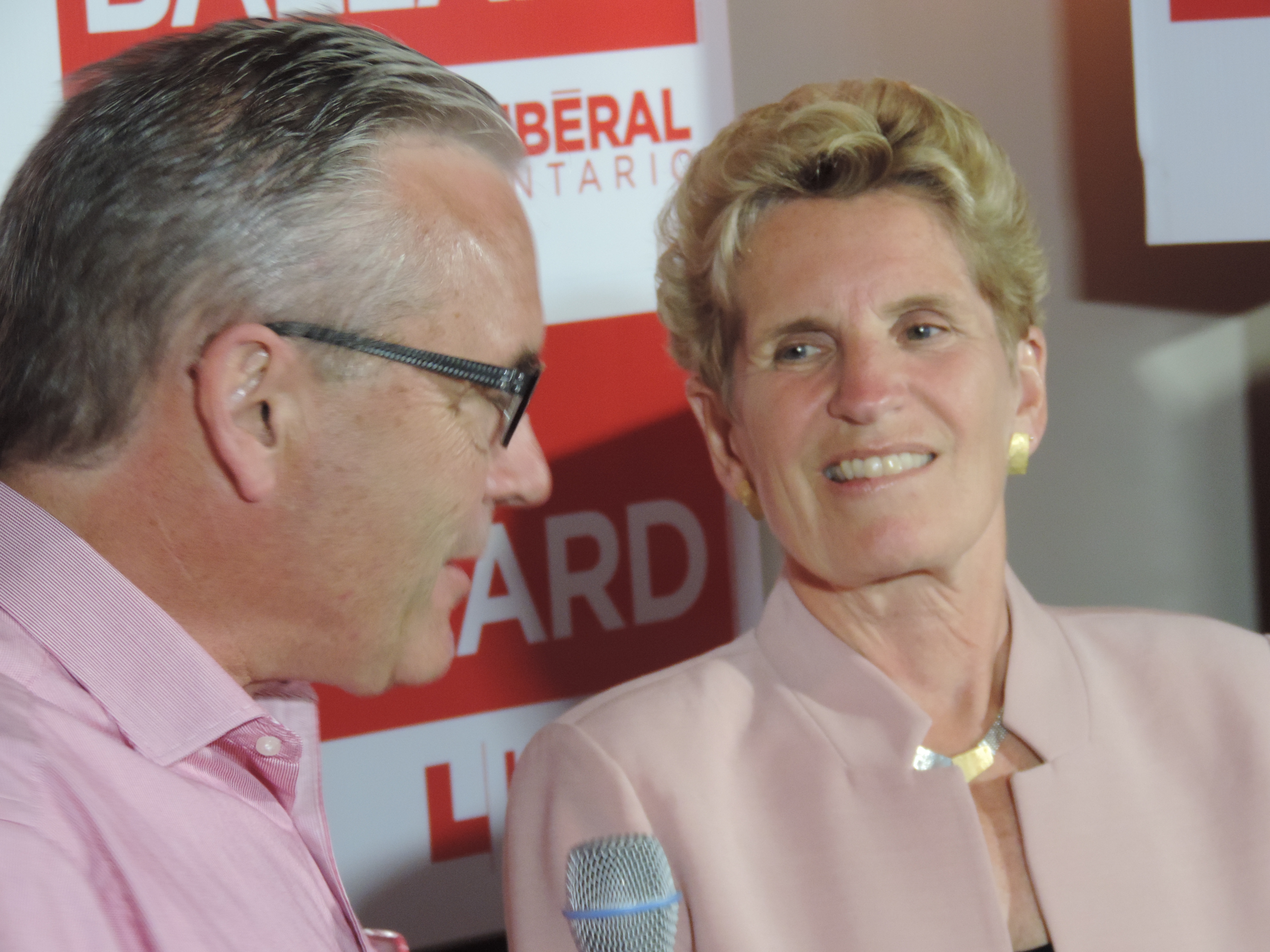 "I am worried that if only 2 or 3% of those supporters at the past election move to the NDP we could be in trouble here."
To me, that's simply a statement of the obvious.
But hearing it first hand from an embattled Minister, fighting for his political survival, makes it very dramatic.
Whistling in the dark?
Ballard, who was sharing a platform with Premier Kathleen Wynne, told a crowd of cheering supporters at the Cachet Restaurant in downtown Newmarket he nevertheless feels upbeat about things.
"I don't think that's happening (the drift of supporters to the NDP). I feel a real momentum building. We had the Aurora Street Sale yesterday. The reception of people in the street was very positive. They are very concerned about Doug Ford leading this Province and they know that a vote for the NDP in Newmarket-Aurora is a vote for Doug Ford."
Maybe he is whistling in the dark to keep his spirits up. But Ballard's analysis is surely correct. A few votes seeping to the NDP from the Liberals will gift the riding to Doug Ford.
An NDP win here would signal a complete collapse of the Liberal vote across the Province.
At the last election in 2014, Ballard took 43.9% of the vote; the PCs trailed with 37.4% and the NDP came in a very distant third with 11.5%
Broadly speaking, this is a conservative leaning area with incomes above the Provincial average.
PCs in turmoil as ballot stuffing and cheating become commonplace.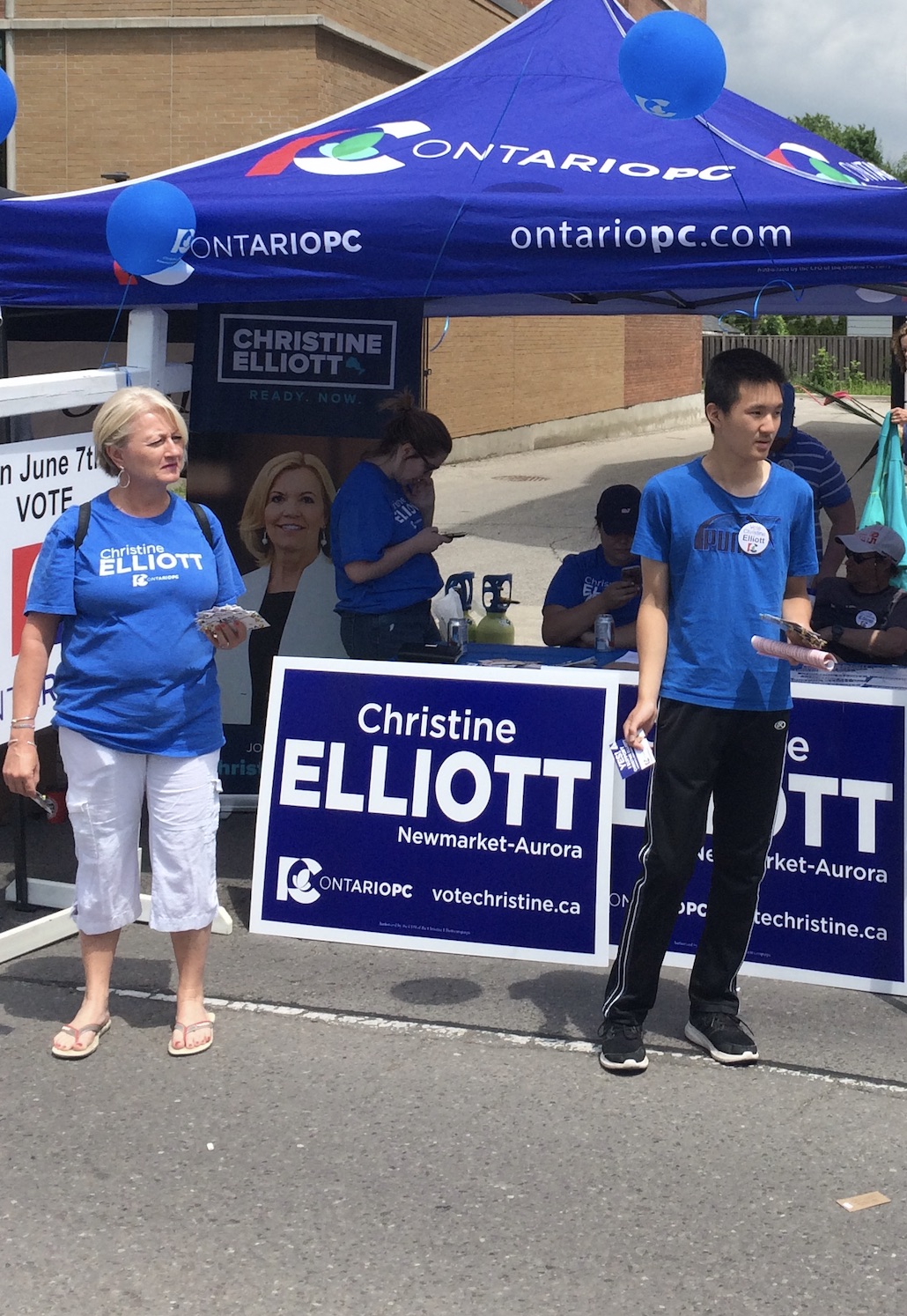 The Progressive Conservatives think they have Newmarket-Aurora in the bag despite their recent history of turmoil, ballot stuffing and cheating. Christine Elliott missed the only candidates' debate open to the public without charge on 24 May. And she has spent much of the campaign outside of the riding, being photographed alongside Ford. Smiling through gritted teeth.
Ballard hopes to shore up the Liberal vote as best he can – and get it out. Scaring voters away from Ford may be the easy part.
"No-one in this riding who cares about good government should be supporting Doug Ford."
It maybe more difficult to persuade voters to stick with him when there is a clear hunger for change. Kathleen Wynne's shock announcement on Saturday saying she wouldn't be Premier after 7 June may have staunched the hemorrhage away from the Liberal brand. Or, perversely, it may have encouraged it. Who really knows?
Polls offer no guidance
We can't look to the polls for guidance. No polls are published in the riding and what we get are extrapolations from data collected elsewhere. But the political parties will have their own private polling and will have a sense of the way in which opinion is moving.
I am voting for Chris Ballard because he has been an effective MPP these past four years, championing policies which resonate with me.
He knows the riding well, unlike Christine Elliott who parachuted in after Charity McGrath, the cheat, was given the chop.
The NDP candidate, Melissa Williams, comes across as authentic, someone who wants to make a difference. But she has a mountain to climb to win here.
The NDP has, of course, moved left since the last election when Andrea Horwath was widely slated for ignoring poverty issues, shamefully turning her face against an increase in the minimum wage as she sought to court the small business vote.
Chastened and contrite
After the 2014 defeat, there was a leadership review and a chastened and contrite Andrea Horwath reinvented herself, following the Party to the left.
They are moving on to ground where the Wynne Liberals have already staked a claim. On climate change. On fair wages. On public libraries. On long term care beds. On affordable housing (though much, much more to do). On job creation. On mental health. On GO transit and building a new rail infrastructure across the Province. On free prescription drugs for older people. And much else besides.
Maybe other Parties also lay claim to these initiatives. That's OK.
We shouldn't be surprised.
There is a lot of cross-dressing in politics.
But on many of the big issues the Wynne Liberals have walked the walk.
As we prepare to change Governments we should remember that.
This email address is being protected from spambots. You need JavaScript enabled to view it.