The publication yesterday of the PC's "fully costed" platform is a big disappointment.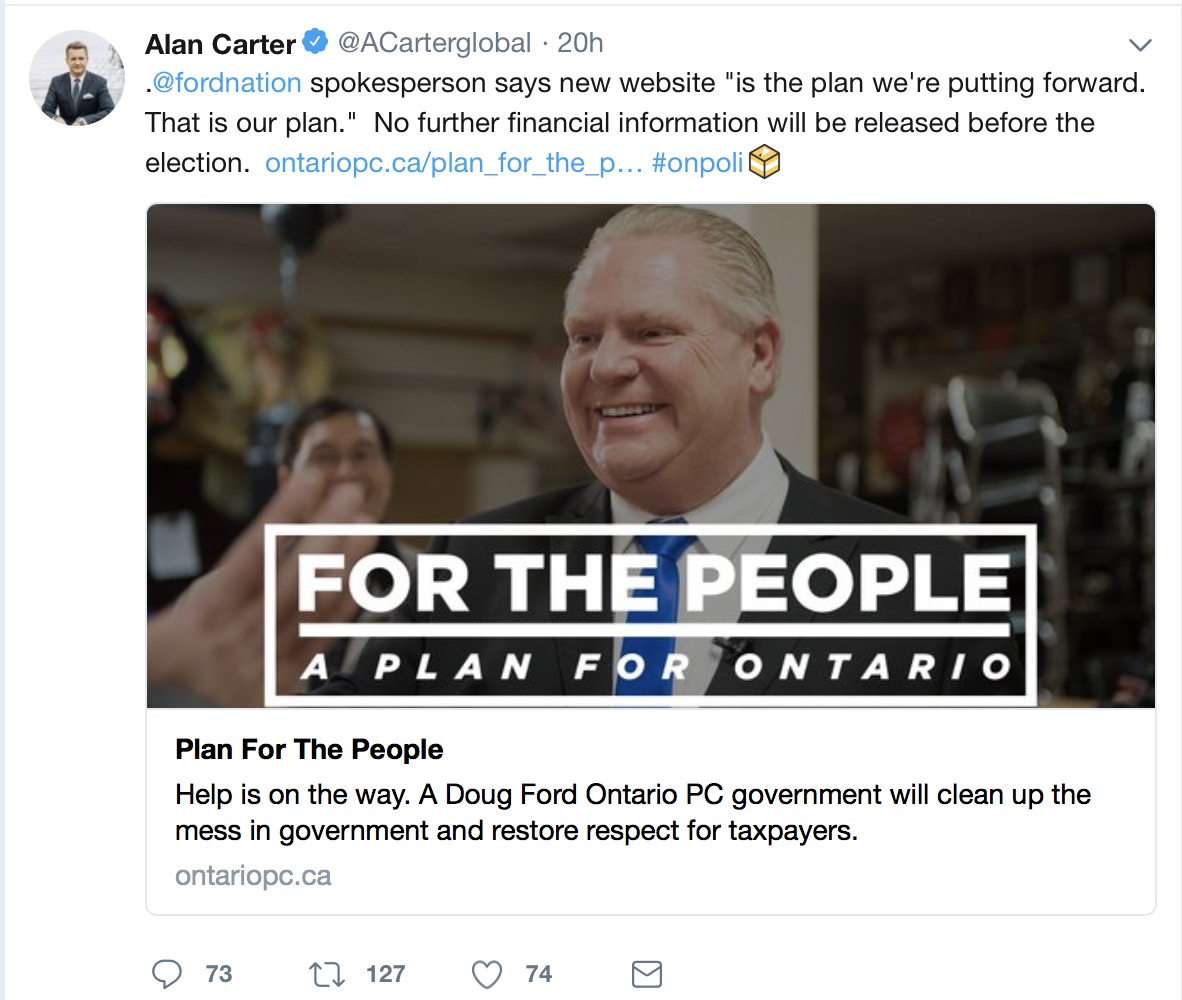 I am left wondering if this damp squib is what Christine Elliott had in mind when she told the Newmarket Chamber of Commerce candidates' breakfast meeting last week that a fully costed program would definitely be published before the election. She told me afterwards she didn't know precisely when.
The list of "clear, honest" commitments in Ford's "Plan for the People" together with their estimated costs is pure back-of-the-envelope stuff. The Plan is opaque when it comes to showing how the commitments will be paid for.
$6 billion disappeared from the Plan
The $6 billion in promised efficiency savings no longer appears in the plan – just a general spiel about rooting out inefficiencies. Ford says no jobs will be lost as a result of this efficiency drive. Just more cost-effective ways of buying paper clips and all the day-to-day things the Province needs to function.
Doug Ford's PCs have also abandoned their pledge to deliver a balanced budget within the first two years of their mandate. Instead we see the weasel word "responsible" creep into Ford's promise.
The Plan says Ford will:
"Return to a balanced budget on a responsible time-frame."
No Reckless Promises
Ford says he won't make reckless promises and that when he makes a promise he keeps it. "Period."
He told developers privately he would allow them to build on a "big chunk" of the Greenbelt but, full of contrition, he dropped his "reckless promise" 24 hours after an incriminating video went viral.
He now promises to
"Increase the supply of affordable housing across the GTA while protecting the Greenbelt in its entirety."
Perhaps Professor Ford should explain in detail how he plans to do this.
Ford says he will keep the all-day two-way GO/Regional Transit projects which are, of course, hugely expensive. Indeed, the Liberal Government took the perilous decision to sell off part of Hydro One – which has backfired on them explosively - precisely to channel much of the proceeds into modernising and expanding our ancient creaking rail network. So, how he makes his sums add up is more than of academic interest.
Respect and Trust
Ford's campaign is all about "getting Ontario back on track". He tells us "help is on the way" and he is going to bring "respect and trust to Queen's Park".
Perhaps all the PC candidates who cheated and bought their way to nominations via the 407 scandal and the 60,000 stolen IDs are going to be cleared of any wrong doing. This sinister crime is now, of course, the subject of a major police investigation.
If any PC candidates who were involved in this fraud are elected on 7 June Ford's promise to bring "respect and trust to Queen's Park" will be seen in retrospect as one of his more reckless.
This email address is being protected from spambots. You need JavaScript enabled to view it.