I write to the Newmarket Mayoral hopeful Joe Wamback asking for a copy of his election platform.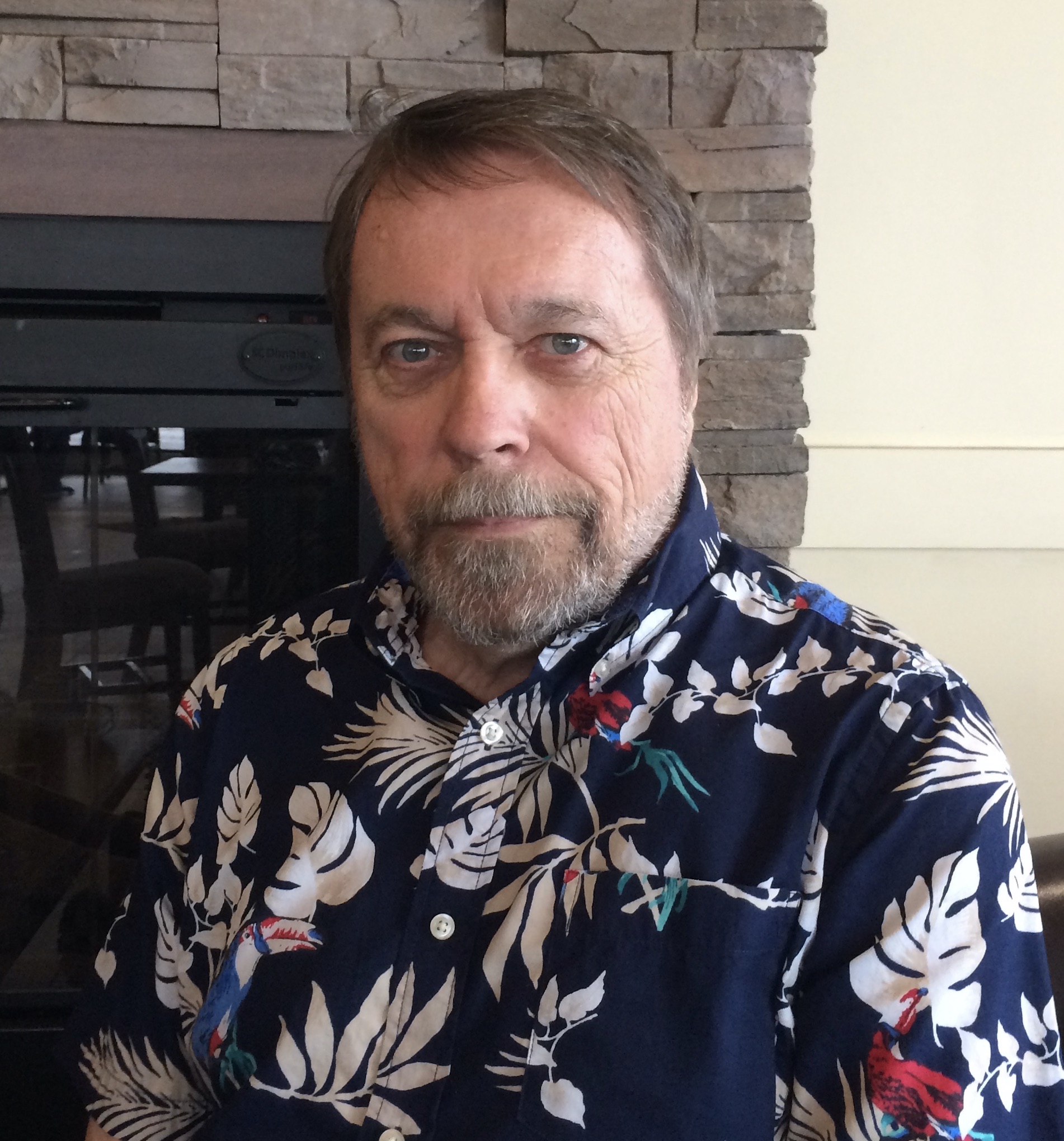 Not yet, he says, because there isn't one. It is, I suppose, work-in-progress. But he suggests we meet for a coffee so he can explain why he is running and set out his "vision and motivation".
I turn up at the coffee shop and Joe introduces his wife Lozanne who tells me she is a holistic nutritionist. He buys the coffee.
I am keen to know more about the man who wants to be Mayor. In all my years following the twists and turns of municipal politics in Newmarket I had never come across him.
Does any serving councillor support him? No he says. He knows Tom Vegh but hasn't asked him.
I ask Joe if he has been to a Council meeting this term. No.
If he has written to the local paper about any issue. No.
If he signed the Clock Tower petition, for or against. No.
Unfair questions?
Perhaps.
(At the time, Joe was sitting as a part-time Social Security Adjudicator, no doubt expected to be aloof and above the fray.)
Is Mayor an entry level job?
I ask him if the Mayor is an entry level job. Why not run for Ward Councillor first? Not interested.
He says he can chair meetings and deal with senior staff. And he is going to spend the next six months talking to people, harvesting their ideas.
It is certainly an unconventional approach to politics but perhaps one that chimes with the times.
Joe is not a bit embarrassed by this. He clearly believes in his own abilities.
He asks me what are the most important issues facing the Town. Hold on, I say. I am not the one running for Mayor.
As I am listening to him I am thinking he needs more than a blank sheet of paper and an interesting CV to run for Mayor.
I ask him what he thinks about Doug Ford and get a long answer about Rob. He corrects himself. He knew Rob.
Are you a Doug Ford man?
Now I bite the bullet.
Would it be fair to describe you as a "Doug Ford man"?
Joe hesitates and scrunches up his face a bit. Hmmmm. He says he admires Doug's family values. And he likes the way he stood by his brother Rob and looked after him. That's the answer I'm gonna get.
Joe says his campaign proper is going to get going after the Provincial election on 7 June. If the polls are to be believed (and I don't) Joe could be glad-handing Premier Ford and inviting him to Newmarket. Who knows?
Victims of Crime
Joe has a profile deriving from the work he has done over many years to support the victims of crime. He set up the Canadian Crime Victim Foundation.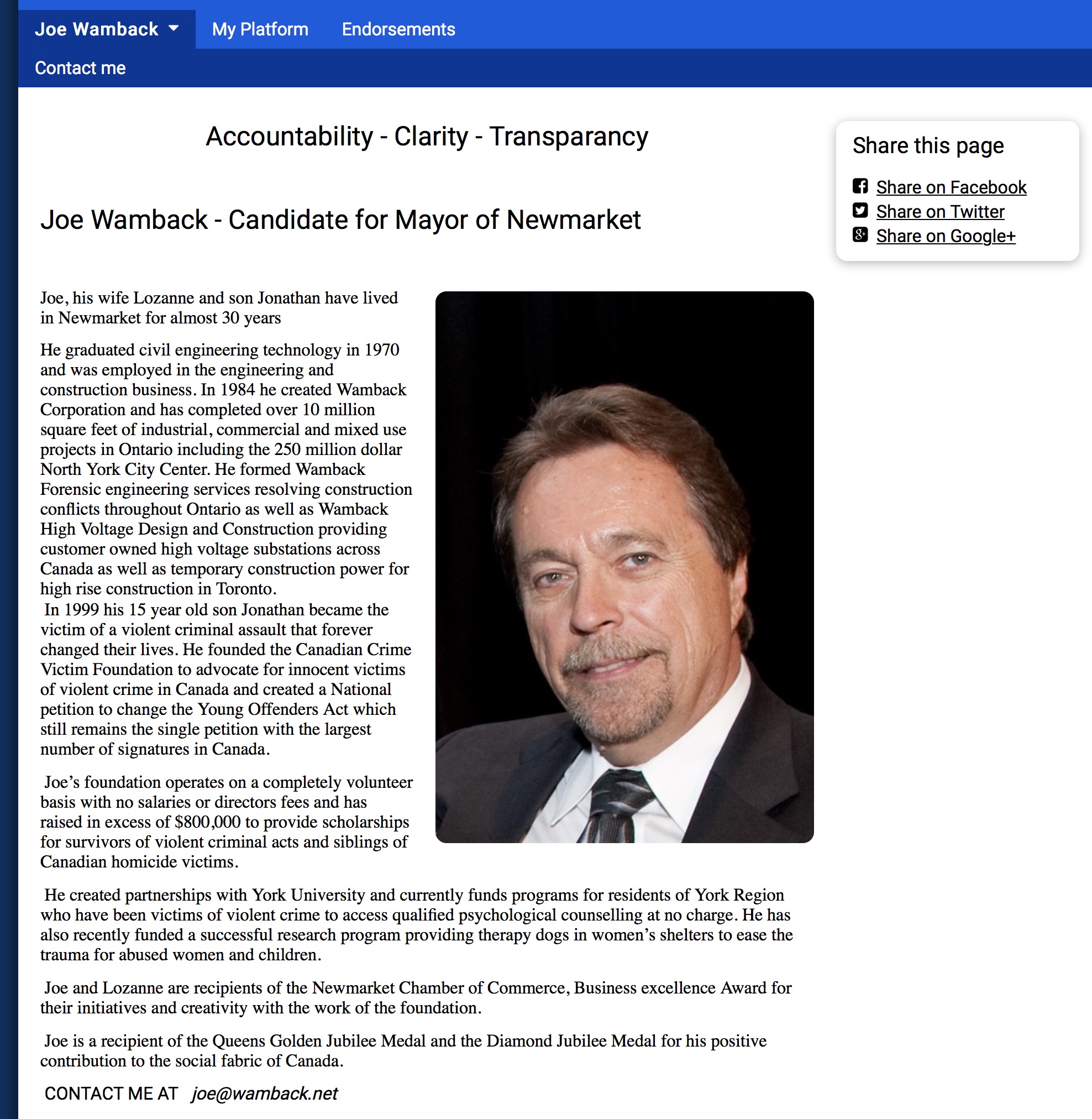 His son Jonathan was badly beaten up by a gang of young people back in 1999 and this had a devastating effect on the family, changing at a stroke the course of their lives.
As a result of his work he tells me he's gotten to know three Prime Ministers and countless MPs and MPPs. He says he can walk into their offices and get a handshake. I don't doubt it. He tells me he has, in effect, written legislation. He has appeared before Commons Committees. He has fought the good fight in a cause most people would consider admirable. The victims of crime too often go unheard.
He was awarded the Queens Golden Jubilee Medal in 2002 for his volunteer service.
Joe tells me about his life in business. He describes himself as an engineer and a developer with his own company. And he is an arbitrator. He says he doesn't shy away from confrontation but assures me it is not his preferred way of doing things.
In 2012 he was appointed by the Harper Government as an adjudicator on the Social Security Tribunal which he says he enjoyed immensely. It is an administrative tribunal with quasi-judicial powers dealing with matters such as Employment Insurance (EI), the Canada Pension Plan (CPP) and Old Age Security (OAS).
His phone, sitting on the table between us, has been glowing for a while. Are you recording this conversation? No, he says. Neither am I.
I ask if he has ever run for elective office before. Once, as a PC in the Federal Election of 2000 in York North – an historic riding which, with boundary changes, has now disappeared. He came third with just under 25% of the vote. He says it happened too soon after the assault on his son.
Joe's policy platform - Hmmmm
Now I want to get down to some specifics. If elected in October what would be the biggest file on his desk. The one grabbing his immediate attention. Hmmmm.
We talk about affordable housing. He says all the right things. But how do you deliver it? If developers don't want to develop what do you do? Hmmm.
We touch on transit and he mentions GO Rail. I impertinently ask if he has ever travelled on a bus. Lozanne appears shocked by the question. Of course! she says.
I tell her I meet quite a few people who proudly boast they've never been on a bus in Newmarket. Hence the question.
Now we turn to the controversial purchase of Mulock Farm but Joe is sitting on the fence. He says he needs more information. I counter and ask him what he needs that is not already out there? Hmmmm.
We are now talking about Town Hall secrecy and how he would open things up. He volunteers this as a big issue. I play the devil's advocate and tell him councillors need private space to consider things. The real issue is when do confidential discussions become "declassified" and put into the public domain. In Newmarket, if the issue embarrasses the Town, the papers will remain locked up forever – or, says the Town, until they no longer "have an impact".
Not running for the money
I am now thanking Joe for being so open with me. I tell him he will be reading my impressions of him in 500 words. Just my scribbles. As I am getting up to leave Joe tells me he is not doing it for the money.
I believe him.
But why is he doing it?
I wish I could say he is running for a reason. But I can't. There are no specifics. No concrete pledges.
The best I can come up with is that Joe Wamback is running on his conservative values. No more. No less. You vote for Joe because you like the kind of person he is and what he represents.
If you are planning to vote for Doug Ford in June I suspect there is no reason why you shouldn't vote for Joe Wamback in October.
This email address is being protected from spambots. You need JavaScript enabled to view it.
Update on 15 May 2018: Joe Wamback has launched his campaign website: "Accountability, Clarity, Transparancy" (sic)