The Town of Newmarket has now agreed Terms of Settlement with the Clock Tower developer, Bob Forrest, which means the OMB Hearing scheduled for August 2018 will no longer go ahead.
It is likely that the application coming before the Superior Court later this month on who owns the contested land in Market Square will also be pulled.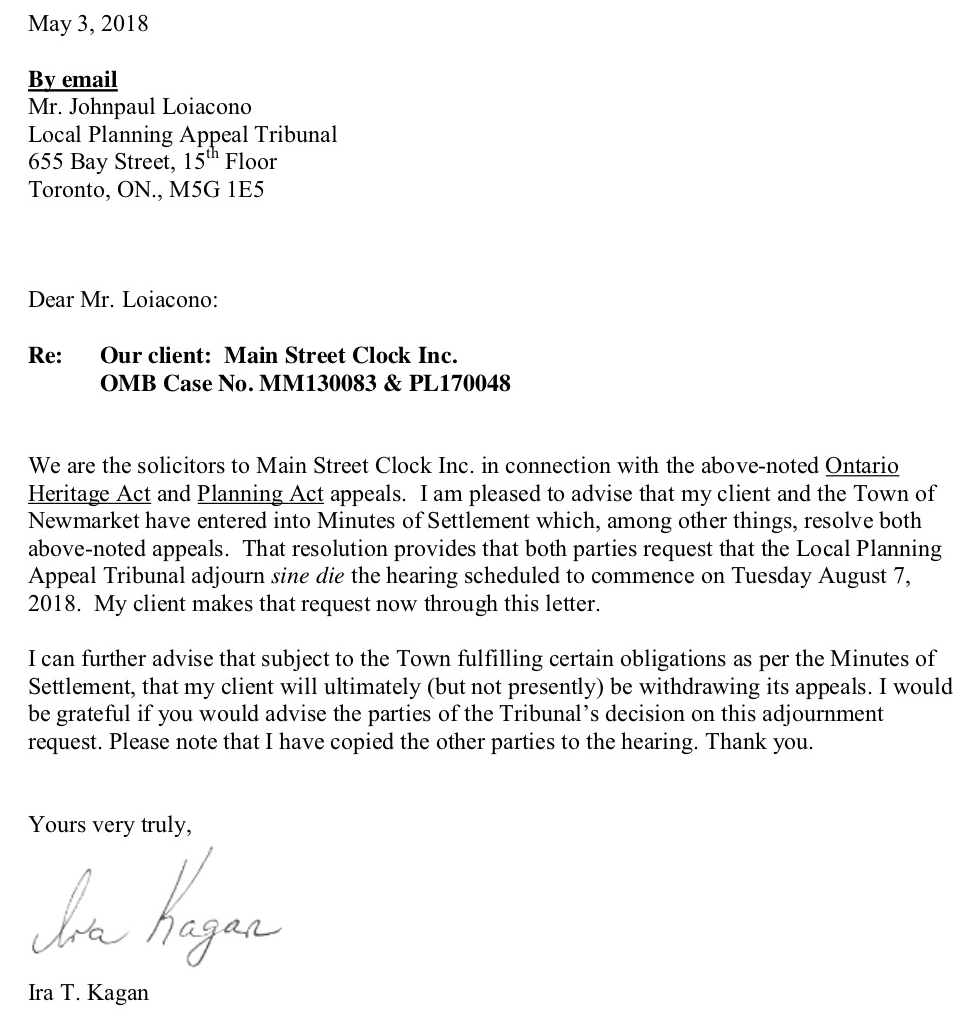 Earlier today (3 May 2018) Forrest's lawyer Ira Kagan told the Local Planning Appeal Tribunal (the successor body to the OMB) that Forrest and the Town of Newmarket had agreed the terms of a settlement which resolved the appeals currently before the OMB. Kagan says the Town and Forrest want the OMB Appeal due to start on Tuesday 7 August 2018 to be adjourned indefinitely.
"I can further advise that subject to the Town fulfilling certain obligations as per the Minutes of Settlement, that my client will ultimately (but not presently) be withdrawing its appeals. I would be grateful if you would advise the Parties (Forrest's Main Street Clock Inc, the Town of Newmarket and the Heart of Newmarket Citizens' Group) of the Tribunal's decision on this adjournment request."
Settlement terms still a mystery
The Town has settled with Bob Forrest but we do not yet know on what terms. What are the obligations the Town must fulfill? We shall find out tomorrow afternoon according to Bob Kwapeese.
Should we be celebrating?
If Forrest's Clock Tower project is now stone cold dead, never to be resurrected, we should all give thanks.
But the question in my mind is this: what is Forrest getting from the Town in return for pulling out of the OMB Hearing? And what is he getting for dropping his opposition to the Town's application to the Superior Court on the land ownership issue (if that is, indeed, what is happening.)
Personally, I thought the Town was in a pretty strong position even if it lost in the Superior Court on the Market Square land ownership issue. (The Town's deal, some 15 years ago, with Michael Bryant - who sold his Main Street properties to Forrest - was never formally closed by the Town. It was and remains a stellar example of Newmarket Council's ineptitude.)
Kagan was poised to argue at the Superior Court that if the Town hadn't gotten round to closing the deal after so many years it was no longer operational. Anyway… all this stuff is for the lawyers.
What's the deal?
I suspect the Town has thrown Forrest some kind of lifeline, allowing him to walk away with something.
But this is speculation on my part. Unlike the leaky Councillor Kwapeese I am not privy to the details.
It is enough to say that today we learn the OMB Hearing is off.
Tomorrow we shall find out what the real deal is.
This email address is being protected from spambots. You need JavaScript enabled to view it.
Tonight I emailed the Town to ask when and where the "big announcement" will happen. I wanna be there.