On Thursday (9 February) members of York Regional Council will get a presentation on employment growth across the Region with updates on how industry and businesses are faring.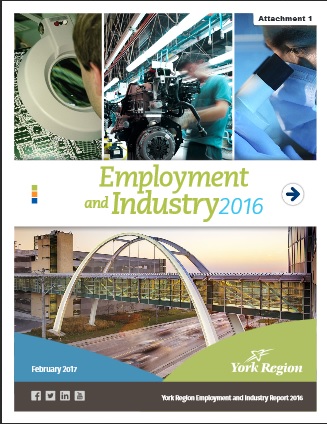 We are told York Region employment growth
"outpaced national and provincial labour force growth between mid-year 2015 and mid-year 2016, growing 3.1%."
This is good.
We learn that overall
"There were an estimated 595,200 jobs in York Region as of mid-year 2016 with employment increasing by 15,100 from the previous year. Employment growth continues to outpace national and provincial averages. Full time employment represents 71% of all jobs in the Region, a decline from 73% in 2015."
But all information which is specific to the nine constituent municipalities has been stripped out of the report, making comparisons between, say, Newmarket and Aurora impossible. The last time the information was included (in the 2014 Report) there was a great kerfuffle with Newmarket's Tony Van Trappist speaking out (unusually) and crying foul!
Information is available - but only if you ask
Employment information by municipality comes from surveys carried out across the region. But this information is only made available to elected officials and to municipal staff and not to the great unwashed - unless we make a big song and dance about it.
Why not be up front with the data? It is a bit like having an economic survey of Canada without referring to the Provinces by name, with no comparisons allowed.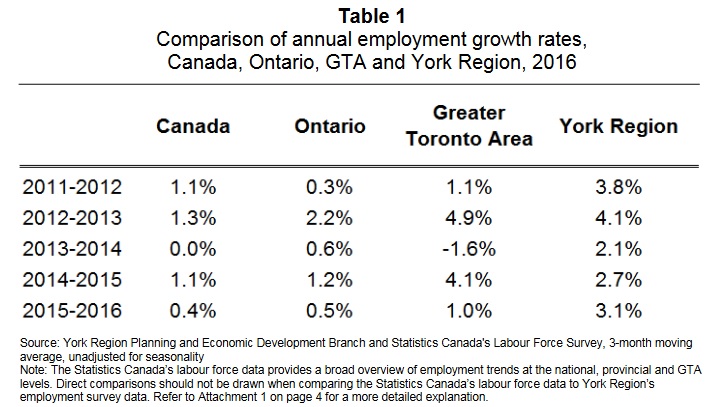 Paul Bottomley, the Region's Manager of Policy, Research and Forecasting, told Council members this time last year the details for the individual nine municipalities did not form part of his presentation.
He said council members had been given the information separately in a handout.
As it happened, I was physically present at the Committee meeting. I intercepted him as he was leaving the Council Chamber and asked for sight of these documents. (Scroll to bottom of page and open.)
I asked if these were "public documents". He conceded they were. He emailed them on to me an hour later.
But why do we have to ask?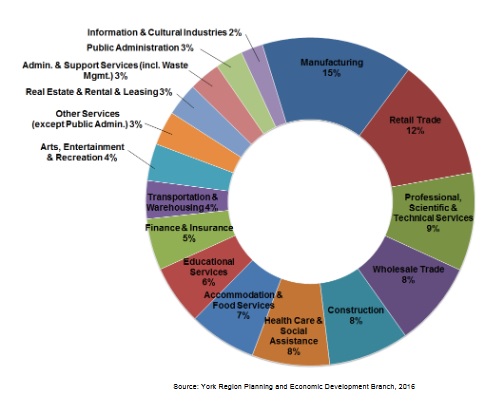 Open Data
York Region and Newmarket trumpet the fact they are Open Data authorities.
So why can't the data for the nine constituent municipalities be attached to the main report as an appendix?
People are interested in this kind of stuff.
Is it to avoid embarrassing under-performing municipalities? Is the local data seen as a distraction from the main point?
What is the reason for keeping this stuff under wraps?
The pie chart (above) gives details of job distribution by category across the Region. But why can't we have pie charts for each of the nine municipalities?
Of course, when publishing data there are always the caveats. You've gotta compare like with like. No point comparing muscular Markham with, say, rural King.
But surely we can we compare Newmarket with, say, Aurora, our nearest neighbour to the south.
They are almost part of the family.
This email address is being protected from spambots. You need JavaScript enabled to view it.
---