PC wannabe MPP Maddie Di Muccio "likes" tweets that claim I am a paedophile.
Twitter tells us
'Likes are represented by a small heart. They are commonly used to show appreciation for a Tweet.'
Not long after I posted my piece on Maddie Di Muccio and her unsuccessful bid to extract $25,000 from Canada Post, the dark, fetid, unsavoury underbelly of the internet began to stir.
TruckMafk TMTM @TruckMafd sets the hare running yesterday with this tweet:
@gordon_prentice Is that pedophilia charge against you cleared up yet or is that trial still on? 

then this one
@gordon_prentice is it true that you're currently in court defending #Pedophilia charges?
followed by
@gordon_prentice can u address the rumours of #Pedophilia charges against u? Are u innocent? Did you ever mollest #children?

followed by
@gordon_prentice on these alleged #Pedophilia allegations, do u got any comments? If true, is there anything u'd say 2 their families?
followed by
@gordon_prentice r the rumours true that the judge may throw out your case of u raping a kid? R u still advised 2 stay away from schools?
followed by
in reply to Johnny D
TruckMafk TMTM @ TruckMafk
@horsesandbeer I also hear rumours of this sick man's pedophilia. Keep yr kids away from @Gordon_Prentice until these rumours are addressed!
Engaging with trolls
Instead of ignoring this tripe, Di Muccio chooses to engage with this troll - more than once. Her appreciation of tweets alleging paedophilia by me plumbs new depths, even for her.
And to be clear, M'Lud, I do not have a criminal record either here in Canada or in the UK. Furthermore, I have never been charged with any crime nor have I ever been investigated by the police in connection with any crime whatsoever, anywhere, in any jurisdiction. I am, M'Lud, a model citizen.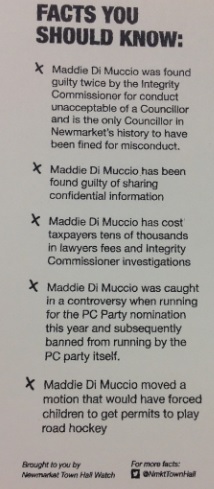 For her part, Di Muccio has chosen to engage on social media with someone who posts baseless allegations of paedophilia and who makes crude sexist and pejorative comments about people.
If the Newmarket-Aurora Riding Association abandons all sense of decency and selects Di Muccio as their candidate in the Provincial Election in 2018 they will be telling the rest of us a great deal about the standards they have set themselves.
Fake news
They will be saying it is OK to coarsen and debase political discourse locally and it is OK to promote "fake news".
The leaflet on the right was circulated by Canada Post on behalf of its client, the newspaper Snap'd, in the run up to the October 2014 Newmarket municipal election which saw Di Muccio losing her Ward 6 seat to Kelly Broome. We do not yet know who was responsible for the text.
But we do know Maddie Di Muccio believes it contains
"vile and disgusting smears".
As it happens, Matilde Barbara Di Muccio will be returning to the Newmarket Small Claims Court on Friday 10 February 2017. This time, she is seeking $5,000 in damages from Regional Councillor John Taylor who is accused of causing her
"reputational damage".
In the extensive list of things she claims Taylor has allegedly done to her I see the words
"injurious falsehoods"
I am left wondering if the promotion of unfounded allegations of paedophilia by Di Muccio against me counts as an injurious falsehood?
If it doesn't, M'Lud, then perhaps it should.
This email address is being protected from spambots. You need JavaScript enabled to view it.
---