A claim by Maddie Di Muccio and her husband John Blommestyn for $25,000 in damages from Canada Post was last week thrown out by Newmarket Small Claims Court Judge Elliott Goldstein.
The litigious pair demanded the cash from Canada Post because of its role in distributing election flyers in 2014, penned by a spoof Newmarket Town Hall Watch, which they say are defamatory.
Di Muccio and Blommestyn both filed separate claims concerning the distribution of flyers in Ward 6 (where she was the candidate) and Ward 7 (where he was standing).
They allege wrongdoing by Snap'd Chief Executive, Paul Dutton, and Snap'd employee and current Ward 6 councillor, Kelly Broome.  (Photo shows Paul Dutton on right collecting his "entrepreneur of the year award 2012". Also shown Steve Hinder.)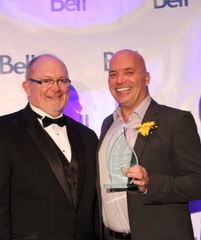 Conspiracy
Di Muccio and her husband John Blommestyn suggest there was a conspiracy between Broome and Dutton to circulate flyers that would damage them both in the eyes of the voters.
As is generally the case with their endless bouts of litigation, Di Muccio and Blommestyn represented themselves. They always paint themselves as victims - of the system, of circumstances and of the malevolent.
After hearing all the facts, on 11 January 2017, Deputy Judge Goldstein made an order
"dismissing the claim (on consent)".
This simply means the Judge found in favour of the Defendant (Canada Post) and is to be taken as a final judgement. Di Muccio and Blommestyn cannot resurrect the issue later.
Unredacted
But, in the course of the hearings, Di Muccio and Blommestyn got what they wanted. The Court ordered Canada Post to produce a partially unredacted invoice to the Plaintiff (Blommestyn) showing the name of the customer; the name of the person/entity the mailing was done on behalf of and the method of payment.
This revealed the subterfuge.
Di Muccio and Blommestyn believe they have nailed Snap'd which, they say, is culpable for arranging the distribution of anonymous material during the 2014 municipal election campaign which was explicitly designed to damage them.
So, what should happen next?
Paul Dutton and Kelly Broome will, at some stage, have to respond to Di Muccio's allegations.
I don't think it is possible for them to pretend that nothing has happened.
Cloak and Dagger
Personally, I have never done my politics in a cloak and dagger way. It is wholly counter-productive. Much better to be up-front. I've never played both sides as is so often the case with politicians here in Newmarket.
If you think someone is a useless candidate (and I think Maddie Di Muccio would be a dose of anthrax to the PCs locally) then why not say so?
But some people prefer to operate in the shadows. The real Newmarket Town Hall Watch, who revels in her notoriety and anonymity, told us in February 2014:
"By remaining unnamed I give more focus to my words."
That sounds like a defence Paul Dutton could use.
This email address is being protected from spambots. You need JavaScript enabled to view it.
---