There are many casualties in the Clock Tower saga.
The flourishing Main Street businesses whose owners were evicted by Bob Forrest who cited "demolition" as a reason.
The public whose iconic Main Street was blighted for years by shops boarded up and shuttered by Forrest.
The so-called heritage professionals whose "expertise" is hired out to the highest bidder with their views tailored to fit the brief.
The peer reviewers whose shoddy work is tolerated and not exposed by Staff.
The Staff whose actions and inactions conspired against the public interest. Critically important information was withheld from councillors and the public. Where was the man in charge, the Director of Planning, Rick Nethery?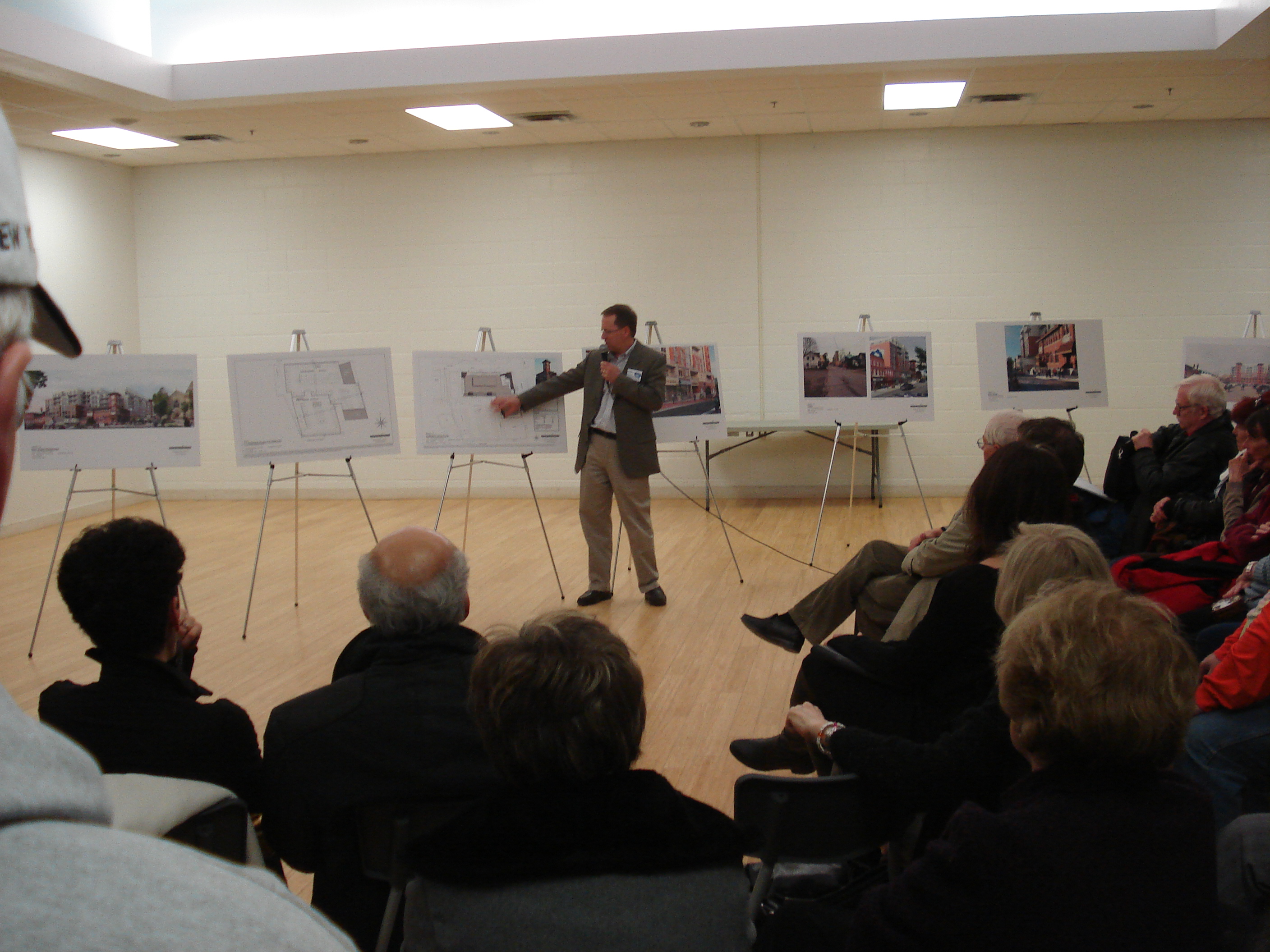 The developer, Bob Forrest, who gamed the system. He believes he can make things happen
"by leveraging our strong reputation and existing relationships with municipal staff and politicians."
Well, not this time.
(The photo right shows Forrest's right hand man, Chris Bobyk, explaining the concept to the public in April 2013 - six months before the Heritage Conservation District By-law was enacted by the slothful Mayor, Tony Van Bynen.)
Mayor Tony Van Bynen who stubbornly clung to supporting the Staff recommendation even when it had been pointed out to him the calculation on the project's density was completely bogus. When he said the Clock Tower was a great example of the intensification the old downtown needed, he really meant it.
On the positive side, we have seen councillors assert themselves. And think for themselves. The seven councillors who rejected the Clock Tower application deserve our hearty congratulations.
At last night's Council meeting, Regional Councillor John Taylor engaged with some of the major issues and made a number of insightful observations on the planning system and how it can be made better. His focus on the peer-reviews was welcome.
We can also thank the BIA and the merchants of Main Street who have done so much to build the terrific downtown over recent years.
The Heritage Advisory Committee and its Chair Athol Hart deserve a special vote of thanks for their trenchant opposition to Bob Forrest's Clock Tower project which would have resulted in the destruction of a unique and irreplaceable Townscape.
You can read the exchanges between John Taylor and Staff here together with details of the vote.
And you can read here Van Bynen's Statement to the Committee of the Whole meeting on the Clock Tower, 28 November 2016, explaining why he was supporting the staff recommendation to allow a seven storey apartment building in the heart of the Heritage Conservation District where a three storey height cap applies.
And you can read here Bob Forrest's angry letter to the Mayor and Councillors dated 28 November 2016 and my letter to the same recipients dated 4 December 2016. (Scroll to item 22 in the agenda.)
This email address is being protected from spambots. You need JavaScript enabled to view it.
Update on 5 February 2020: Note: the links above are broken.
---