Clock Tower developer Bob Forrest told the OMB last year that Newmarket Council was "dysfunctional" and "difficult to work with".
He told the OMB last December that he expected the Town to agree a new Zoning By-law which would allow him to go to seven storeys and that his OMB appeal would be withdrawn.*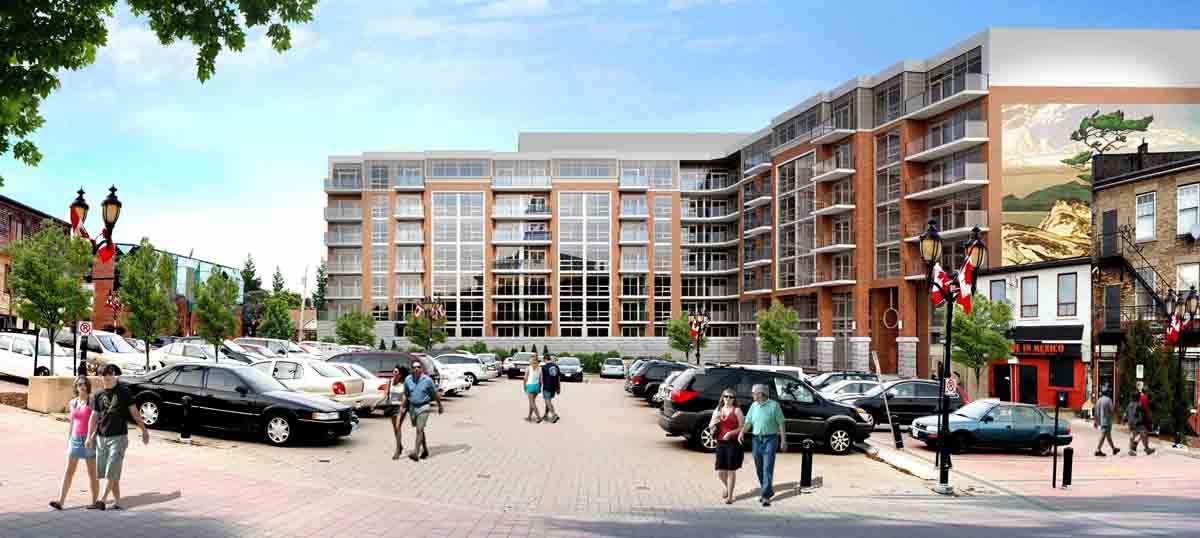 Forrest lodged an appeal with the OMB in November 2013 asking that his properties at the Clock Tower should be exempt from the Heritage Conservation District by-law 2013-51 on the grounds that his planning application was lodged with the Town on 23 August 2013 - before the by-law was enacted on 21 October 2013.
Forrest's lawyer, Ira Kagan, told the Town Clerk, Andrew Brouwer, on 29 November 2013:
"Our clients take the position that their redevelopment should be judged against the policy regime in place at the time of their application and that their redevelopment application should not be subject to Part V of the Ontario Heritage Act. Accordingly, our client appeals By-law 2013-51 insofar as it applies to the proposed development."
The OMB ruled that the HCD By-law should come into effect on 21 October 2013 but that the Forrest lands at 180-194 should be exempt, pro tem, pending a decision by Newmarket Council on the Clock Tower application.
Since then there has been much back and forth between Forrest and the OMB.
Dysfunctional and difficult to work with
In a letter to the OMB dated 14 April 2015 Forrest wrote:
"When last you were provided an update on this project, we indicated that we were still seeking an investment partner for the site, and that additionally we had negotiated with the Town a revised scope of our appeal to only be applicable to our properties located between 180-194 Main Street South in Newmarket.
I would like to take this opportunity to expand upon the current status of the project. When this appeal was initiated, the Council of the Town of Newmarket was dysfunctional and difficult to work with. As such it caused us to delay continuation of work from our side, until a new Council was voted in during the municipal elections that were held in November 2014.
Since the election, we have been in negotiations with Town Councillors and Staff to arrive at a negotiated resolution that would avoid the need for a full hearing before the OMB, and instead allow for just a settlement hearing and the Board to approve our negotiated resolution.
We are currently expecting these negotiations to be concluded within two (2) to four (4) months with the Town. We will undertake to provide you with monthly updates on the status of those negotiations, but please rest assured that it (is) out intent to resolve this matter and bring it before the Board for your approval, as quickly as possible."
Kind Regards
Bob Forrest
Secretary (Main Street Clock Inc)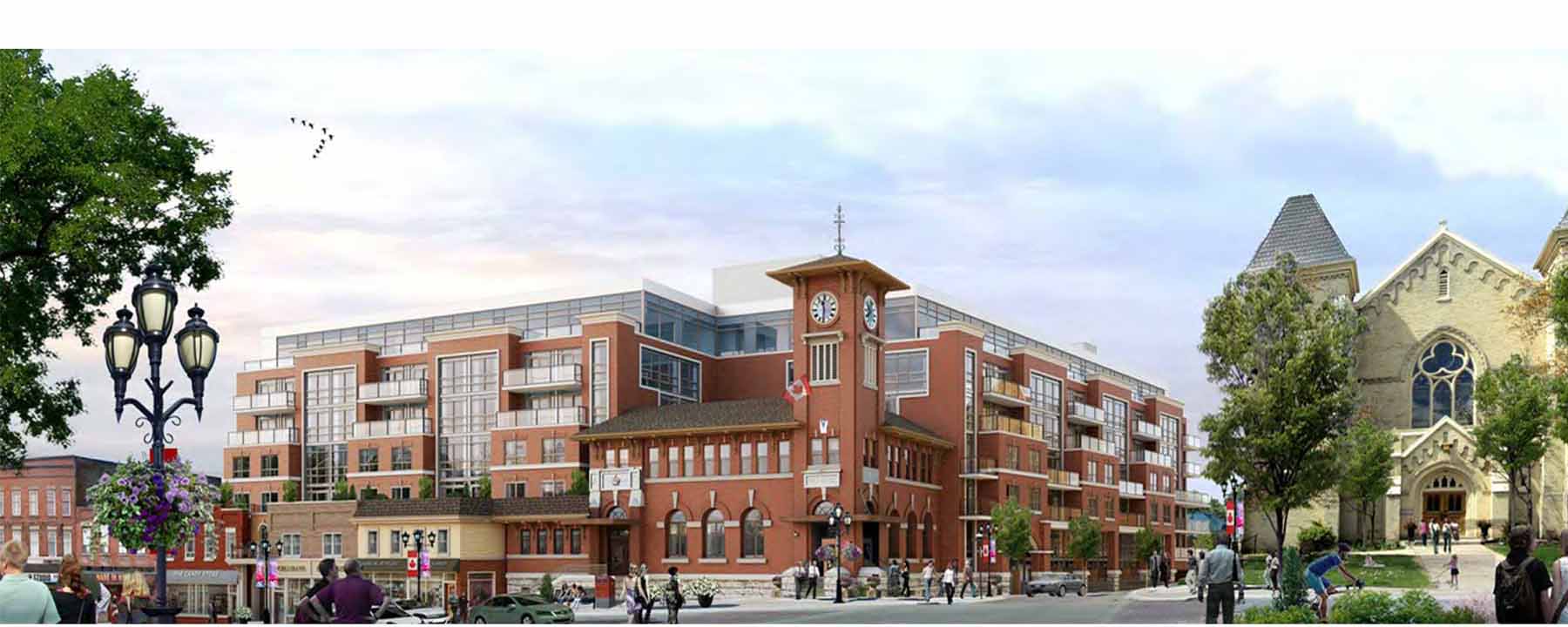 The Town is likely to settle
On 2 December 2015, Forrest told the OMB that it looked as if the Town would settle on his terms and that the appeal would be withdrawn:
"Neil has moved to California so I will be your contact henceforth.
I believe you know that we have an application before the Town for a 9 storey (on Park) and 3 storey (on Main) building on the site.
There have been extensive discussions which, just now, seem to be resolving with an amendment to a 7 storey building stepped back from a two storey podium on Main Street.
In the course of discussions, it appears that there will be an appetite for both parties to ask for the appeal to be removed in concert with a new Zoning by-law being enacted.
Given the season, I expect it will be February before our amended application is granted a complete letter.
May I suggest that I schedule to provide you with an update at the end of February?
Best… Bob
Negotiated resolution
On 16 February 2016, Forrest was talking about a negotiated resolution:
"We have amended our application to 2 storeys on Main Street, stepping back to 7 storeys behind and on Park.
Presently we are awaiting feedback, but we have discussed with the Town a negotiated resolution to the OMB matter in the course of Zoning being granted.
We will diarize to get back to you in another three months, by which time we should know where we are going.
I hope this will work for you.
Best… Bob
A new zoning by-law - drafted by Forrest!
On 4 May 2016, Forrest told the OMB he hoped to get his new zoning and the matter could be put to rest:
"It is my hope that we will soon secure our Zoning, whereupon there will be a negotiation with the Town that will result in our jointly returning to the Board, to put this matter to rest.
My version, as described above, is probably a little simpler than what will really happen but that is the game plan.
I hope this brings you to current status.
With your agreement, we will diarize to be back to you again in three months time… with good news, I hope.
Best….. Bob
On 2 August 2016, Forrest told the OMB the finishing post was in sight:
"The Clock Tower project is on the agenda for the Newmarket council meeting on Monday August 29, 2016.
The public meeting occurred as planned on Monday May 9, 2016.
I will be back to you after the August meeting with an update.
Best…. Bob
Spanner in the works
The unexpected resignation of Joe Sponga threw a spanner in the works. The much anticipated report from the Town's planners on Forrest's Clock Tower application was postponed until after the Ward 5 by-election on 17 October 2016.
Throughout this long saga, Forrest sought to spoon feed the Town, even drafting a new Town by-law which would allow the development to get off the ground. He has relentlessly courted councillors over coffee in Tim Hortons and elsewhere.
Clearly, Ward 5 needs to elect a new councillor who will not be a patsy. Someone who will stand up to the Project's cheerleader-in-chief – Mayor Tony Van Bynen who supports the "concept and the principle" of dumping a huge 7 storey apartment building in the middle of the Town's priceless Heritage Conservation District.
As Forrest says, we need to put this to rest once and for all.
This email address is being protected from spambots. You need JavaScript enabled to view it.
*The proposed new by-law allowing the construction of 7 storeys on the Clock Tower site is set out in Forrest's Planning Justification Report of January 2016 which you can read here. At page 33 it says:
"A draft Zoning By-law Amendment has been prepared and submitted to consolidate zoning on the property and to seek relief of the above noted provisions in order to implement the Proposal… A copy of the draft Zoning By-law Amendment is attached as Appendix B for reference."
---