I am in the Council Chamber waiting for the big event to begin. It is the second statutory meeting on Bob Forrest's latest plan for the Clock Tower. Six storeys then nine. Now we are on seven.
The place is packed and there is a uniformed fire fighter at the door to make sure the numbers stay within safety limits. People who are turned away are directed to an overflow room.
Sitting behind Bob Shelton, the Chief Administative Officer, their backs to the wall, is the developer Bob Forrest and his faithful lapdog, Chris Bobyk.
Van Bynen rules no applause allowed
The Mayor, Tony Van Bynen, calls the meeting to order and reminds us what is expected. We are to be on our best behaviour. Respectful. Mindful of decorum. He sternly warns us there must be no applause.
Bob Forrest makes his way to the table where he will take us through his presentation – which we learn has been cut back from 20 minutes to 10.
I notice his shirt tails are out.
He is a cool dude.
Or that's what he wants us to think.
The last time I saw him he was wearing bright orange shoes.
He walks us through his proposals in a strangely pedestrian and listless way, making it clear he is happy to answer any questions.
Not so fast! The Mayor has other ideas.
"We'll ask you to come back if there are any questions later on."
Van Bynen's safety first strategy
Van Bynen wants to hear from the many deputations first. This, of course, is Van Bynen's safety first strategy. Questions to Forrest could open up lines of questioning (for example, on the land swap) that the old banker would find difficult to control.
By my back-of-the-envelope calculations, 20 deputations are, for a variety of reasons, against the Forrest development. Seven are in favour.
The last time I looked at the on-line petition 797 people were against Forrest's development and 218 in favour. Crude numbers can often be misleading but, in this case, real people have posted real, considered comments on why they oppose Forrest's proposed make-over of the Town's heritage district.
Now we are on to the deputations.
Real estate mover and shaker, Wasim Jarrah, is for the development but doesn't show up. Now it is Art Weis (for) and Siegfried Wall (against). Siegfried has too much material. He eviscerates Forrest on the crucial issue of density.
Where can I buy a cauliflower?
Now it is David Kempton (for) who tells us in his tortured way that he sympathises with the difficult decision facing councillors. (Don't lose sleep over it.) Now his feisty partner, Peggy Stevens (for), tells us why Main Street has got to change with the times. She wants to buy her cauliflowers downtown. (I made that up.)  Greg King (for) follows.
Now the splendid Ann Campbell (against) explains why the heritage district is worth protecting. Heather Burling (against) tells us she is going to fight for what she believes in. You don't do things that harm other people and their neighbourhoods.
Heather is followed by Margaret Davis (against), 94 years old, who gives a stirring speech on why the area's heritage district should be respected. She deserves and gets a round of applause. This displeases you-know-who.
Order! Order please! cries our stuffed shirt Mayor, all process and procedure.
Next up is Main Street business owner Ann Martin (against) whose easy conversational manner masks a steely resolve to protect Main Street from the calamity that is Forrest's Clock Tower.
Scale model steals the show
Now it is Lisa Heckbert (against) who speaks on behalf of Ron Eibel (against) who created the magnificent Clock Tower model showing its huge overbearing mass and scale. The BIA's Glenn Wilson (against) follows. Main Street's business organization blows Forrest a big raspberry. They don't want it.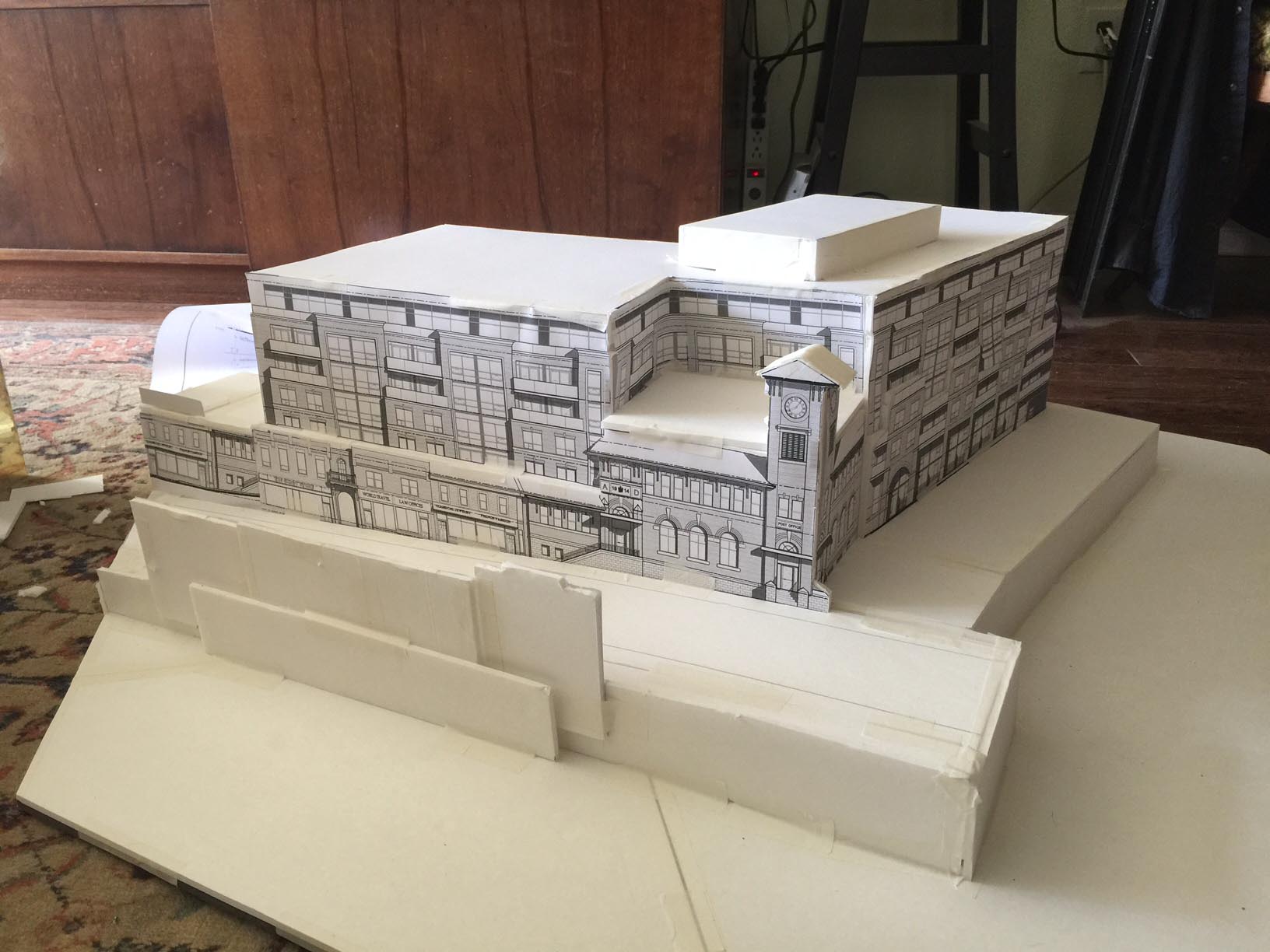 Now it is the turn of another business owner, Olga Paiva (against). She tells me afterwards she was nervous. It didn't show. Another bravura performance. Now it is Mollie Coles Tonn speaking on behalf of her husband, James (against), who is out of the country. Now it is the turn of Newmarket's grande dame, Jackie Player (for) followed by me (against).
We move swiftly on to John Heckbert (against) who, on the big screen, shows us various calculations about the merits or otherwise of owner occupied vs rental. Now Jude Lauzon (against) tells us there is no cure for stupid.
The councillors remain expressionless. Their faces like Easter Island statues.
Now Elaine Adam (against) warns of the dangers of retail businesses, facing years of construction disruption, upping sticks and leaving. Dave Partington (for) follows.
Ted wants to tell us about Joe but Tony says no
Now it is the turn of Ted Heald (against) who wants to tell us something about Councillor Joe Sponga. (There are rumours on the street there is a tape recording of Joe speaking forthrightly on various matters but who knows? I am an innocent in these matters.)
The Mayor, increasingly testy, will have none of it. He is upset with Ted and constantly refers to him as "Sir!"
"If you have an issue about any councillor there is a process!"
I hear groans behind me. The Mayor and his processes!
Now the Mayor is pulling rank.
"We'll recess and I'll ask to have this gentleman removed from the room!"
Whoo Hoo! What excitement!
Ted gathers his papers and considerately allows the meeting to proceed without interruption. We move on to Ted Bomers who is, I suppose, on balance unconvinced. I put him down as against.
He says 213 housing units – mainly multi bedroom town houses have been added to the downtown housing stock in recent years without transforming the fortunes of Main Street. How can Forrest's additional 165 units – many one bedroom - make a material difference? An interesting angle.
Evicted by Forrest
Now it is the turn of Jone Wright (against), a Main Street business owner of ten years standing who was evicted by Bob Forrest. She speaks powerfully of the contribution small businesses make to the street and why the Town should back them.
Up next is the splendid chair of the Newmarket Heritage Advisory Committee, Athol Hart (against), who reads out a very lengthy and impressive sounding motion from his Committee. "Whereas" follows "Whereas" follows "Whereas" until we finally get to the nub of it. His Committee "adamantly recommends" Forrest's proposal is rejected.
Malcolm Watts (against) follows.
Why stop at 12 storeys?

Now it is Terry Alderson (for), a local historian and life member of the Newmarket Historical Society. He says his books are in the library. He tells us 7 storeys is too modest. It should be twelve!
Because he has such a distinguished pedigree, I collar him afterwards and tell him the underground car park couldn't go down deep enough to accommodate all those extra parking spaces. He says the parking for the 12 storey building should go on the other side of Main Street. Oh! I see. So simple!
Ness Daniel, a business owner on Main Street, working his socks off 7am-7pm, is against. And so too is Chris Howie. A man of few words. He is against.
Show of hands
Now the councillors are invited to comment. John Taylor says we are all wonderful. He loves us all. What a civilized and well mannered debate. He is proud of us all. He wants a show of hands from everyone who has ever rented. I stick my hand up. To my mind this is not about tenure.
With my hand waving about in the air, I find myself wondering if our Mayor will ask us if we support his stated position that
"The Clock Tower is a great example of the intensification we need."
I don't think so.
I think the great man now realizes he made a humungous mistake in publicly advocating the Clock Tower development and now he is furiously back pedaling, retreating into his safety zone of processes and procedures.
Everyone is, of course, allowed one slip-up. He realises now that discretion is the better part of valour.
Joe gets the last word
The last word goes to Ward 5 councillor, Joe Sponga, the man at the centre of last night's controversy. He tells us:
"I feel very confident and very positive that through a constructive dialogue that we've seen tonight the Clock Tower development is gonna be something that we can all be proud of at the end of the day."
Sounds like for. Could be against.
That's our Joe.
This email address is being protected from spambots. You need JavaScript enabled to view it.
You can watch the video here. The statutory public meeting starts 2 hours 9 minutes in.
---