Newmarket Council is to hold a special closed session meeting on Monday 25 April 2016 at 6pm "regarding a proposed or pending acquisition or disposition of land by the municipality… related to property in Ward 5"
The agenda says a report will be distributed at the meeting.
This is all about the infamous land swap that paves the way for Bob Forrest's monstrous Clock Tower project. Without the land swap the Clock Tower project is dead.
On Monday, Councillors must not agree a land swap with Bob Forrest.
Notices for the Statutory Public meeting on Forrest's proposal went up last week after the Committee of the Whole meeting on 18 April 2016. Councillors must have decided the date of the Statutory Meeting (May 9) after agenda item 6 on the Clock Tower had been disposed of and after members of the public had left the building.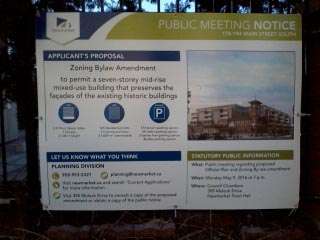 The minutes of the Committee of the Whole of 18 April 2016 (item 7 of the agenda) give details of the deputations that appeared before councillors. My own contribution appears in paragraph 8. The reference to the closed session meeting on the land swap is incorrectly stated as 24 June 2015. The closed session meeting in question was actually held on 24 June 2013.
On 18 April 2016, after addressing the Committee of the Whole, I lodged a Freedom of Information request asking for sight of "the agenda and minutes and any supporting papers regarding the land swap at Market Square discussed in closed session on 24 June 2013".
The Town Solicitor told me on 23 February 2016, in response to a request I had made, that:
Council received a land exchange request from the Clock Tower developer but has deferred any final decision making on that proposal until such time as the developer's application for zoning by-law amendment goes through the usual public planning process and receives development approval from Council.
The details of the proposed land exchange are confidential at this point as they involve the potential acquisition/disposition of Town lands.
If or when the developer's development application comes before Council, the details of the requested land exchange will likely become public information.
That seems clear enough to me. On Monday there should be no attempt to agree the land swap until after the Council has considered Forrest's Clock Tower application. On the other hand, if councillors want to reject the land swap that's OK by me.
In any event, the details of the proposed land swap should be put into the public domain now that Forrest's Clock Tower application is being considered by Council.
This email address is being protected from spambots. You need JavaScript enabled to view it.
---