Newmarket Aurora MPP, Dawn Gallagher Murphy, charged taxpayers $4,518 for her widely publicised event in Aurora where constituents could view the Coronation of King Charles III on a big screen.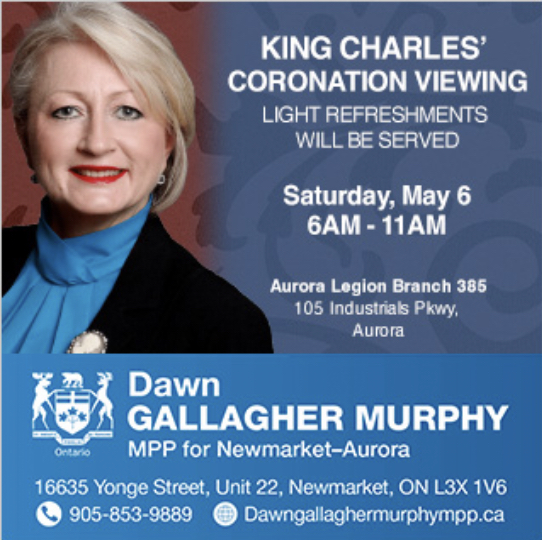 Gallagher Murphy offered "light refreshments" to those attending the early morning viewing at the Royal Canadian Legion on 6 May.
In her "Dialogue with Dawn" column in Newmarket Today she trilled:
"We will have an assortment of scones, tea and coffee and a breakfast will also be served.
Don't forget to wear your favourite fascinator."
Bread and Circuses
Gallagher Murphy likes her bread and circuses, preferring spectacle to debates on policy. She boycotted all the candidate debates at last year's Provincial election and parrots the FordNation line on all matters of policy.
The MPP will be planning for her upcoming "Free Corn Roast and BBQ" which she vowed would be an annual event.
$11,160
Last year's Free BBQ on 16 October was billed to the taxpayers, costing us over $11,000.
After the event Newmarket Today asked her for an interview. She declined.
This email address is being protected from spambots. You need JavaScript enabled to view it.
Below: Extract from Gallagher Murphy's expenses submitted to the Ontario Legislative Assembly for payment.