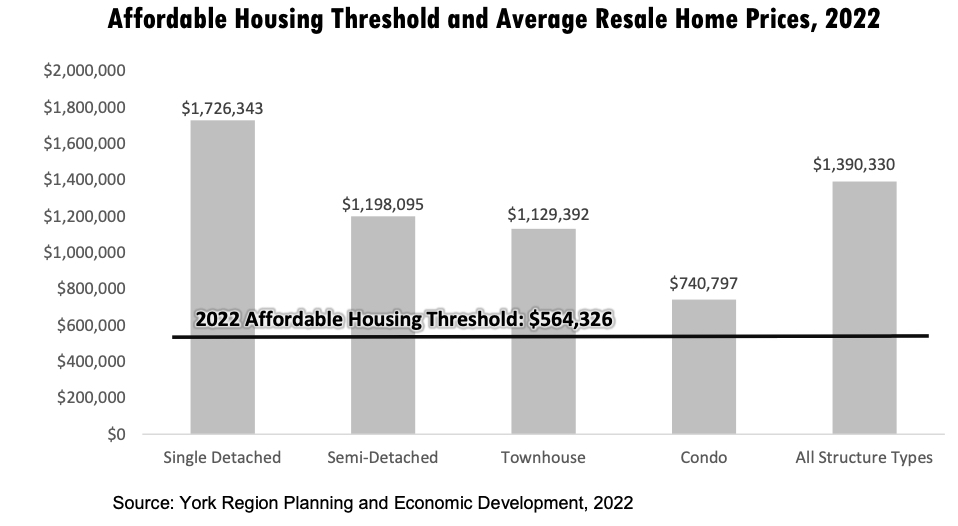 The Big Audit
The Province announced earlier today that Newmarket's finances will be audited by the accountancy firm, Ernst & Young LLP,
"as part of its ongoing work to build 1.5 million homes by 2031".
We are told the findings - which will examine the books of five other municipalities - will support the Province's work to boost housing supply and affordability.
But what does Doug Ford mean by affordable housing?
Definition of housing affordability
The Province used to define maximum housing affordability (as set out in the Provincial Policy Statement 2020) as 30% of the gross household income for households with incomes in the lowest 60% of income distribution. York Region explains it this way:
"This is the maximum house price that the lowest earning 60% of households can afford to purchase, assuming that 30% of household income is spent on mortgage payments, mortgage insurance and property taxes."
York Region's annual household income at the sixth decile was a very substantial $150,426 which translates into a maximum affordable house price of $564,326. The chart shows the selling price of various housing types in 2022 within York Region and not a single category is affordable for a household on an annual income of $150,426!
Alice in Wonderland
We are now in the Alice and Wonderland situation where the Province is proposing a new Provincial Planning statement to replace the 2020 version but the new one doesn't define what is meant by affordable housing. In fact, it makes no mention of affordable housing.
Instead Bill 23 (More Homes Built Faster) introduces a new vague definition of housing affordability which is to be 80% of the average purchase price of a home.
In 2022, 80% of the average price of a single detached house in York Region would be $1,381,074; for a semi-detached $958,476; for a townhouse $903,513 and for all housing types $1,112,264.
And this when the average Affordable Housing Threshold is $564,326.
How will the average be calculated?
The Regional Treasurer, Laura Mirabella, told members of the Regional Council in December last year that Bill 23 does not define how the average will be calculated. She expects the definition to come in 2023. Will the average be calculated using sale prices by Region? Or, more narrowly, on a municipality-by-municipality basis? Or even on a Province-wide basis?
"It is completely unclear how "average" will be defined. But, yes, if the purchase price of affordable ownership housing new-builds is deemed to be 80% of whatever that average purchase price is, there would be a full exemption which would be a significant loss in development charge revenue for us."
Developers building "affordable housing" will now be eligible for a waiver on development charges which are paid to the municipality and are used to build the roads, sewers and so on that are needed to support new developments and make them viable.
Task Force
Ludicrously, the Government relies on the recommendations of the Housing Affordability Task Force which calls on the Province to
"Develop and legislate a clear, province-wide definition of "affordable housing" to create certainty and predictability."
Where is the definition?
It may be staring me in the face but I can't see it.
Target plucked out of thin air
Newmarket has been given a target of 12,000 new homes by 2031. This figure has been plucked out of thin air. I have no idea where it came from. And, in any event, it is totally unrealistic as the Town has no room to expand outwards.
If there is an answer it is to increase density along the main corridors, Yonge and Davis, already identified for growth. But even so, 12,000 new units is a staggering number.
I'll believe it when I see it.
As we all know Ford makes it up as he goes along.
This email address is being protected from spambots. You need JavaScript enabled to view it.
Update on 27 July 2023: From Newmarket Today: Province names auditor to examine Newmarket finances and from the Toronto Star: Poll finds a majority of Ontarians believe Ford takes decisions which benefit friends
Update on 28 July 2023: From the Toronto Star: Auditing City's books doesn't add up