Doug Ford has a long history of cronyism.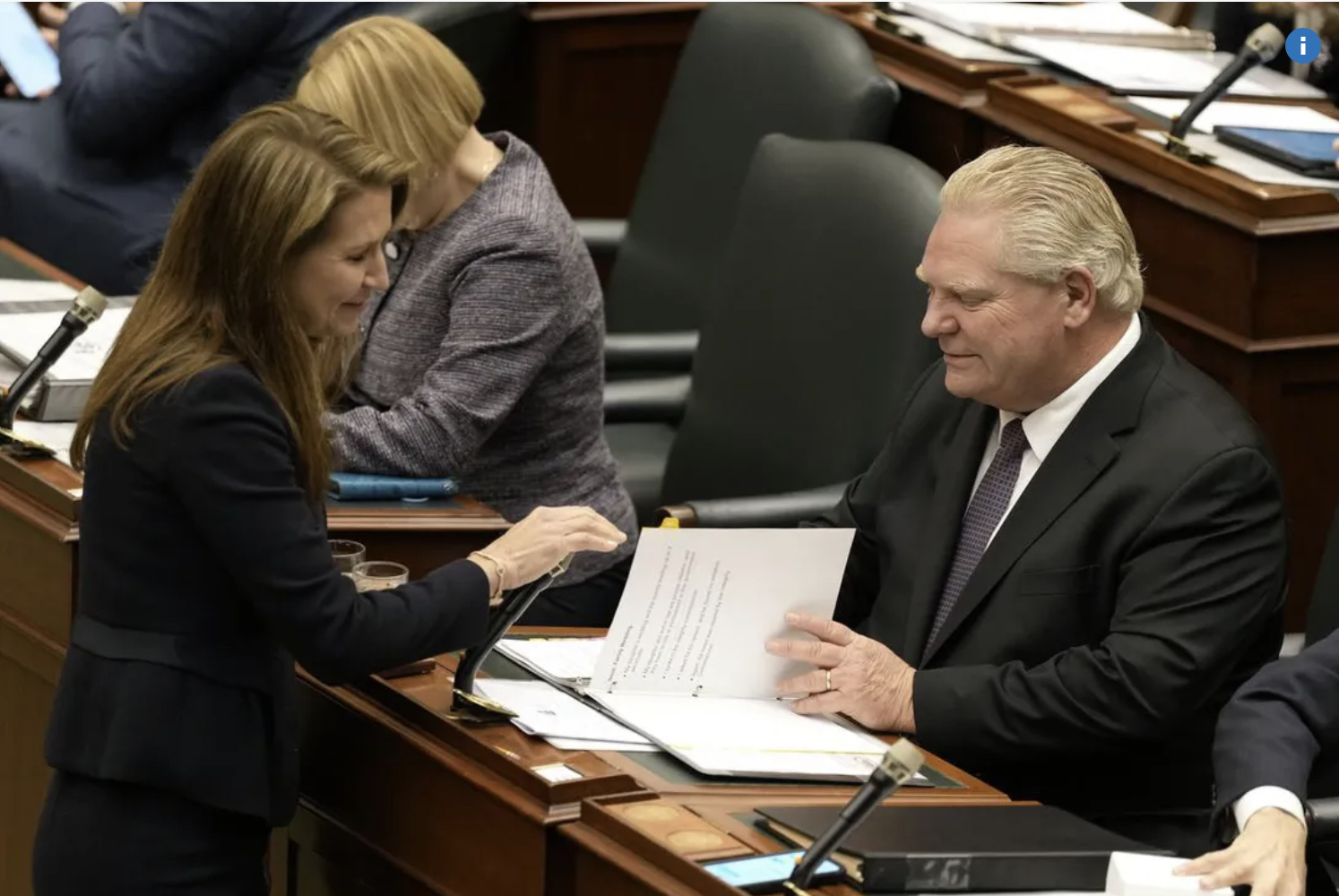 So we shouldn't be surprised to read in this morning's Toronto Star that:
"More than a dozen of the recipients of a controversial new honour for Ontario lawyers donated to either Attorney General Doug Downey's election campaign or his riding association."
They will join Transportation Minister Caroline Mulroney KC who was called to the Ontario bar just a few days before the announcement.
But, for me, it is Ford's brass neck that fascinates.
He will always do what he thinks he can get away with.
Gravy Train
Ten years ago Toronto City Councillor Doug Ford promised to end the gravy train at Queen's Park. And now, as Premier, he regularly uses patronage to reward his friends and grease the wheels of government.
The man is totally shameless.
As it happens, twenty five years ago I argued in the UK Parliament for the abolition of Queen's Counsel. The then Government reviewed the system and brought in some much needed reforms. The title QC (now KC) was retained. (Click read more below.)
This email address is being protected from spambots. You need JavaScript enabled to view it.
Update on 12 July 2023: From the Toronto Star: "I didn't see a list says Ford"
Update on 18 July 2023: From the Toronto Star: Advertising KC status may violate Law Society rules and We're gonna fix that process says Ford
UK House of Commons: 8 April 1998


Gordon Prentice: The hon. Member for Southend, West (Mr. Amess) has left me very little time. I agree with his first point about solicitors. The legal profession is shot through with any number of restrictive practices and it is one of the last great institutions crying out for reform. In the few minutes left to me I want to deal with that matter, specifically the selection of Queen's Counsel and other judicial appointments.
Before the election, the Labour party said that it would take a sledgehammer to the legal profession. In a document published in 1995 entitled "Access to Justice", we said:
An incoming Labour government will formally refer the legal profession to the Monopolies and Mergers Commission … so that existing structure and practices can be tested by reference to their ability to meet consumer needs.
We have a packed legislative programme and I do not criticise the Prime Minister or the Lord Chancellor for putting this on the back burner, but at some stage it must be brought forward. We cannot allow the legal profession to regulate itself; it is very much against the public interest.
Tomorrow, Maundy Thursday, 50 or so barristers will be celebrating. It will be jackpot day for them because they will have been appointed QCs. With that appointment, they will enjoy an immediate elevation in status, stratospheric earning powers and a distinction to which many of them may not be entitled. I say that because the manner in which QCs are appointed is obscure; it is not transparent and depends upon informal soundings taken from senior members of the judiciary, senior academics and so on. It is impossible for lay people such as myself or other members of the legal profession to understand fully why some people are preferred and others are not.
The greatest number of applications made in the past 10 years by one individual, who was subsequently successful, was 15. One can only sit one's driving test five times and take one's degree once—perhaps it is twice now. One cannot sit A-levels 15 times. It is astonishing. The highest number of unsuccessful applications is 25, but the Lord Chancellor is not prepared to put a cap on it. He is relying on informal soundings from the judiciary.
I would find it more encouraging if, having asked for those informal soundings, he got a 100 per cent. response rate. In fact, 37 per cent. of the senior judges could not be bothered to reply. When I asked the Lord Chancellor about that, the Parliamentary Secretary, Lord Chancellor's Department, my hon. Friend the Member for Ashfield (Mr. Hoon), who understood my concern, said that there were no plans to urge a higher response rate.
When the QCs come to the House of Lords, as they will, to get their letters patent—I believe that that is what they are called—they undergo an investiture ceremony. They are all kitted out in a costume which consists of buckled patent leather shoes, silk stockings, breeches, a gown, lace around the wrist, white gloves and a shoulder length bell bottomed wig. As the Lord Chancellor gives the new QC the grand patent of precedence as one of Her Majesty's counsel, he says:
To all to whom these presents shall come, Greeting. Know Ye that We of Our especial grace have constituted, ordained and appointed our trusty and well beloved Joe Bloggs, (or whoever) one of our Counsel learned in the Law.
Once a QC, always a QC. It is an indefensible system.
In yesterday's edition of The Lawyer, which is in the Library, there are four pages criticising the system. Peter Reeves from the Adam Smith Institute published a compelling pamphlet on the system entitled: "Silk cut. Are Queen's Counsel necessary?"
He is against the continuation of the institution and calls for a free market in the law and a unified legal profession where those who are skilled in advocacy or in a particular area of the law will be recognised as skilled practitioners by the market, which is what happens in every other sphere of life. We do not have Queen's architects, dentists or shoemakers, but we have Queen's counsel. It is a restrictive practice that should be done away with.