I see that Dawn "Corn Roast" Gallagher Murphy will be hosting a "Coronation Viewing" at the Royal Canadian Legion in Aurora from 6am – 11am on Saturday 6 May 2023 and that light refreshments will be provided.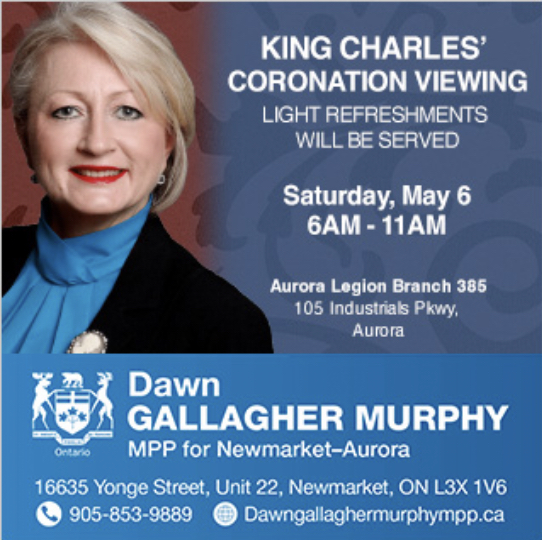 If past practice is any guide, this will be billed to the taxpayers.
The rules do not allow public money to be spent on alcohol. So no celebratory champagne. "Light foods" are permitted such as sandwiches, muffins, doughnuts, cakes and fruit but no suckling pigs or venison.
Dawn likes her food.
Dawn claimed over $11,000 of taxpayers' money for a BBQ and Corn Fest last October. It was advertised as being open to all. She asked for members of the public to register with her office first – presumably to give her some idea how much food to get in. But she will also know who attended. They can expect an invitation to the next one.
Astonishingly, this largesse is within the rules. But when Newmarket Today approached her:
"Gallagher Murphy declined to be interviewed or provide a comment."
Why the reticence? Dawn has promised to make this an annual event.
$11,000 BBQ charged to taxpayers
When I expressed concerns to the people at Queen's Park who deal with these things I was told MPPs could expense events up until the dropping of the writ for an election. This would allow Dawn, if she were so inclined, to host a $11,000 BBQ, at our expense, a month before the next Provincial election.
Rules unavailable
I ask to see the rules and I am told they are not available. Why not?
Who decides the rules? When were they last changed? What is the mechanism for changing the rules? Is there a committee that reviews the rules? Can I address it? Who should I contact?
I am waiting for the answers to these simple questions. This is work-in-progress.
Food Expenses miscategorised
Elsewhere… the auditors who signed off Dawn Gallagher Murphy's Financial Statement (CR1) for last June's Provincial election, Impact CPA LLP of Richmond Hill, now admit some food expenses – running into many thousands of dollars - were miscategorised.
So... what's the big deal? Who cares?
It's only an election audit.
This email address is being protected from spambots. You need JavaScript enabled to view it.