It is not easy or straightforward to get information out of Southlake Regional Health Centre. Everything is shrouded in secrecy. It is a closed institution responsible to itself.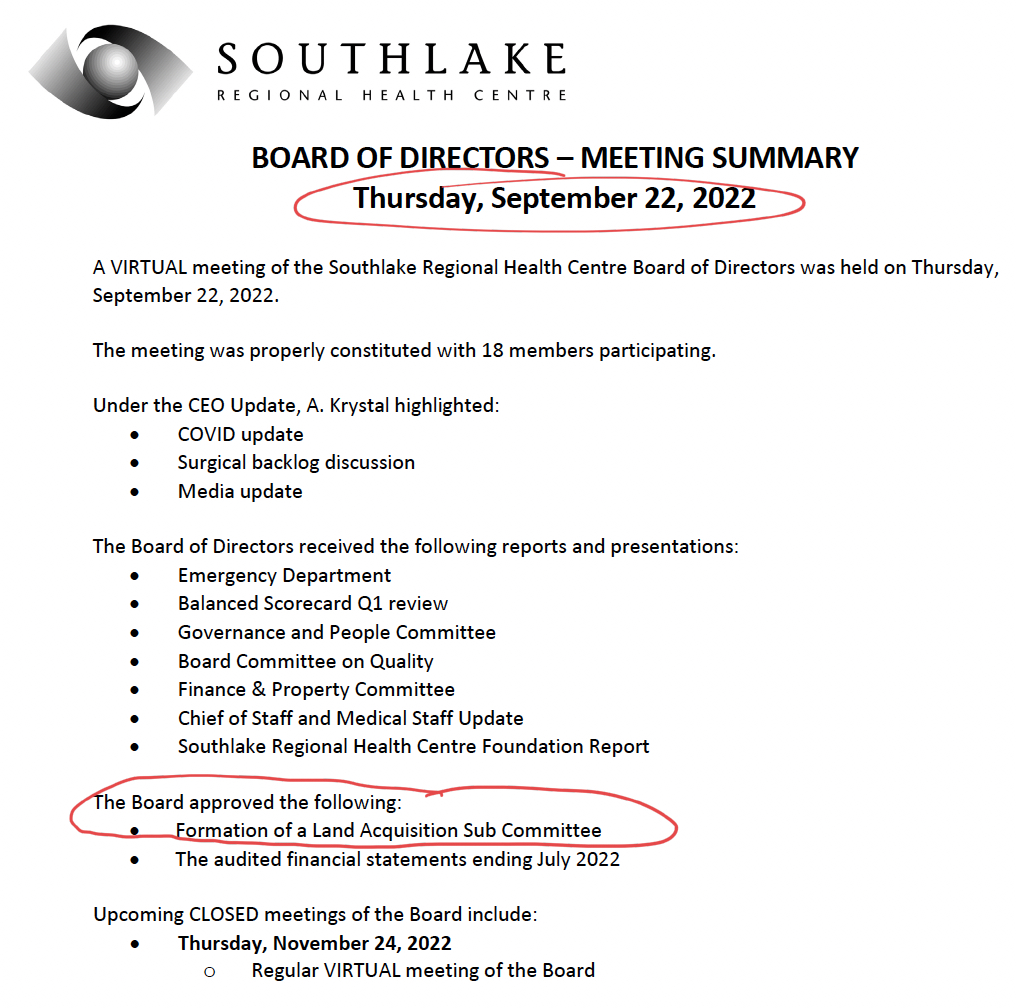 I am talking about how the hospital is run – not about patient confidentiality which is, of course, an absolute.
For months now I have been trying to piece together the chain of events which led to Michael Rice, the developer, offering Greenbelt land to Southlake for a nominal fee.
On 4 November 2022, three days after Rice made his offer to Southlake's Chief Executive, Arden Krystal, the Government announced it would be opening up specified areas of the Greenbelt for development, including the Rice lands.
Rice Lands removed from the Greenbelt
In December 2022 the Rice lands were taken out of the Greenbelt.
This is not a trivial matter.
It demands complete transparency.
Southlake and the Township of King ask us to believe there are no records of that hugely consequential 90-minute meeting on 1 November 2022 at King Municipal Centre. No minutes. No emails. No jottings. No plans. No maps. No agenda. No follow-ups. No to-do-points. No meeting notes about a commitment to gift 60-80 acres of Greenbelt land to Southlake for a new hospital.
Handshake
Southlake reminds me of the Freemasons. You get the information but only if you know the handshake.
I wanted to sit in on Thursday's Board meeting (23 March) as an interested member of the public and I asked the hospital how I could do this. I was told:
"As a result of the COVID-19 pandemic, the Board opted to suspend open meetings and meet virtually to help stop the spread of infection.There are no open agenda items for public consumption at the upcoming meeting, however a meeting summary will be available on the website for your consideration once ratified at the next meeting."
These meeting summaries are not minutes.
Land Acquisition
The Board meeting on 22 September 2022 agreed to set up a "Land Acquisition Sub Committee". I've filed a Freedom of Information request to see the background reports put to the Board.
Michael Rice bought the King lands from Bob Schickedanz on 15 September 2022. John Dunlap, the land agent intermediary who facilitated the sale, left the Southlake Board in September 2022.
I've also asked to see the minutes of the Southlake Board, redacted as they see fit, for the Board meetings on 22 September 2022, 24 November 2022 and 26 January 2023.
Personally, I think it would be easier for everyone if we had full disclosure now rather than later.
This email address is being protected from spambots. You need JavaScript enabled to view it.