Frank Klees is a consultant lobbyist and a former Progressive Conservative Cabinet Minister.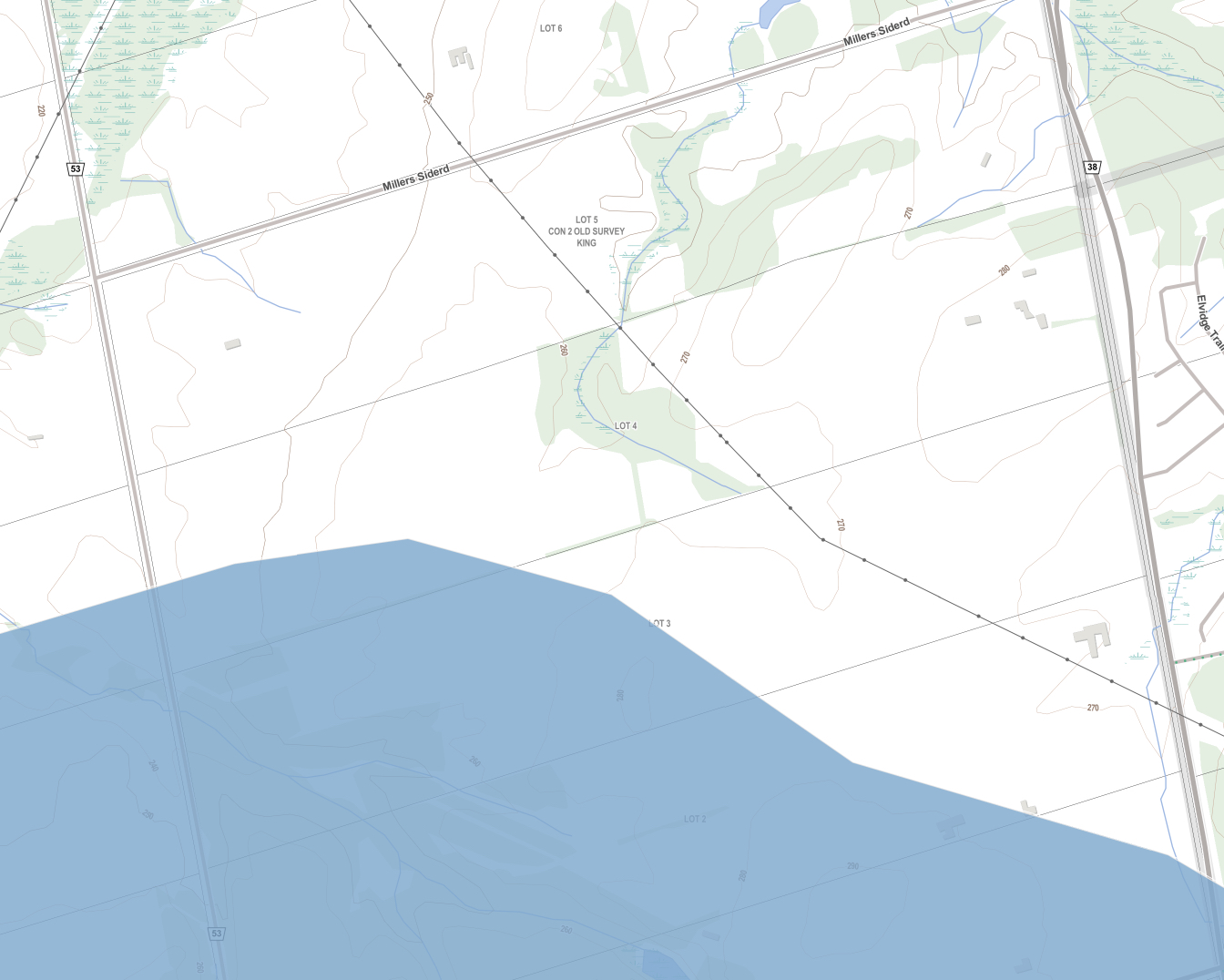 The Lobbyist Register shows that he has been involved in projects concerning the Greenbelt and in attempts to redraw its boundaries.
Fifteen years ago he told readers of the Auroran newspaper that he was proud to champion the Oak Ridges Moraine Protection Act and that the passage of this landmark legislation had taken the guesswork out of development applications in the moraine.
"Although we could not stop development that had been approved prior to the implementation of this act, more than 470,000 acres of land – much of it in York Region – are now permanently protected from development."
Permanently protected?
Has he spoken recently to his close friend Doug Ford?
Building on the Greenbelt
One of his past clients – the Rice Group – is now embroiled in a huge controversy over its recent $80M purchase of "permanently protected" Greenbelt land in the municipality of King, west of Bathurst and immediately adjacent to Newmarket. (Right: the Greenbelt land purchased by Rice, south of Miller's sideroad between Dufferin on the west and Bathurst on the east. The Oak Ridges Moraine is shown blue).
Klees lobbied for Michael Rice's development group from October 2019 to September 2020 but we don't know the details.
The land purchased by Rice is largely agricultural but with core area natural heritage features. The south-western portion lies within the Oak Ridges Moraine (see map).
Klees didn't get back to the Toronto Star when they asked what he did for his client. But why not? The whole point of the Lobbyist's Register is to make lobbying transparent.
What are you attempting to influence or accomplish?
Klees was asked to describe his lobbying goal(s) in detail.
"What are you attempting to influence or accomplish as a result of your communications with Ontario public office holders?"
He replied opaquely:
"The objective of the communications is to brief certain Ontario public office holders on the economic development opportunities represented by a number of the client's emerging projects."
Is that kind of waffle from Klees even remotely acceptable?
The register tells lobbyists they should give specific information about their lobbying goals and the intended outcome of the lobbying.
Whatever happened to the specifics and the intended outcome?
Why doesn't the Integrity Commissioner just ask him?
This email address is being protected from spambots. You need JavaScript enabled to view it. 6 December 2022
Click "Read More" for Frank Klees' letter to the Auroran 4 September 2007
See also: From the Toronto Star: Taking Durham Land out of the Greenbelt could cause irreversible damage says Parks Canada in blunt warning
Below: The Oak Ridges Moraine. "Permanently protected from development" according to Frank Klees in 2007.