After last month's debate on social media at York Regional Council, I contacted my MP, Tony Van Bynen, on 11 July 2022 asking him to lift the block on his Twitter account which prevents me from reading his Tweets and posting comments.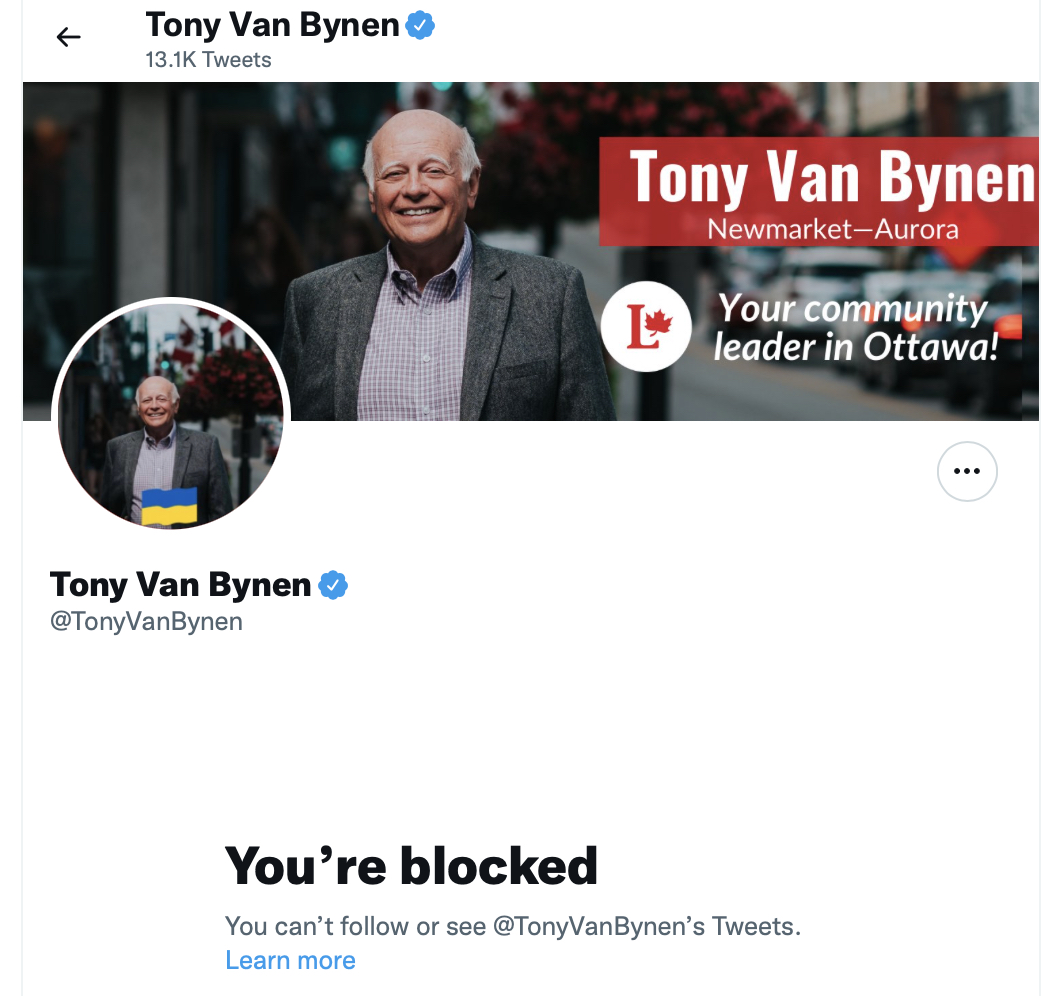 I sent him the background materials prepared by the Regional Clerk which recommended that blocking should be a last resort and that members of the Regional Council should be prepared to give reasons for blocking someone. In the event, the recommendation was lost by 13 votes to 8.
This morning Van Bynen gets back to me:
"I have given your request much thought and to be quite honest I do not see any reason that I would change my mind. Your decision to run for municipal politics does not influence that decision. I hope you will find the experience of participating in a municipal election rewarding and insightful."
and I reply:
"I am very disappointed.
You are my MP and I value your views even though I may not always agree with you.
Can I ask how many constituents you block and for what reasons?"
I find it deeply disappointing that my Member of Parliament freezes me out without giving reasons.
I don't bite.
This email address is being protected from spambots. You need JavaScript enabled to view it.
Click "Read More" to see my email to Mr Tony Van Bynen MP of 11 July 2022
email to Mr Tony Van Bynen MP of 11 July 2022
Dear Mr Van Bynen
I hope you are well.
I am writing to ask you to lift the block which prevents me from reading your Tweets and posting comments.
If you are not prepared to do this I should be grateful if you could give me your reasons.
You have blocked me for many years – going back to your time as a member of York Regional Council and since 2019 as my Member of Parliament.
As you may know, last month the Regional Council considered amending its Code of Conduct to require members who block constituents to give reasons. And although the vote was lost by 13-8 the issue of arbitrary blocking has clearly not gone away.
The paper jointly prepared by the Commissioner of Corporate Services and Regional Clerk (and which I enclose) sets out the background.
I look forward to hearing from you.
Yours respectfully
Gordon Prentice
https://yorkpublishing.escribemeetings.com/filestream.ashx?DocumentId=35842
commentary on report
https://yorkpublishing.escribemeetings.com/filestream.ashx?DocumentId=35843
proposed social media guidelines