Yesterday (4 March 2022) the Newmarket-Aurora Progressive Conservatives announced that Dawn Gallagher Murphy, the Constituency Manager and Executive Assistant to local MPP, Christine Elliott, is to be the PC candidate in the June Provincial Election.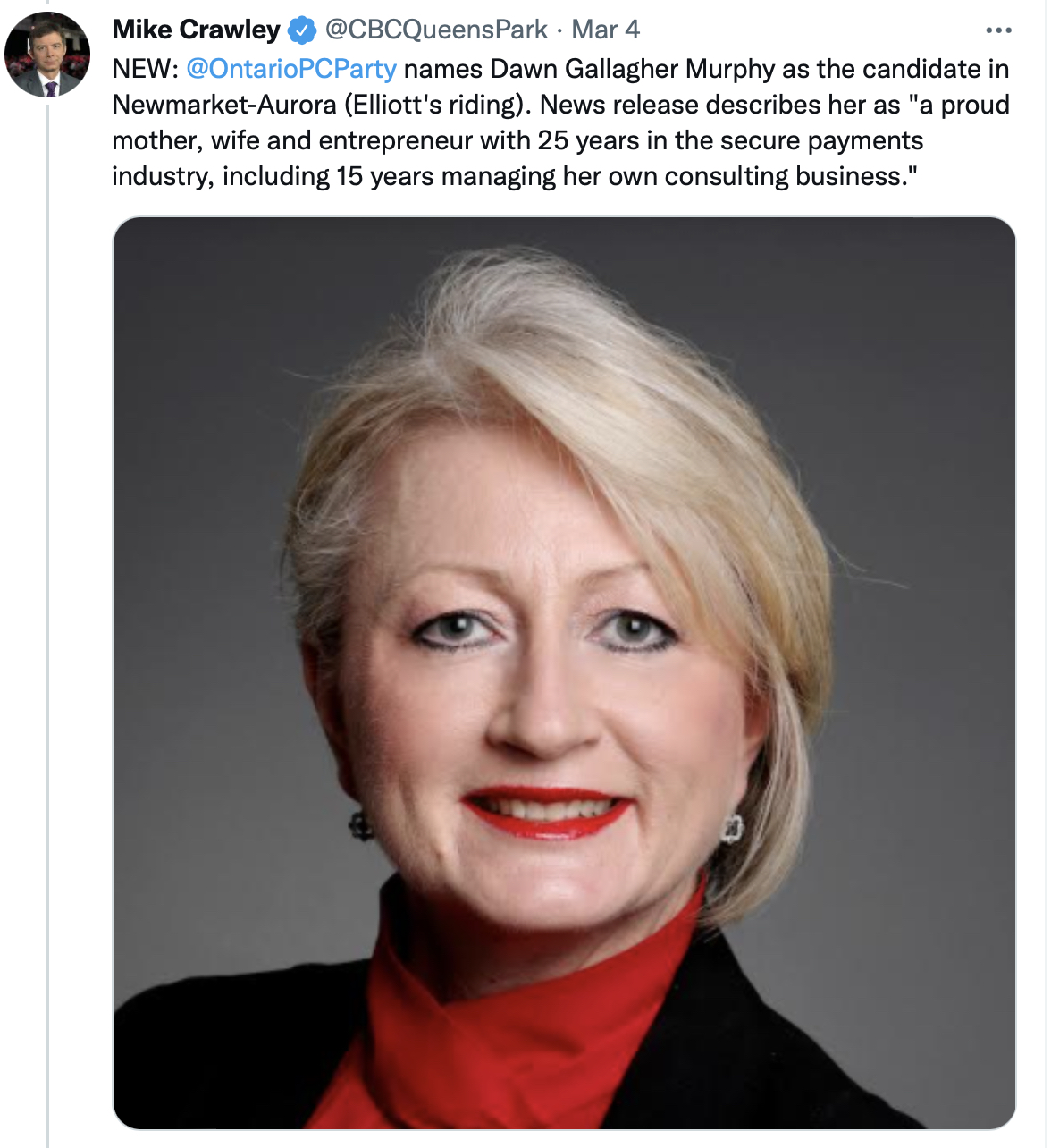 Earlier that day Christine Elliott said she would not be running in the June election.
So, how did Dawn Gallagher Murphy become the candidate in the blink of an eye?
Was there a nomination meeting? Were other potential candidates invited to apply?
Who decided that Dawn should be the standard bearer? Or was she anointed? And, if so, by whom? The PC's Provincial Nominations Committee? How does the process work? I thought I knew. But, clearly, I don't.
Maybe Doug Ford personally selected her as the candidate for Newmarket-Aurora using the powers vested in the Leader by the Nomination Rules:
"a Candidate may be selected by the Leader in lieu of the nomination process set out in these Rules". (See note below)
Elliott is definitely running again
Christine Elliott told The Agenda's Steve Paikin last June that she had already been nominated as the PC candidate for Newmarket-Aurora and that she was definitely running for re-election.
Steve Paikin: Are there any circumstances under which you could imagine that not happening?
Christine Elliott: Well, there's lots of circumstances but I hope none of them happen to me. There's illness, I hope not. But other than that, no, I don't expect that.
She doesn't expect a change of circumstances… until she does. This is the way dissembling politicians answer direct questions. They have no plans to do X until they do.
Anyway… Dawn will now be preparing for greater things.
The polls suggest she will be our next MPP.
"Come back in the Fall"
I had a handful of conversations with her a few years ago when I tried to get an appointment with Christine Elliott to discuss Buck-a-beer's decision to allow convenience stores to sell beer. It was early June 2019 and her office told me to come back in the Fall. After a lot of huffing and puffing I managed to get 15 minutes with my MPP two months later, on 12 August 2019, with Dawn sitting in, taking notes. Elliott listens politely and assures me local convenience stores will soon be able to sell beer as Buck-a-beer promised.
Hasn't happened.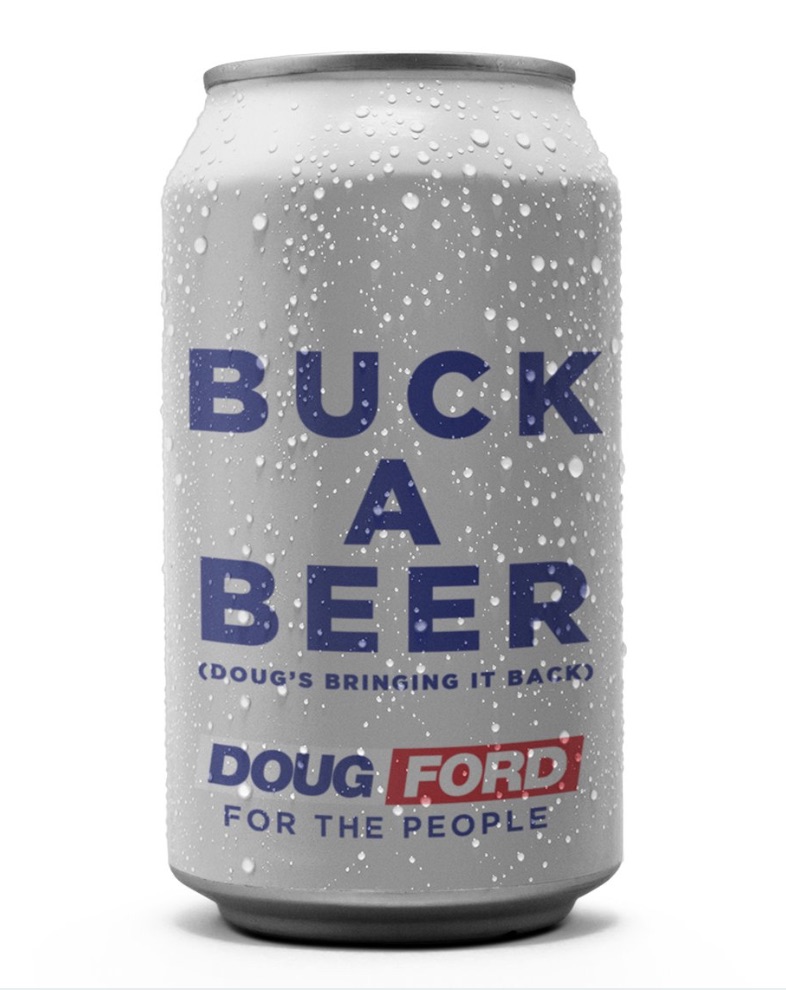 Ignoring the nurses
And when I asked my MPP (and Health Minister) why she was refusing to meet nurses from Southlake, it was Dawn who got back to me to say:
Your concerns are acknowledged.
The Newmarket-Aurora PC Riding Association has had its difficulties in the past with candidate selections. Elliott's predecessor, the ballot stuffing and membership buying Charity McGrath, had a short but tempestuous career as the riding's official candidate before being turfed. Charity McGrath – now Charity DiPaola – subsequently stood as an independent in Richmond Hill in last year's Federal Election, masquerading as a Conservative, and lost badly.
She was accused of misrepresentation and misleading voters. Clearly, old habits die hard.
This email address is being protected from spambots. You need JavaScript enabled to view it.
Update on 6 March 2022: Ford Appoints Elliott's assistant as Official PC candidate in the June Provincial Election
Transcript from TVO's The Agenda with Steve Paikin on 23 June 2021
Steve says OKAY. WE'RE DOWN TO OUR LAST MINUTE HERE AND I'M GOING TO ASK YOU. I NOTE EVERY DAY I GET A PRESS RELEASE OF SOME KIND SAYING THAT ANOTHER PROGRESSIVE CONSERVATIVE MPP IS STANDING FOR NOMINATION TO RUN AGAIN BUT I HAVEN'T SEEN YOUR NAME. ARE YOU RUNNING AGAIN?
The caption changes to "Into the future."
Elliott says YES, I AM. I'VE ALREADY BEEN NOMINATED IN NEWMARKET-AURORA. I FEEL VERY HONOURED TO REPRESENT MY CONSTITUENTS THERE. AND I HAVE BEEN NOMINATED AND I'M READY TO GO.
Steve says AND YOU ARE DEFINITELY RUNNING FOR RE-ELECTION A YEAR FROM NOW.
Elliott says YES, I AM.
Steve says ARE THERE ANY CIRCUMSTANCES UNDER WHICH YOU COULD IMAGINE THAT NOT HAPPENING?
Elliott says WELL, THERE'S LOTS OF CIRCUMSTANCES BUT I HOPE NONE OF THEM HAPPEN TO ME. THERE'S ILLNESS, I HOPE NOT. BUT OTHER THAN THAT, NO, I DON'T EXPECT THAT.
Updated on 6 March 2022: Extract from the PC Party Nomination Rules:
19. POST-WRIT OR IMMINENT WRIT
19.1 Should the writ for a general provincial election or a by-election be issued prior to the nomination of a Candidate or, if in the opinion of the Provincial Nomination Committee, the issuance of such writ is imminent or there are other appropriate circumstances which warrant an expedited candidate selection process, then at the option of the Leader:
(i) the time periods set out in these Rules may be abridged by the Provincial Nomination Committee, provided that in no event shall membership cut-off occur less than 3 days after the issuance of notice a Nomination Meeting; or
(ii) a Candidate may be selected by the Leader in lieu of the nomination process set out in these Rules. (my underlining for emphasis)