Doug Ford's Oscar winning apology for his decision to extend police powers and close playgrounds (now reversed) has received wall-to-wall coverage across Canada and, indeed, beyond.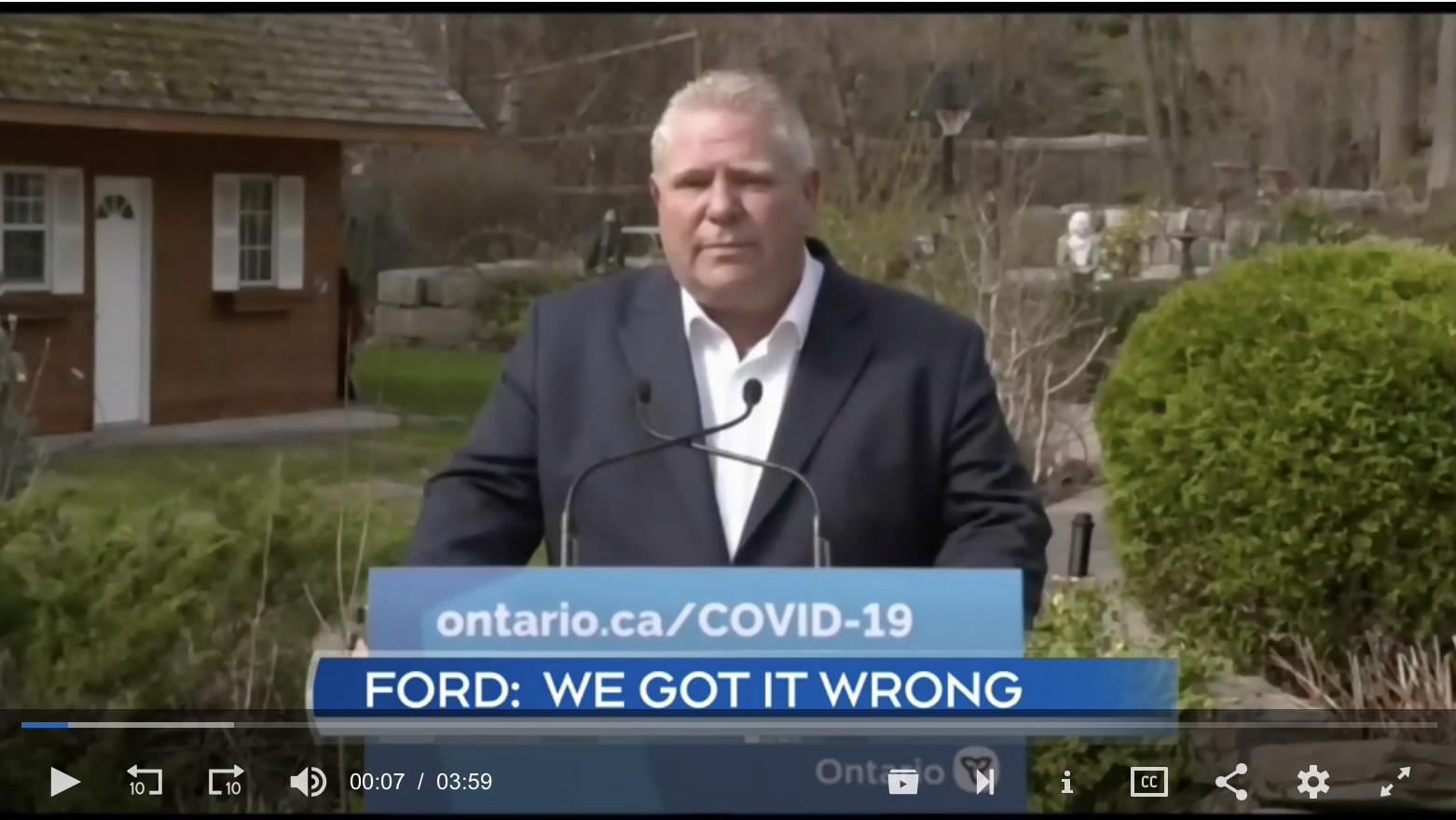 But this, of course, isn't the first time Ford has apologised.
The UK's Guardian newspaper detailed Ford's apology to Sol Mamakwa, the indigenous lawmaker who was wrongly accused of jumping the queue for the Covid vaccine.
And Premier Ford sort of apologised when he was caught visiting his Muskoka cottage when this went against his own official Covid advice.
Yet he chastised his Finance Minister, Rod Phillips, for vacationing in the Caribbean while pretending to be at home in Ontario.
"I have let the minister know that his decision to travel is completely unacceptable and that it will not be tolerated again — by him or any member of our cabinet and caucus."
Phillips apologized and resigned.
And in 2014, after the (then) Toronto police chief Bill Blair threatened Ford with a defamation lawsuit, Ford apologized for claiming that Blair was targeting his brother Rob and leaking stories to the press about him.
I am left wondering if Ford consulted his deputy, Health Minister Christine Elliott, before making his latest apology.
Back in 2008 Elliott was speaking at Queen's Park on Bill 59 - an Act respecting apologies.
"… my basic training as a lawyer has conditioned me that this is not a good thing to do (apologise). As lawyers, we are trained to protect our clients, to act in their best interests and not to have them say or do anything that might jeopardize their position."
But that was a long time ago. Years before she ran against Doug Ford for the leadership of the PCs - and lost.
I apologise if I have misrepresented her views in any way.
This email address is being protected from spambots. You need JavaScript enabled to view it.
26 April 2021: from the Globe and Mail: Unravelled: The strange public and media strategy of Doug Ford