Perhaps it was an error of judgement on my part to post a comment on Conrad Black's latest opinion piece in today's National Post in which he tells us Donald Trump's presidency was "incomparable". Black gushes praise for the President who pardoned him.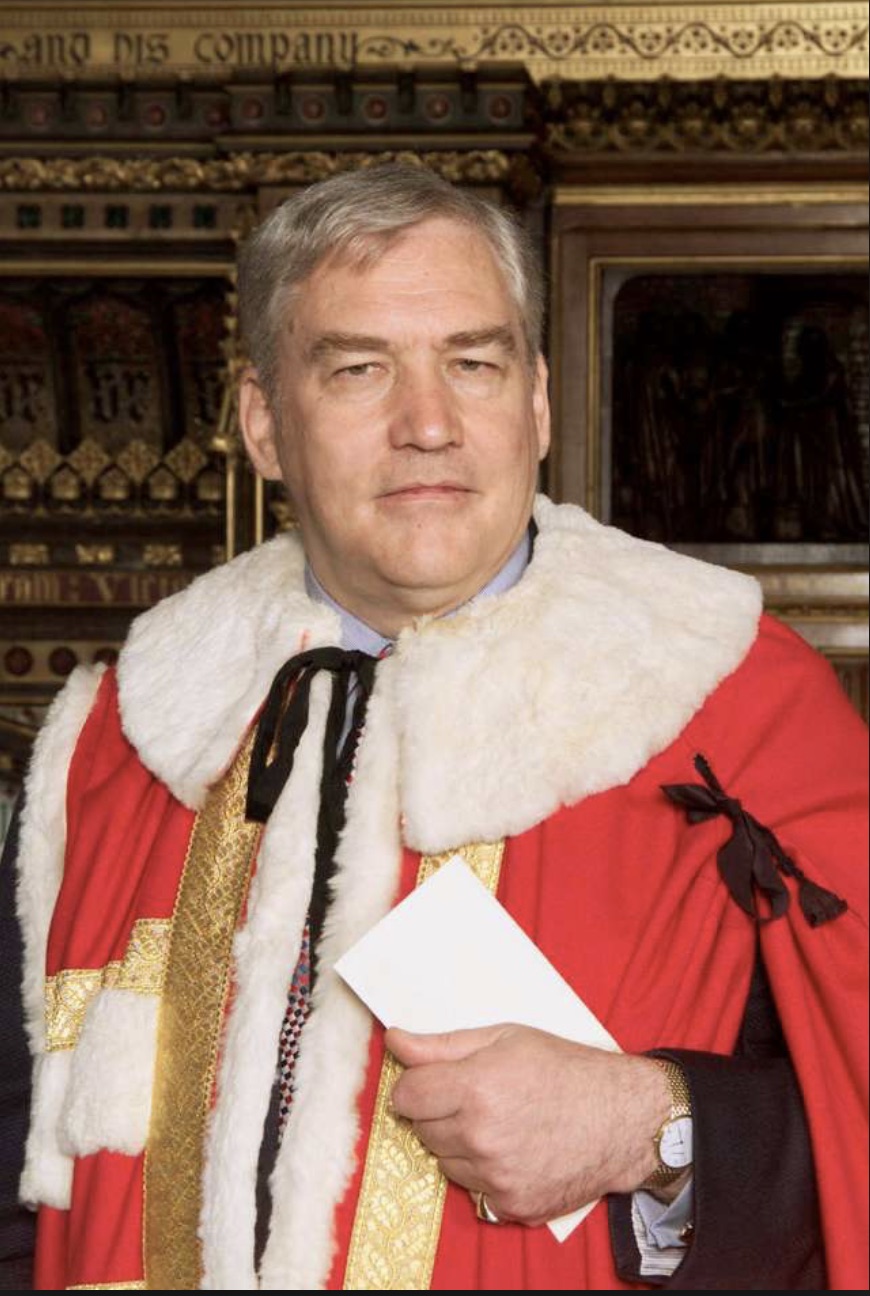 But he also has a go at critics such as the Toronto Star's "plagiarist" Bob Hepburn
"who for 40 years has been intermittently snorting out of the undergrowth foaming biliously about some alleged turpitude of mine. This week I am the "Rudy Giuliani of Canada.""
As it happens, in 2019 I was astonished to receive, completely out of the blue, an email from his Lordship threatening to sue me for defamation for referring to him in one of my blogs as a "convicted fraudster".
Bile and animus
In today's hagiography of Trump he spends a full paragraph regurgitating the bile and animus he has for the US legal system. He tells his readers:
"The White House legal office, after extensive research, concluded that none of the defendants in our case should ever have been charged."
This is a complete red herring. The White House legal office is not a Court of Law. Far from it.
Re-writing history
At the end of the day and after endless appeals Black was convicted and sent to prison. Since his release he has spent every waking moment trying to re-write history, telling us he was innocent all along. So I pick up my pen and post this comment:
Conrad Black threatened to sue me for defamation for referring to him as a "convicted fraudster" – which he is. The pardon he received from President Trump did not expunge his conviction. The details are in my blog: https://www.shrinkslessorsquare.ca/876-conrad-black-threatens-to-sue-mefor-defamation
Only two readers responded. Det Doowlle tells me, preposterously, Black wasn't convicted of fraud and suggests I apologise.
Frauds and swindles
I tell him Black was convicted under sections 1341 (Frauds and Swindles) and 1512 (Tampering with a witness, victim or informant) of the US Code. I tell Det Doowlle:
"It was for those crimes that he received a pardon from President Trump."
And then the National Post moderators step in to tell me my post has been disabled:
"Your comment appears to violate our community guidelines and has been disabled."
I've written to the National Post asking them to point me to the guideline I may have unwittingly contravened. I am waiting to hear from them but, in the meantime, I learn there is one stipulation saying comments with hyper-links may not be posted. So, if that's the reason, I've no complaint. Fair cop.
Black is a convicted fraudster
But the substance of my comment is another matter entirely. It is a fact beyond dispute that Black was convicted of fraud and obstruction of justice.
President Trump gave a "full and unconditional pardon" to Conrad Moffat Black:
"For his conviction in the United States District Court for the Northern District of Illinois on a superseding information (Docket No. 05 CR 727-1) charging violation of Sections 1341 and 1512(c)(1)and (2), Title 18, United States Code, for which he was sentenced on December 10, 2007 to a total of 42 months' imprisonment (as amended June 24, 2011), two years' supervised release, and a fine of $125,000."
The Ontario Securities Commission helpfully (and briefly) lays out the history of the criminal prosecutions. As was acknowledged in the Presidential Pardon, on June 24, 2011, Black appeared before the U.S. District Court and was resentenced to 42 months of incarceration for his fraud and obstruction of justice convictions.
Black continues to protest his innocence but the facts say otherwise.
And, while I'm at it, why is Conrad Black still in Canada?
This email address is being protected from spambots. You need JavaScript enabled to view it.
Updated on 18 January 2021: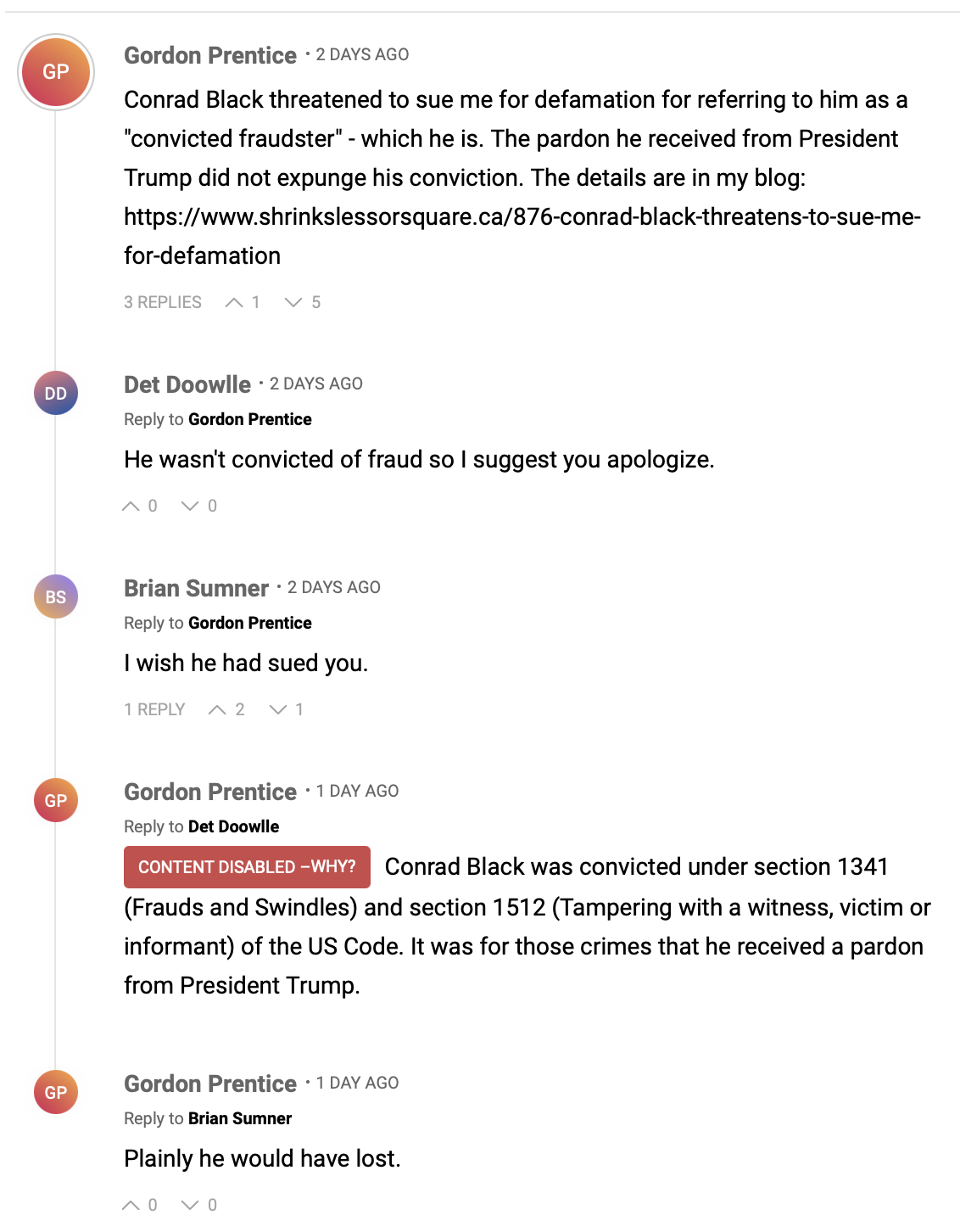 Updated on 18 January 2021: Donald Trump's Pardons (as of 23 December 2020). January 13 and 19, 2021 Pardons are listed here.