The King George School development on Park Avenue, Newmarket, comes up to the Town's Committee of the Whole for decision on Monday (8 May 2017) but already it looks like a done deal.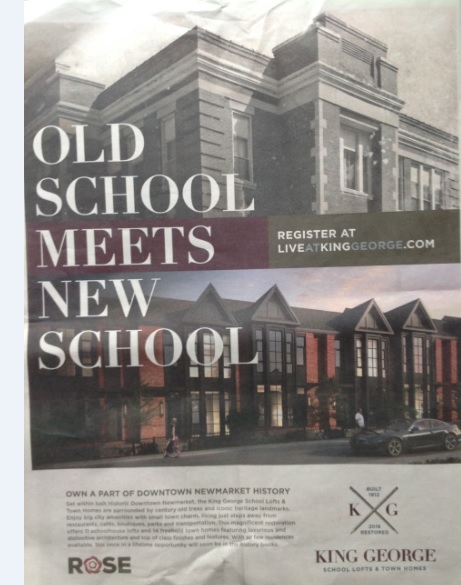 The ad (right) in the current issue of "Today's Homes York" talks of the development as if it has been approved by councillors. True. Planning staff are recommending approval but councillors' views still matter. They shouldn't be taken for granted.
They are the community's last line of defence.
The proposed Townhouse block (as shown in the ad) comes perilously close to the renowned heritage home at 182 Church Street. Height also remains a major concern.
The Town's Heritage Advisory Committee says this about the proposed development:
"That it is the consensus of... the Committee that the proposed redevelopment application for the property known as the former King George School is too dense with insufficient visitor parking options, heights of the proposed buildings on Church Street are too high, the reflection of the character of the neighbourhood will be compromised and a buffer between the property known as Playter House and the proposed Townhouses on Church Street should be stipulated as 20' (the same as the distance between the Playter house and the property to the south of it)."
The distance between the heritage home (below right) and the Townhouse block is less than 7' 6".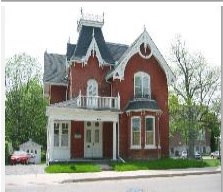 I suppose I shouldn't be surprised by the advertisement. This kind of puffery happens all the time. The marketing people are out of their traps as soon as the planners lay their hands on a development and give it their blessing.
But they - the marketing people - should observe the proprieties and hold their fire until a development is actually approved.
This is how they describe what's coming (or not):
OWN A PART OF DOWNTOWN NEWMARKET HISTORY
"Set within lush Historic Downtown Newmarket, the King George School Lofts & Town Homes are surrounded by century old trees and iconic heritage landmarks. Enjoy big city amenities with small town charm, living just steps away from restaurants, cafes, boutiques, parks and transportation. This magnificent restoration offers 11 schoolhouse lofts and 14 freehold town homes featuring luxurious and distinctive architecture and top of class finishes and features. With so few residences available, this once in a lifetime opportunity will soon be in the history books."
Indeed.
You can read the report at item 7 on page 35 of the Committee of the Whole on 8 May 2017. Navigate from here.
This email address is being protected from spambots. You need JavaScript enabled to view it.
---