Conservative candidate for Newmarket-Aurora, Lois Brown, has flouted a key York Region by-law which says election signs should not be erected on regional roads before 23 September. (Regional Roads are major highways operated and maintained by York Region and not the local municipality, in this case the Town of Newmarket.)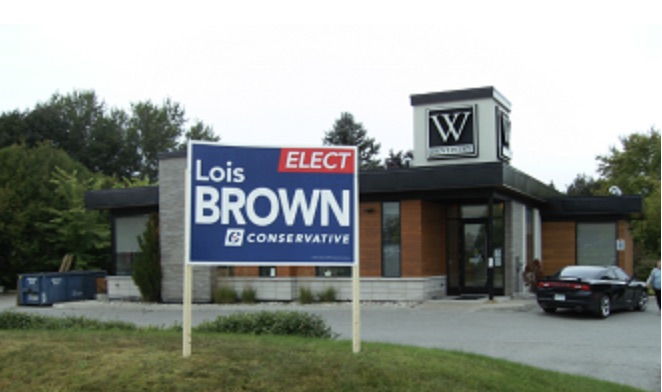 Lois Brown election signs have been put up at Leslie and Srigley (right) and Leslie and Stackhouse in clear contravention of York Region Sign By-law 2015-36 which forbids election signs on regional property until:
"10am on the 28thday prior to the election day"
Why is this important?
Other political parties who obey the by-law are disadvantaged. Lois Brown signs are placed in high visibility locations for a full week before their signs start appearing. It is all about fairness and ensuring a level playing field for all the candidates.
What should happen now?
The signs should be removed immediately. York Region has the power to remove any election sign "placed in contravention of this by-law". The Town of Newmarket is authorised to act on behalf of the Region and should do so now.
What happens if they are not removed?
The by-law at section 12.4(a) warns a first conviction means a fine of $100 and not more than $10,000.
But a second or subsequent conviction for the same offence means:
"a fine of not less than two hundred dollars ($200) and not more than one hundred thousand dollars ($100,000.00)"
The signs should come down today.
I am posting this at 11.15am on Monday 16 September 2019.
This email address is being protected from spambots. You need JavaScript enabled to view it.
Update on 17 September 2019: And this is how Newmarket Today covered the story.
Regional Roads in Newmarket-Aurora