Tomorrow, Mayoral favourite John Taylor enters the lion's den.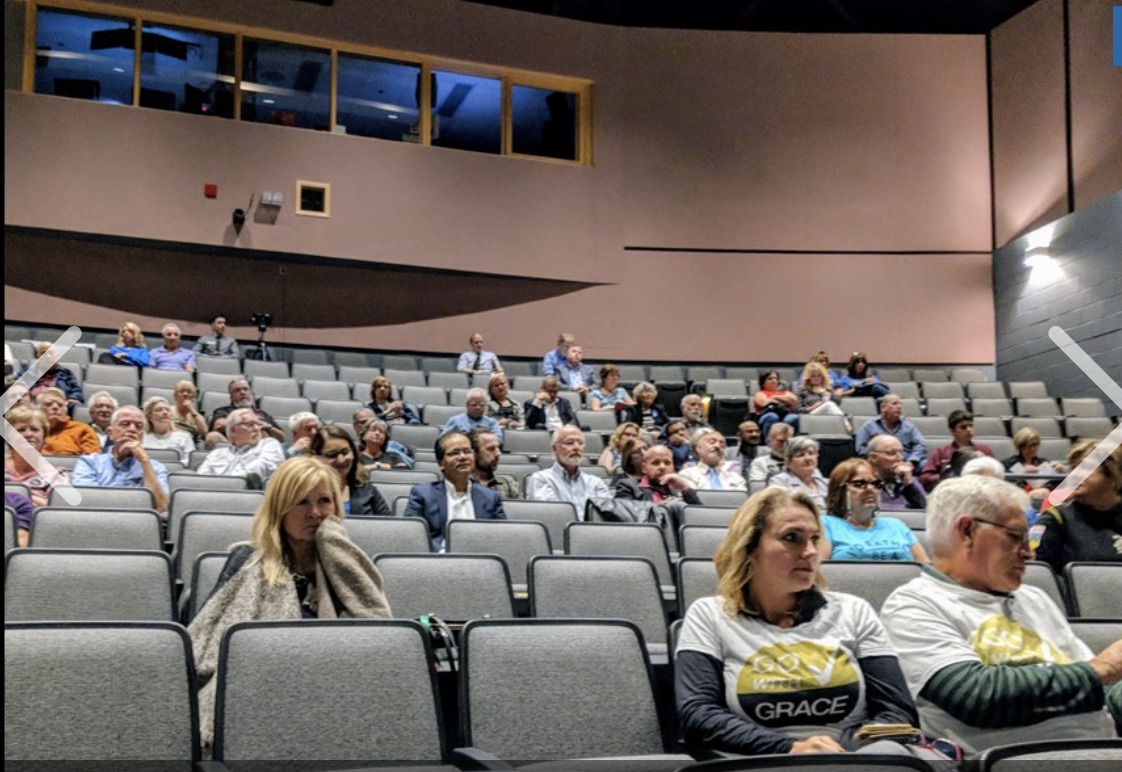 He will be addressing the Newmarket Taxpayers Advocacy Group (NTAG) faithful, an audience sceptical of big government and hostile to any hint of municipal profligacy.
They don't like the sound of Mulock Farm with its airy-fairy idea of a Central Park for Newmarket. They believe it will inflate property taxes for a generation. And the man who has pushed the idea forward will be standing in front of them! Within custard pie throwing distance!
It promises to be a fun evening.
Which is more than can be said for last week's candidates' debate hosted by the Newmarket Chamber of Commerce. (26 September)
The "debate" could have been full of sparky and electric exchanges between the candidates running for Mayor and Regional Councillor. Instead it was a leaden affair with the candidates addressing a half empty Newmarket Theatre.
Format rigid and boring
I don't blame the candidates. The format was suffocating, eliminating any possibility of a freewheeling debate where statements could be challenged and debated.
We desperately need an updated fast-moving format with new rules of the game.
And we need a moderator who can think on her feet and intervene when necessary.
The two wooden stage-props picked by the Chamber tediously asked the same questions first to the Regional Councillor candidates and then to Taylor and Wamback. They never once, at any stage, asked follow up questions.
When Regional Council hopeful, Tom Vegh, was promising a new library and senior's centre Chris Emanuel warned that Vegh's shopping list would mean a 27% hike in property taxes. Vegh wasn't asked how he would pay for it all. And no-one asked Emanuel to say how he did his sums.
Later Joe Wamback - who was promising a line-by-line review of spending – told us with Pontifical certainty that Newmarket's taxes were higher than the GTA average. Taylor had the figures there to prove that claim false. Wamback switched gear to talk about York Region taxes but the damage was done. He was not asked to tell us where his figures came from.
Oh dear! Reading from a script again
Emanuel is lighter on his feet than Vegh who reads slabs of text from notes on the table in front of him. Where I come from that's considered bad form – especially when you've been around as long as he has. He tells us a top priority is to refresh the Town's economic development website. (At least that's what his notes tell him to say.)
The current Newmarket Library Chair, Joan Stonehocker, is also running for Regional Chair and everything she says has a tinge of green about it. And that's OK. For her, transit and transportation are priorities.
She stumbles when asked her views about a Land Transfer Tax. She candidly admits to knowing nothing about it and needs to get up to speed. Emanuel and Vegh are adamantly opposed. They both freak out at any suggestion of new taxes.
Later, Taylor is much more circumspect. He wouldn't support its introduction in the next four years but after that, who knows? Anyone who has spent time listening to the conversations at York Regional Council – or reading the paperwork – will know the Region has been crying out for new revenue sources.
Development charges don't pay for growth and something else has got to make up the difference.
That's why Taylor said what he said. He has been listening to Wayne Emerson. The indirectly elected Chair of York Region was in the audience and is always going on about the Region's fiscal straight-jacket. He has been campaigning for years to get more sources of revenue.
Taylor roasted alive
Personally, I don't have a problem with taxes. Someone's got to pay for what we take for granted such as safe streets, educated children and a clean environment.
But I am not a Saint. I just need periodic reassurance that the money is well spent, going where it is supposed to go and not squandered. (And it goes without saying that taxation should be fair. Former MPP Chris Ballard reminded us during the last Provincial election that people on the minimum wage don't keep their money in offshore accounts.)
Taylor could be roasted alive at tomorrow night's NTAG Q&A. But, then again, I rather doubt it. At the Chamber debate he was as fluent as I have seen him. Mind you, he has been practising for this moment for years.
Taylor lives and breathes Newmarket and, unlike Tom Vegh, doesn't need a folder full of notes to remind him what to say.
NewmarketToday did a good write-up on the candidates' debate and you can read the reporting here and here.
This email address is being protected from spambots. You need JavaScript enabled to view it.