Details

Created on Friday, 12 May 2017 22:12
Written by Gordon Prentice
Background: A special public meeting was called on Monday 8 May 2017 to consider a planning application by numbered company 2439107 Ontario Inc who plan to insert a four storey rental apartment building into a stable low rise residential neighbourhood at 751-757 Gorham Street. The area is typically detached and semi-detached housing. The developer, David Beswick, needs amendments to the Town's Official Plan as apartment buildings are specifically prohibited. He also needs a Zoning By-law amendment. He has called on the services of Mr Howard Friedman.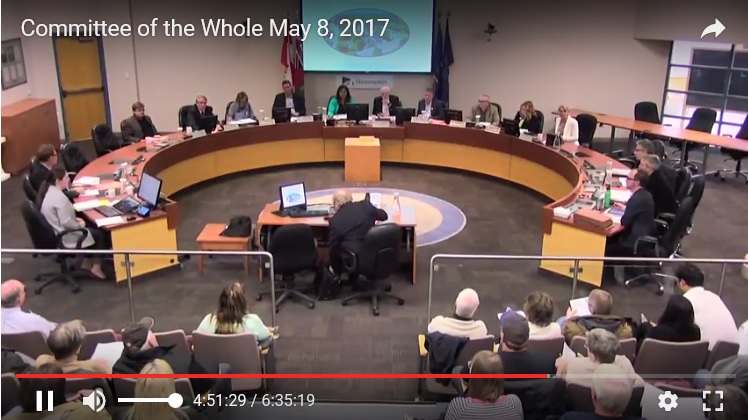 Howard in Action
On Monday 8 May 2017 I drop in on the public meeting in the Town's Council Chamber to see Howard in action. (That's him in the hot seat, right)

Over a year ago I blogged about the shadowy Mr Friedman who flits between the public and private sectors, acting as a paid go-between, smoothing things out between the Town and the development industry and acting as a lubricant, progress chaser and general factotum.
By trade he is a planning consultant in private practice in Newmarket. He was at Monday's meeting to give a presentation on behalf of the developer. But Mr Friedman also wears another hat as the person who chairs the Town's "Development Co-ordination Committee" whose members include senior Town staff from planning, engineering and legal services as well as people from the development industry. 

Howard's alter ego
Mr Friedman's alter ego has been working for the Town for 19 years with two years left to run on his contract. Town staff come and go but he is a constant. He knows where all the bodies are buried.
It is a very curious state of affairs.
Anyway... I am waiting for Mr Friedman to open his presentation by reassuring the public there is no conflict of interest between his two day jobs - working for the Town and developers simultaneously. But I hear nothing. 

As it happens, questions were raised by councillors last year about a possible conflict of interest when they were extending his contract with the Town for another three years but they were assured everything was done by the book.
No conflict of interest

The Town's Director of Planning, Rick Nethery, said if there was a conflict of interest Mr Friedman would declare it, ask a staff member to take the chair, and leave.
The developers love the Development Co-ordination Committee so much so they reimburse the Town for the cost of employing Mr Friedman.* The old banker, Tony Van Trappist, is also a fan of the arrangement because it saves the Town money.
But what do the developers get out of it? Except loads of inside knowledge about how the Town operates and insights into who says what and why.
In February 2016, the Director of Planning, Rick Nethery, explained Mr Friedman's role this way:
"HBR (Mr Friedman's  firm) has managed to ensure a balance between the Town's best interests being protected while respecting the challenges that face developers."
Regional Councillor John "I feel your pain" Taylor has now declared he is opposed to the Gorham Street development.
What advice, I wonder, is Mr Friedman offering to his client, Mr Beswick, on how best to address this latest turn of events?
This email address is being protected from spambots. You need JavaScript enabled to view it.
Update later on 12 May 2017   * In fact, the 2016 report that went before councillors makes it clear: 
"The costs incurred by the Town through the services of the Development Coordinator are forwarded directly to the development community for payment, ensuring that the Development Coordinator position is revenue-neutral to the Town. The total amount billed by the Development Coordinator over the past 5 years is approximately $108,000.00, which represents an annual average of approximately $21,600.00 per year. As noted, all of these costs are transferred directly to the appropriate developers through invoices that reflect the time and material costs spent by the Development Coordinator on their individual submissions and work performed on their subdivisions. The DCC process is considered a best practice in York Region by the development community."
---